Concert Review | Mechafest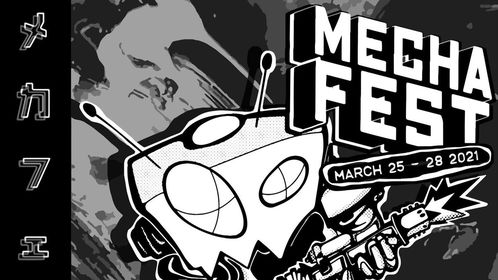 Online Festivals have become one of the most novel inventions of the music world during the COVID-19 outbreak. Since the middle of last year, many online scenes (particularly hyperpop) have been organized online, even Minecraft-based festivals like Square Garden, Appleville and Nether Meant (hosted by American Football, of course). This March, four labels attempted the most ambitious version of this yet with Mechafest—a 5-night music festival hosted on Twitch, featuring label representation from No Agreements, Dismiss Yourself, New Motion and The Flying Lugaw. If you missed it, all of the sets from Days 2-5 are up for viewing on their Twitch page. We're going to take the opportunity to talk about some of the sets that caught our eye during the Festival.
Luke's Picks
Cacola
Cacola heralds from a long tradition of plunderphonic pranksters, comparable to the ambient-mashup odyssey of The KLF, the queasy pop armageddon of Neil Cicerega, and maybe just a bit of the anti-copyright death drive of Patricia Taxxon's satire projects. With that said, Cacola clearly has their own sense of humor and brought that out in full force during their set. The show began with a looped mix of "One Week" over "Bittersweet Symphony," the combination of which made my face pucker. But, by the time more samples come in, a funny thing happens. The warmth of John Denver's "Take Me Home, Country Roads" over Andrew Loog Oldham's infamous string line finally lowered my guard, as if it clicked for me how Cacola puts these songs together. There's a very clear method to the madness; somewhere near the end of the set, she slipped her own song "Birds" into the mix, and it sounded just about immaculate. Far from just A-meets-B soundclownery, Cacola really delivered something truly hilarious and memorable at Mechafest.
DJ Sabrina The Teenage DJ
Sabrina is a DJ in a much more classical sense than any of the other DJs at Mechafest. Her entire set relies on flips of other classic songs. Where Sabrina excels is in how she can turn almost any song into a glittery dancefloor bop. This 49-minute set blended everything from The 1975, The Chicks, HAIM, Alexander O'Neal and Kelly Clarkson into a smooth, nostalgic mix. Bruce Springsteen's "One Step Up," easily one of the saddest songs of his entire career, is repurposed into a groovy french house segment while only sacrificing part of its emotional weight. Sabrina's output is prolific at this point (her last album was 3 hours long), and this set shows why—with any given amount of time, she is able to effortlessly flip tried-and-true sounds into novel party classics.
Drixxo Lords
Drixxo Lords are by far my favorite act to come out of the current HexD rap scene, and their performance already had my expectations high after Mokshadripp gave a great set the day before. This set didn't tease towards any new material like their Bangerfest performance did, but it simultaneously led to a set filled with cuts from Unimon Superstar, which is always welcome. The individual members get their time to shine, with one highlight being Rat Jesu showing off a nutty version of "Fraud," featuring liberal use of the Duke Nukem "it's time to kick ass" sample. Meanwhile, the visuals were on a different planet, featuring CGI hummingbirds, ancient architecture and robotic dinosaurs (all saturated in a beautiful neon glow). I'm continually fascinated by everything this band puts forward and this set was no exception. 
Meishi Smile
Meishi Smile and I go way back. I discovered their album LUST in my freshman year of high school, and finally got the chance to see them live during Anamanaguchi's [U S A] tour in 2019. I'm hoping with the rise of digital pop music as a scene that their work becomes more prolific, because they definitely deserve recognition for synthesizing sounds that artists like Porter Robinson have been able to take mainstream.
Their set was honestly the most emotional performance I saw during the festival. All of the visuals were viewed through a CRT haze, so that even their solo acoustic performance for one song revealed them as more of a mosaic than a clear image. Most of the visuals were bathed in a dreamy, nostalgic glow that reminded me of a lot of the early vaporwave aesthetics of the 2010s. Meanwhile, "Hate Floods Slow" took a deeply saddening turn to memorialize countless victims of racialized violence: from Michael Brown to Vincent Chin, and from the people imprisoned by ICE to the victims of the Hiroshima bombing.
The music in the set was a delightful blend of old and new. I was warmed by a few fan favorites like "Honey" and "Pastel," but a great deal of the music in their set was slated to come from their upcoming album Ressentiment. These songs sounded like novel updates on their well-worn sound. Even so, they claim that these were cut versions that will be performed by a full band on the record. If that's the case, I can't wait to hear what the fully-fleshed out versions sound like.
Neupink
With this many DJs on the roster, it really was a tight competition for the title of hardest set (Sienna Sleep and Vertigoaway were enough to shake fillings loose). For my money, that honor goes to Neupink. Their 30-minute set was an absolutely blood-pumping mix of digital hardcore and electro-industrial, led mostly by a very distinct synthesized guitar tone. The drumming in particular had just the right amount of 90s nostalgia, reminding me of everything from the Chemical Brothers to the Jet Set Radio soundtrack. They went absolutely hard as nails, only slowing down briefly in the second half. However, in spite of how blistering the set was, I never got the feeling that Neupink was trying too hard. I came out of this set feeling rejuvenated, which is strong praise given how exhausting even the best of hardcore DJs were during the festival.
Panchiko
The inclusion of this band in the lineup at all is a miracle of the internet. UK group Panchiko made a few EPs at the turn of the millenium before splitting, only to be reunited when members of the 4chan board /mu/ started circulating their debut EP in 2016. Even though it was submerged in a heavy layer of disk rot, the allure of this tape was enough for fans to message lead singer Owain's Facebook for more information, and now their cult following has prompted them back into the business.
Their performance carries a mystery in itself: the show consisted of a beautiful semi-acoustic performance of "UNTITLED ACOUSTIC SONG 1997," followed by a full set of psychedelic, analog-synth jamming. The band says that this could become the context for a future release, but for now, we have a delightful 30 minutes of hypnotic trip-hop jams. The fact that this session led to some coherently beautiful moments is fascinating, and only lends hype to whatever upcoming project they might be working on.
Nick's Picks
Naked Flames
One of the best aspects of virtual music festivals is that each artist is usually allowed to post their own set, allowing listeners to go over sets they might have missed or to re-experience favorite moments of the festival. Naked Flames's set fits under the former, as I wasn't able to listen to their set live, settling instead for the posting of the set on YouTube [content warning: flashing lights]. The music selection was typical for Naked Flames—outsider house and electronic music compressed and warped to give it a sort of digital-psychedelia aesthetic. The visual accompaniment was an extremely dense collage of early to mid-2000s visual media, including but not limited to cell phone advertisements, Mario Kart racing and Dot-com-era web design. 
Them Airs
If you look at any music festival's lineup, chances are you will read names of bands that you have never heard of before. I had never heard of Them Airs, despite their fairly expansive discography and their newest album Doped Runner Verse being reviewed by music critic Anthony Fantano. What grabbed my attention most during their set was their ability to fuse a bunch of different genres and sounds together into listenable post-punk tracks. The production quality of the set was fairly limited but in a way that was reminiscent of this video of a Suburban Lawns performance. Safe to say they have gained a fan after this set. I highly recommend them.
Naaki Soul
Naaki Soul makes dreamy, stripped back rock songs. The set was packed with the elements that make Naaki Soul such a likeable band: subtly beautiful vocals, twinkly guitars and glitchy synth riffs. The last three songs showcased a confident supporting band that made me excited for the band's future. 
Material Girl
Last year was a big year for several No Agreements' artists, including Material Girl. Tangram, their 2020 debut, featured some pretty masterful fusions of plunderphonics, future garage and experimental hip hop. Their set, which has yet to be uploaded online at the time of writing, mostly fit that bill, and even included likely additions to their next album. From what the set contains, I can't help but be excited for their next project to drop. Overall, it was just a big time showcase of the promising artists working within the No Agreements collective.