The Sci-Files – 03/28/2021 – Raisa Glabman – Mapping the Mammary Tumor Microenvironment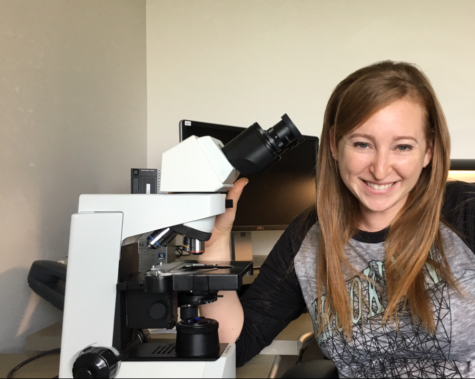 On this week's The Sci-Files, your hosts Chelsie and Danny interview Dr. Raisa Glabman.  Dr. Glabman is a veterinarian and fellow in the NIH Comparative Biomedical Research Program (CBSTP) in partnership with MSU. As a veterinary pathology resident and Ph.D. student, she is interested in how disease pathogenesis translates across species, and in assessing the validity of specific animal models of human disease, particularly cancer immunology. Her research at NIH is centered on the stromal component of the tumor microenvironment (TME), which also includes tumor cells, immune cells, vessels, and other signaling components. Tumor stroma is critical in disease, as it forms both a physical and immunological barrier to chemotherapeutics and immunotherapy. The tumor stroma and cancer-associated fibroblasts (CAFs) in particular promote cancer progression and metastasis, leading to resistance to therapy and tumor recurrence. By selectively and locally targeting these tumor-promoting cells in murine models of human breast cancer, Dr. Glabman hopes to find new therapeutic strategies that activate the immune response in cancer patients.
If you're interested in talking about your MSU research on the radio or nominating a student, please email Chelsie and Danny at [email protected] Check The Sci-Files out on Twitter, Facebook, Instagram, LinkedIn, and YouTube!