Caufield shines in Badgers' key victory over Spartans
EAST LANSING – After No. 3 Minnesota lost at home to No. 7 Michigan, No. 5 Wisconsin came into game two with the chance to win the Big Ten regular season crown with a win over Michigan State.
The Spartans came into game two having been shut out in three straight games, but Michigan State was not able to play spoiler in its regular season finale. Wisconsin took game two 2-1 to sweep Michigan State and secure a regular season title behind two goals from sophomore forward Cole Caufield.
"Our guys played a hell of a hockey game," Michigan State coach Danton Cole said. "Unfortunate it came down to one goal there, but they didn't cheat us. I thought it was one of our better games of the year. No reason to not play our best game of the year next Sunday."
The first period was arguably the best period Michigan State has played since the third period against Michigan in game two back in January. The Spartans killed off both penalties, generated good scoring chances and minimized Wisconsin's big guns. Neither team was able to break through, and they took the 0-0 tie into the first intermission.
The second period stayed scoreless up until a wild second half of the period. Forward Charlie Combs buried a puck in the slot to give the Spartans a 1-0 lead with seven minutes left in the third. Combs' goal ended a long scoreless drought which lasted 238 minutes and 25 seconds (over three games) between goals.
Senior forward Mitchell Lewandowski was credited with the assist on the goal, giving him career point No. 100 at Michigan State. He is the final member of the "KHL" line (which included him, Taro Hirose and Patrick Khodorenko) to hit the milestone.
"[Lewandowski] first and foremost, tremendous young man," Cole said. "You can be a great hockey [player] and be an idiot, and nobody wants you. But he's that rare real good hockey player and outstanding young man."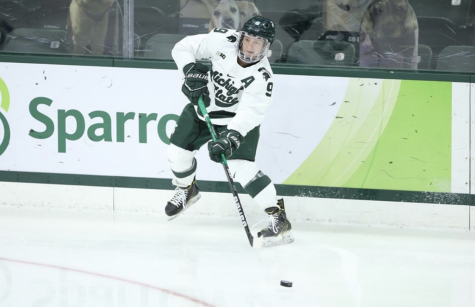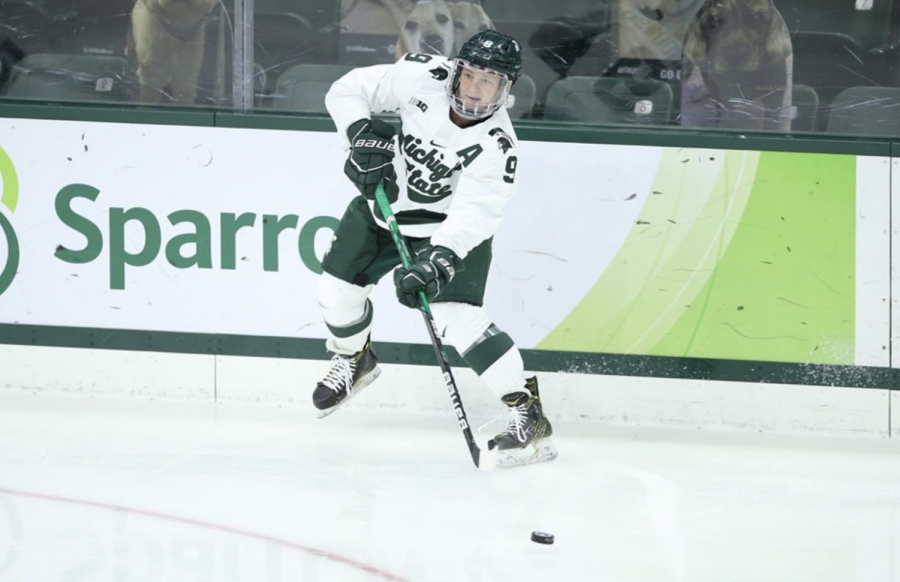 Combs reflected on the milestone as well.
"It's been a while, and it's been frustrating not producing," Combs said. "But it feels awesome, and it feels even better being Lewy's 100th — so happy for him, and that's an awesome accomplishment." 
It looked like Michigan State would take the lead into the locker room until a late Michigan State penalty sent Wisconsin to the power play.
Caufield used the power play to remind everybody why he's going to be the favorite for the Hobey Baker (college hockey's MVP award). With 17 seconds left in the second period, Caufield picked a near impossible angle on Spartan freshman goaltender Pierce Charleson to make it 1-1, which you can watch here if you missed it.
"You know what, that was a tight angle," Cole said. "No matter where [Caufield] is on the ice, you feel like you got him in a tough spot, and he finds a way to get it on net."
The third period went back and forth, but Caufield wasn't done yet. Just over eight minutes into the third, Caufield walked in on Charleson to make it 2-1, Badgers, for his second goal of the game and third of the series.
Caufield now stands alone with the nation's lead in points (46), goals (25) and power play goals (nine) in 28 games played this season.
"It's not a big secret here [Caufield] is a hell of a hockey player," Cole said. "That's what he does, and sometimes when you got that guy, it helps. Big players make big plays like that and you tip your hat, I hope we get to play them again."
Wisconsin would hold on to win 2-1 and secure themselves a regular season conference championship and a bye in the Big Ten tournament behind two goals from Caufield.
Up next for both teams is the Big Ten tournament. 
Michigan State finished last in the conference, so it will play against No. 3 Minnesota in a single-elimination tournament game in South Bend on March 14.
"That's a really good hockey team, and we battled and competed," Cole said. "Whether we won or lost today, we were still gonna play next Sunday. Still gotta win next Sunday to keep our season moving, and that's our focus."