Michigan State has 60 minutes to salvage its season
EAST LANSING – Michigan State dropped game one against No. 5 Wisconsin 4-0 and were thoroughly dominated by the Badgers in all three periods. Wisconsin exposed every flaw in the Spartans' game this season and emotionally demoralized the Spartans. Wisconsin's bench was lively, and the Spartans were visibly frustrated, which was evident by them slamming their sticks, hanging their heads, and even undoing helmet straps on the way to the penalty box.
 The good news for the Spartans is that the season isn't over, and they have 60 minutes on Saturday afternoon to fix everything that has gone wrong this year. They will get to see Wisconsin one more time before the two likely face off in South Bend for the Big Ten Tournament. Michigan State has clinched last place in the Big Ten after their game one loss, and Wisconsin will finish second unless No. 3 Minnesota gets swept at home by Michigan, meaning if the season ended right now, Michigan State would play the Badgers in game one of the tournament.
In essence, tomorrow is the Spartans' last tune-up to give themselves a fighting chance in the postseason.
After Friday's game, Michigan State has now gone 205 consecutive minutes of play without scoring a goal, including getting shut out by average goaltenders in three straight games. Spartan captain Tommy Apap said it himself after game two against Notre Dame.
"We all know it; we're not scoring enough goals," Apap said. "We didn't score a goal this weekend [against Notre Dame,  so obviously you're not going to win games like that, and I think it's a bit of a mental hump we gotta get over."
After watching Michigan State each of the last three games, it's easy to see their biggest opponent right now is themselves. They're visibly frustrated at the lack of offense, and there are other dragons that need to be slain for their own mental well-being.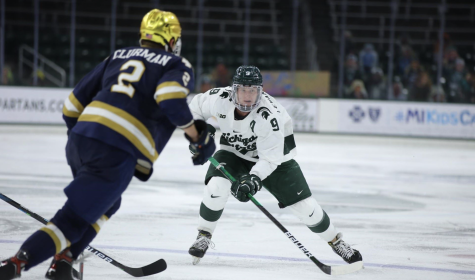 Senior forward Mitchell Lewandowski is one point shy of 100 career points, and he's been simply trying to do too much to get it; the Spartan power play is trying to get too cute because they know something needs to change. Right now, MSU's power-play conversion rate this season is under six percent this season, which is good for the second-worst mark in Division I.
The Spartans need to play their last regular season game tomorrow, and play their game and get out of their own way. MSU will have 60 minutes to size up Wisconsin and figure out how to beat one of the best offenses in the country, because they have shown this season that they are capable of beating anybody.
If Michigan State can get out of its own head, they are fully capable of going to South Bend and beating anybody in the tournament.