Spartans top Ohio State, Nebraska in impressive team victory
Chase Goff, General Assignment Reporter
January 30, 2021
EAST LANSING — Michigan State gymnastics took on Big Ten opponents Nebraska and Ohio State in their first event of the season on Saturday, the Jan Howard Breast Cancer Awareness Pink Meet. 
Michigan State came in first place with a score of 195.775, topping No. 26 Ohio State with 195.325, and No. 33 Nebraska with 194.725.
Through the first three rotations of the day, Michigan State failed to take the lead, trailing Nebraska after the first event, and Ohio State for the next two. It wasn't until the Spartans took to the floor routine in the final rotation, and placed three gymnasts in the top five, that they would find themselves in first place.
The Spartans not only took home the team victory, but also managed to take six individual podiums, including at least a tie for the lead in four out of five categories. Leading the way was all around winner, freshman Baleigh Garcia, who scored 39.3 over four events, which included a win in the balance beam with a score of 9.9.
Fellow freshman Delanie Harkness also got a victory in her Michigan State debut, as she topped the rest of the field in the uneven parallel bars with a score of 9.85, notching her first victory in the green and white.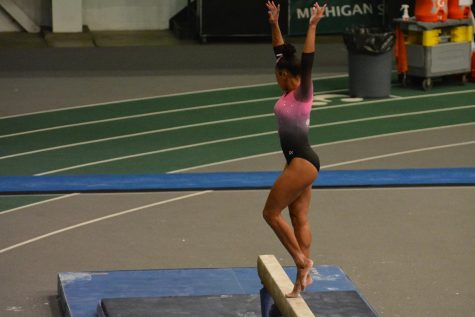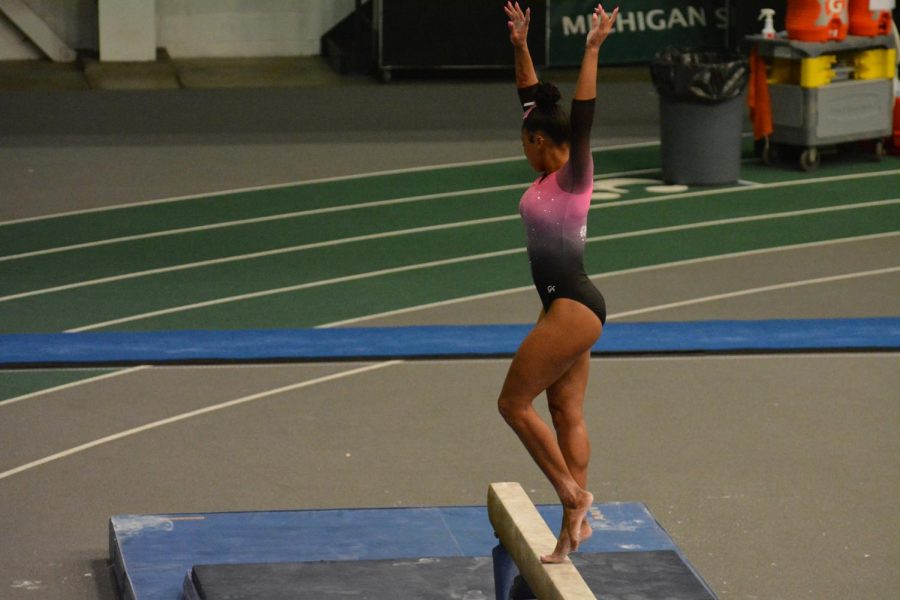 Senior Lea Mitchell, who contracted COVID-19 last month, didn't let that get in her way, as she got an individual victory as well. She tied for first place in the floor exercise with a score of 9.875. 
"Myself, I was coming off having the coronavirus, actually, like a month ago, so I was struggling a little bit to get back. But once my coaches and my teammates encouraged me that I had the experience, and that I can do this, it has helped me," Mitchell said. "I went out there just knowing that I can do it."
As for the individual all around results, the Spartans took all three podium spots, with Garica in first, sophomore Nyah Smith in second with a score of 39.175 and Mitchell rounding out the top three with a score of 39.025.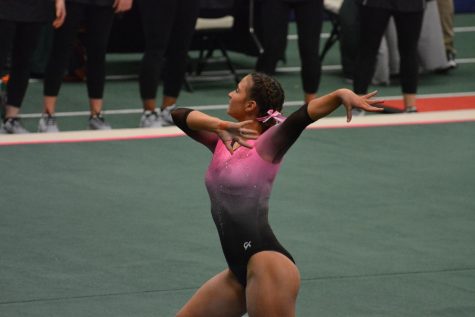 The young Michigan State team was the lowest ranked team coming into the day, but what they lacked in experience, they made up for in grit and confidence. The freshmen of the Spartans combined for three of their four individual victories, including the all around best performance.
"I have six freshmen that haven't competed collegiately yet, in our home opener, even though we don't have fans, we weren't sure, you know you get the first meet jitters, everyone gets the first meet jitters, even coaches, and you don't know what you're going to get," said coach Mike Rowe said. "But they came out, and talk about grit, the confidence, just exuding confidence."
The next event for the Spartans will be against Ohio State once again, but this time in Columbus on Feb. 7 at 4 p.m.
Follow Chase Goff on Twitter @ChaseTGoff_.