Michigan State's freshmen are a bright spot in series loss to Minnesota
Before Michigan State volleyball's opening series, much of the focus was on the amount of senior leadership this team has. With libero Jamye Cox anchoring the back row and outside hitters Meredith Norris and Lauren Swartz at the net, there was veteran presence around the court as the Spartans (0-2) took on No. 7 Minnesota (2-0) in their opening series. That wasn't enough to carry them to an upset, as they fell 25-18, 26-24, 25-16 in three sets on Saturday and 26-24, 25-22, 25-12 in three sets on Sunday.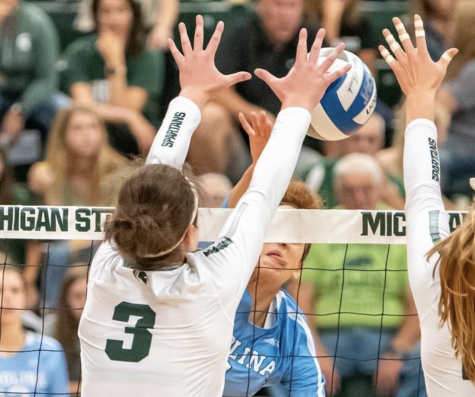 However, it was the underclassmen that stood out the most for the Spartans. Two freshmen, outside hitter Sarah Franklin and setter Celia Cullen, were surprise starters for the series despite experienced players at each position. After watching them play, it was clear that they deserved it.  
Franklin was the only Spartan to put up double-digit kills in either game against the Gophers, and she did it both times, recording 11 and 10 kills in the two games, respectively. Cullen put up 31 assists as the sole setter in game one and 13 more splitting time with junior Elena Shkylar on Sunday. Though Cullen was plagued by service errors, she established an immediate connection with both Franklin and standout sophomore middle blocker Emma Monks that translated into big points for the Spartans.
Credit them for how the Spartans hung around despite a clear talent disparity with the Gophers, who brought in this year's top recruiting class. When the Gophers ripped off 3-0 or 4-0 runs in early sets, the Spartans went right back to the familiar sequence: a dig, usually by Cox, a set from Cullen and an attack from Franklin. She certainly wasn't the only one to take advantage of the excellent setting from Cullen, but she was the most prolific. Monks put up six kills in each game despite only starting Sunday, while Cecilee Max-Brown put up six Sunday off the bench.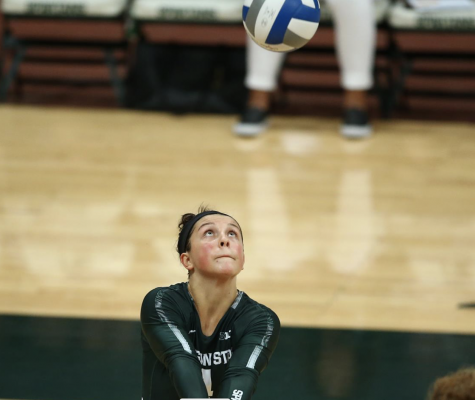 Meanwhile, the upperclassmen were inconsistent for the Spartans. Cox was her usual self for most of the two games, recording acrobatic digs that kept miracle rallies alive. But in Michigan State's two third-set collapses, the first signs of trouble were accidental over passes from Cox that gave easy points to Minnesota. The Gophers used those to build an 8-0 run in set three on Sunday that put the game out of reach.
Attacking wasn't much better for the Spartans' experienced players. Norris was the most consistent attacker behind Franklin (seven kills Saturday, four kills and one block Sunday), but junior middle blocker Naya Gros was shut down at the net on Sunday with only one kill. She salvaged her day with three blocks, but she was overpowered by Minnesota's standout middles Regan Pittman and Katie Myers, who gave the Spartans fits.
Pittman was the standout player for Minnesota last year in their victory over Michigan State, recording 19 kills and five blocks, but she only put up seven kills and five blocks this time. Instead, it was outside hitter Stephanie Samedy who provided the juice for Minnesota. 
Samedy, a preseason All-American, demonstrated a killer instinct playing from behind that eluded Michigan State all weekend. In Saturday's game, with Minnesota starting to rally but still down three points late in the second set, she put the team on her back and scored five of the last six points, sending blistering shots down the right line at Franklin and Cox, who struggled to corral them. She didn't miss a beat in Sunday's match, recording 14 kills and frustrating Franklin and Cox once again in a comeback victory in the first set.
Overall, it was an up-and-down performance from the team. They hung tough with an elite squad, but demonstrated some mental lapses playing ahead and playing later in the matches. Coach Cathy George's young players are ahead of schedule, laying a good foundation for the future of the squad, but they'll need to find some toughness if they really want to make some noise in the Big Ten this year. 
Due to positive COVID-19 tests in Michigan's athletic department, Michigan State's scheduled matches against the Wolverines this week have been postponed. The Spartans will return to East Lansing for their first home series of 2021 against Ohio State on Feb. 5-6.