MSU drops to No. 17 in latest AP Poll
EAST LANSING— Michigan State started the year trending upward at 6-0 and ranked at No. 4 in the AP poll.
However, after consecutive losses to Northwestern and Wisconsin, MSU dropped to No. 17 in the latest weekly AP Poll. 
MSU is one of nine ranked Big Ten teams in this week's poll.
Despite leading by nine in the second half, the Spartans could not pull together a Christmas Day victory, losing 85-76 to the No. 9 Wisconsin Badgers.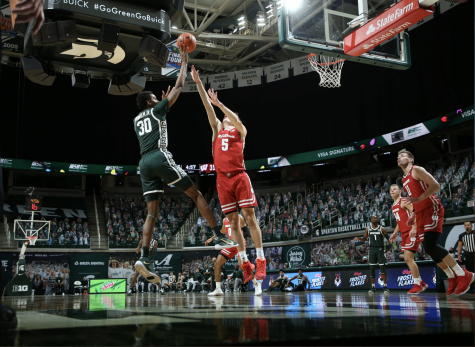 Joey Hauser scored a career-high 27 points on Friday, but it wasn't enough. The Spartan defense struggled, allowing 85 points at home which was well above their defensive season average of 75 points allowed per game. They also could not stop Wisconsin guard D'Mitrik Trice, who scored a game-high 29 points. 
Friday's game was the third contest in a row where a team shot at least 50% from the floor against MSU.
MSU also dropped a challenging road game last Sunday against Northwestern, 79-65. Wildcat Guard Boo Buie exploded for a career-high 30 points on five made 3-pointers.  Overall, Northwestern shot 52.9% from the floor and 47.6% from deep.
Both Joey Hauser and Rocket Watts struggled shooting the ball against the Wildcats; they went a combined 4-of-18 from the field, including 2-of-10 behind the arc.
The Spartans find themselves at 0-2 in Big Ten play for the first time since the 2006-07 season when the team finished with an 8-8 record and finished seventh in the Big Ten.  That team would go on to win a game in the NCAA tournament over Marquette before bowing out to North Carolina.
MSU will look to bounce back tonight against the No. 21 Minnesota Golden Gophers in Minneapolis.  Minnesota is 8-1 on the season and knocked off No. 4 Iowa 102-95 on Christmas. The Gophers are led by guard Marcus Carr, who is averaging nearly 25 points a game to go along with six assists. 
Tipoff is set for 8 p.m.