Previewing Saturday's matchup between MSU and No. 11 Northwestern
EAST LANSING- After an unexpected week off for the Spartan football team, Michigan State will welcome No. 11 Northwestern into Spartan Stadium tomorrow afternoon. 
Northwestern comes into tomorrow's game sporting an undefeated 5-0 record. The Wildcats gained firm control of the Big Ten West last week after beating No. 18 Wisconsin 17-7.
In the Spartans' last outing two weeks ago, they were handily beat by another ranked opponent as Indiana defeated Michigan State 24-0. While the offense put up no points, there was some optimism after the Spartan defense held Indiana to zero points in the second half and forced some nice fourth-down stops. 
Mel Tucker even elected to switch up quarterbacks in the second quarter, going from Rocky Lombardi to Payton Thorne. Thorne possibly getting his first collegiate start tomorrow against Northwestern is something to look out for. 
Michigan State will need to play close to perfect football tomorrow to beat the Wildcats. The 6-foot-2, 220-pound Northwestern quarterback Peyton Ramsey has played well this year, throwing for 926 yards and eight touchdowns in five games.
If there is one knock on Ramsey, however, it would be his carelessness with the football. He has four interceptions this season in only five games. The Spartans' defensive backs will need to get their heads turned early on passes to avoid pass interference and keep an eye out for inaccurate throws. 
For the Spartan secondary, Shakur Brown has been the guy to cover other team's number one receiver. Two weeks ago he covered Ty Fryfogle, and while he did come away with two interceptions, he was burned for 200 yards and two touchdowns.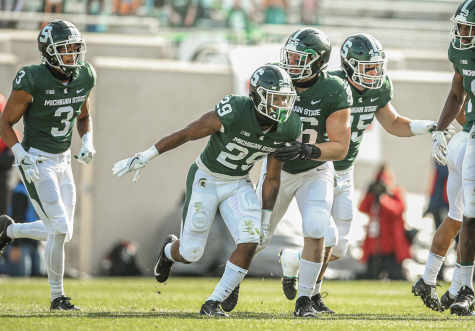 Brown will most likely be lined up against the Wildcats' number one receiver, Ramaud Chiaokhiao-Bowman. This is another big matchup that could determine the game's outcome. Chiaokhiao-Bowman has 290 yards and four touchdown catches this year.  He also caught four passes for 95 yards and a score last week.
Northwestern is a good football team, and their run game is another facet that allows them to be so successful. They average 144 yards per game on the ground, which allows them to control the tempo and pace of the game. Playing complementary football is something Mel Tucker has been harping on all season, and if he looks to the opposite sideline tomorrow, he will find a team that does it. 
The Spartans have struggled so far this year to establish the run game as they are  only averaging 74 yards on the ground per game. If this continues, this could be a long and tiring game for the entire MSU defense, who will be forced to remain on the field for lengthy periods of time. 
This is going to be another challenging game for the Spartans, who are facing a gauntlet of top teams this fall. While everything seems to be going against them, if the Spartans don't turn the ball over, they have a shot. It's a long shot, but a shot nonetheless. 
My Prediction:
I believe that Northwestern is playing with too much of a chip on their shoulder right now to overlook Michigan State. They take advantage of a stellar running attack with play-action passes, sucking up the linebackers and catching players out of position. It is too much for the Spartans to handle. Antjuan Simmons is not 100%, and having a young, inexperienced quarterback is something the Wildcats will take advantage of. 
Northwestern: 31
Michigan State: 10