Loyer has career night, Spartans beat Eagles 83-67
EAST LANSING — The Michigan State Spartans were back in action Wednesday night, as was much of the college basketball landscape. The Spartans hosted the Eastern Michigan Eagles and won by a final of 83-67.
11 different Spartans found the scoring column, but perhaps the most impressive storyline from this contest was junior point guard Foster Loyer's virtuoso shooting performance. Loyer set a new career-high for points in the first half alone, taking 17 points into halftime. With Cassius Winston out of the mix, coach Tom Izzo looked to Loyer to lead the charge, as Loyer started at point guard and finished the game with 20 points to help the Spartans pull away. He shot 6-for-10 from 3-point range.
"To (Loyer's) credit and his competitiveness, he made shots and we got him good shots," Izzo said. "That zone is hard to go against. If he doesn't make those shots, we probably really struggle."
Izzo also cited Loyer's defensive improvement from his first two seasons as a substantial reason that he was on the floor so much.
Graduate student Joshua Langford returned to action and contributed 10 points. He started off a bit rusty, missing his first three 3-point attempts before connecting on the fourth for his first points since Dec. 2018.
"I'm just grateful to be back out there," Langford said. "Ultimately, I'm just glad we got the win and I got a game under my belt."
The Eagles' most impressive stretch came in the middle of the first half, right after Langford's first 3-pointer. They went on a 9-0 run to take a 19-17 lead, but the Spartans were quick to respond, thanks in large part to Loyer's shooting, and never gave the lead back. Senior guard Yeikson Montero led the Eagles in scoring with 16 points to go with six rebounds.
MSU's shooting big man Joey Hauser—a transfer from Marquette—also made his debut for the Spartans, finishing with 15 points. It took a bit for Hauser (five turnovers) to settle into the flow of the new offense, but he came on strong in the second half, where he dropped 10 of his points, scoring eight straight Spartan points halfway through the half.  
"In all fairness and honesty, I was pleased with how (Hauser) played," Izzo said, emphasizing that it's not easy to play after taking a year off after transferring.
Hauser himself was appreciative of his teammates for helping him get back up to speed and in rhythm.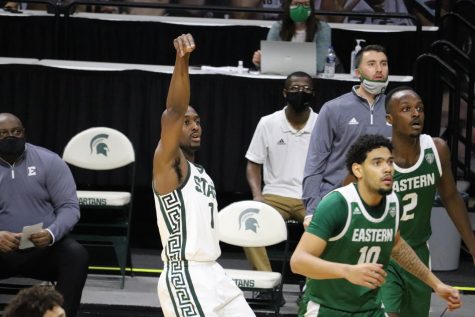 "I'm thankful for my teammates, they really picked me up," Hauser said. "I'm really thankful for everyone in this program to help me keep my head high."
Some other bright performances for the Spartans came from junior forwards Gabe Brown—who knocked down four 3-pointers—and Aaron Henry, who finished with just six points but added seven assists. Henry led the Spartans in that department, with sophomore big man Malik Hall adding five assists as well. The Spartans finished with 27 assists as a team.
"The ball movement is almost a depiction of how we want to be as a team," Langford said of the assist numbers. "When we play together, we're better."
The Spartans will take the 16-point victory into the holiday weekend as they prepare to host the Notre Dame Fighting Irish on Saturday. Follow @WDBMSports on Twitter for all of your game coverage. For more Spartan basketball coverage, check out the "Impact Izzone" podcast anywhere you listen to podcasts.
Trent Balley is a men's basketball beat reporter and sports editor for WDBM Sports. Follow him on Twitter at @TrentBalley.