MSU gears up for season with Eastern Michigan looming
EAST LANSING — It has been 260 days since Michigan State Basketball last took the floor in the Breslin Center. 
Now, just two days before tip-off, the Spartans are gearing up for an unprecedented season, the likes of which no one has seen before. Games will get canceled and rescheduled, players will test positive for COVID-19, and numerous questions will be answered in the coming months.
Much of this MSU roster will be trying to prove themselves this season, but the coaching staff is confident in their team's ability to do so.
"Aaron (Henry) had a heck of a summer for us, Joey Hauser, a lot of people haven't seen him yet," associate head coach Dwayne Stephens said. "Foster Loyer and Rocket, they're both playing extremely well. I think people will be surprised when they see those guys."  
Stephens ran practice while Izzo was in quarantine after testing positive for COVID-19.
For the Spartans, it's anyone's guess as to who cracks the starting five against Eastern Michigan this Wednesday. Other than Aaron Henry, Joey Hauser and Rocket Watts, the last two starting spots are up for grabs. One name that is getting a lot of attention from players and coaches is Foster Loyer. 
"We have about seven starters right now," Stephens said. "I feel like Foster is handling pressure a lot better than he did last year. He's a little more comfortable." 
Loyer, who averaged just 2.9 points and 7.5 minutes per game, is growing into his newfound role as a leader on this team. 
"Foster is a little bit more comfortable at that position because he's played that position before," Joshua Langford said. "Foster has done a great job with it, and I think you can see that with him being elected a captain."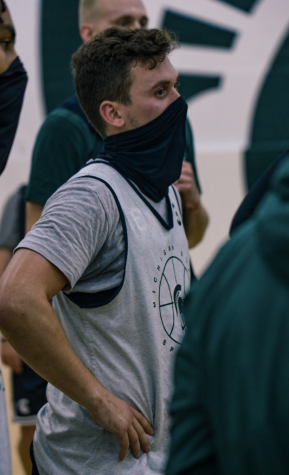 The coaching staff is not only focused on finding a consistent  point guard for this season, but also figuring out the big man rotation. Hauser is pretty much a lock as the main offensive player down low for MSU with his ability to stretch the floor, but Stephens says he wishes there was a consistent leader within the frontcourt.
"They all have their moments… There are days when Marcus (Bingham) looks unbelievable," Stephens said. "There are flashes that Maddy Sissoko has shown in a short time, and Thomas (Kithier) is probably the most solid and closest thing we're going to have to Xavier in terms of being in the right place defensively."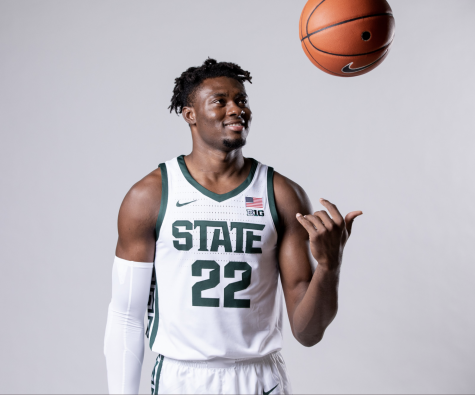 Another player looking to prove himself this season is sophomore guard Rocket Watts. Watts finished last season averaging 9 points and 1.7 assists per game, but he didn't really become the dynamic scorer that he's currently known as until the latter half of last season.
Before February, Watts scored in double figures five times,  but in the last 10 games of the season, Watts finished in double figures six times, including two career-high 21-point performances against No. 18 Iowa and No. 22 Illinois. 
This year Watts says he's more comfortable taking over the role as the lead scorer that was lost when Cassius Winston and Xavier Tillman declared for the NBA Draft.
"I feel real confident, the guys like Josh, Foster and Aaron, they are great teammates and they talk to me, keeping me motivated and stuff like that, " Watts said. "I feel very confident and want to stay watching film and stay working on my game.". 
We are officially less than 48 hours away from the 2020-21 season as MSU will host Eastern Michigan at the Breslin Center on Wednesday at 6:00 p.m.  
The season opener may not answer as many lineup questions as the following road games against Notre Dame and Duke will for Izzo. However, we will gain a much better idea of who Izzo will lean on for scoring and production after Michigan State takes the floor against EMU.