Five takeaways from MSU's upset win over Michigan
The Michigan State Spartans' 27-24 upset victory over the in-state rival Michigan Wolverines left the nation with some takeaways regarding MSU coach Mel Tucker's squad.
1. Ricky White is legit
MSU had yet another weapon emerge on offense Saturday, as true freshman Ricky White had eight catches for 196 yards and a touchdown. After playing sparingly last week, White was able to capitalize on his increased role due to the injury to Tre Mosley.
White was a consistent deep threat all game, as he averaged 24.5 yards per catch. White was able to get the opening touchdown for MSU with a 30-yard touchdown on MSU's second possession. However, White's most impactful catch of the game came on MSU's second-to-last possession, as he hauled in a juggling 31-yard catch to set up Connor Heyward's touchdown to put MSU up 27-17 with 5:11 to play in the game. The connection between Lombardi and White will be a massive source of offense for MSU going forward, alongside fellow receivers Jayden Reed and Jalen Nailor.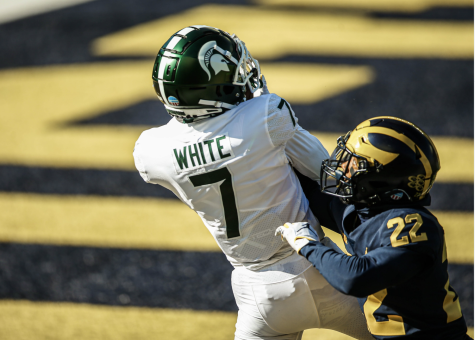 2. Mel Tucker can coach
There was obvious anger towards the coaching staff following the disappointing week one loss to Rutgers, and there was some legitimate criticism of Tucker and the coaching staff all week. Tucker was confident in all interviews and press conferences during the week, and that confidence transferred to the players on the field.
MSU came out swinging early, and was clearly more prepared to play this week compared to last. The Spartans were able to set the tone early with a touchdown on their second possession and kept their foot on the gas all game. Tucker made sure the players were disciplined and did not shoot themselves in the foot. MSU had one penalty due to unsportsmanlike conduct for taunting, which was a constant problem for Mark Dantonio teams in rivalry games. The defense was prepared completely for Michigan's offensive gameplan, and had a counter for everything Michigan had success with in week one.
3. Joe Milton should've studied Antjuan Simmons a little harder
After the loss, Michigan quarterback Joe Milton was asked about Spartan linebacker Antjuan Simmons, who had a huge game, including a one-handed pass deflection that saved a touchdown in the second quarter. Milton said, "I wasn't really worried about him. He's a heck of a player, but he wasn't really on my radar."
The blatant disrespect is not uncommon in this rivalry, but Milton could've had a much better game if he understood just how good Simmons is. Simmons, an Ann Arbor native, said that no other game will ever mean as much as MSU-Michigan. He was well-prepared for everything Michigan threw at the Spartan defense, as he led MSU in tackles and had two pass deflections. It would be a good thing for Milton going forward if he was more familiar with the best defensive player on the opposing team.
4. The MSU defensive line set the tone
The Wolverines ran for over 250 yards in their week one win over Minnesota. It looked like their power running game could not be stopped by any means, and MSU would struggle with it. However, the MSU defensive line did an excellent job at containing the chunk runs that were prevalent all last week for the Wolverines.
Jacob Slade and Naquon Jones, the starting defensive tackles for MSU, were able to disrupt the interior running game and were in the Michigan backfield all game. Drew Beesley and Jacub Panasiuk were able to contain Milton for a majority of the game, forcing him to be a pocket passer, where he struggled to be accurate.
5. Michigan State was able to hold onto the ball
After having three turnovers in week one, Lombardi protected the ball with his life, and MSU's offense went from seven turnovers to zero. Tucker said that MSU spent a large part of this week's practices working on ball protection, and it paid off for Lombardi and the offense Saturday. Lombardi looked sharp, as he threw for 323 yards and three touchdowns on 17-32 attempts. Despite being much more aggressive in terms of play calling and attacking downfield, he was able to manage the game well and put MSU in a position to win.
Reed and Jordon Simmons were also struck with the fumble bug last week, but were able to hold onto the ball through contact after working extensively on their ball protection this week. Reed and Simmons are two of the most explosive players on MSU's roster, and they need more performances like Saturday in terms of ball protection to get the touches they deserve on offense.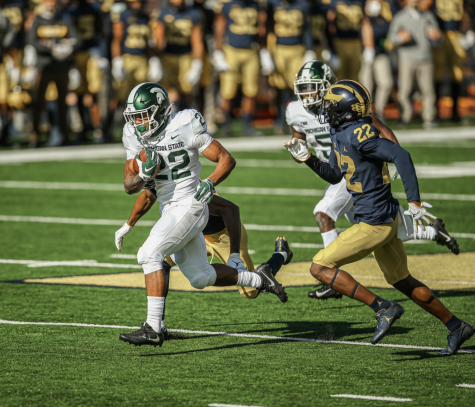 Jared Ramsey is a football beat reporter for WDBM Sports. Follow him on Twitter at @jared_ramsey22.