After waiting in the wings for a season, Jayden Reed is ready to take the Big Ten by storm
EAST LANSING — Jayden Reed and Payton Thorne go way back, all the way back to competing in middle school and high school football games together on the grass fields of Naperville, Ill.
Thorne and Reed are teammates yet again. While their paths may have been a bit different (Reed spent his first year of college lighting up opposing defenses at Western Michigan), they both are in prime position to earn playing time on a new-look Michigan State squad.
When asked about why he chose to transfer from WMU to MSU, the first person that Reed mentioned was Thorne along with fellow receiver and Naperville native, Cade McDonald.    
"That gave me a reason…I was comfortable here. I also have Cade McDonald, he is on the receiving roster here," said Reed. "I just felt at home here, so that's really what drove me the most. I had visits to other schools…I was just all in at that point."
After racking up 797 receiving yards, eight touchdowns and being named to the All-MAC second team during his freshman season, Reed knew MSU could provide him a better competitive atmosphere than WMU.
"I am a very competitive person and I wanted to get a great education first and foremost,"  said Reed. "Second off, I wanted to compete with the best. That was a huge reason why I came. I felt like it was in my best interest to come here to play at Michigan State."
After the departure of Cody White, Reed — along with Tre Mosley, Laress Nelson and Jalen Nailor—will be tasked with revivifying an MSU passing attack that has been subpar for years. Reed has by far the most receiving yards at the collegiate level out of the four; Mosley, Nelson and Nailor have only amassed 651 career receiving yards combined. Like Reed, Nelson and Nailor weren't heavily recruited out of high school.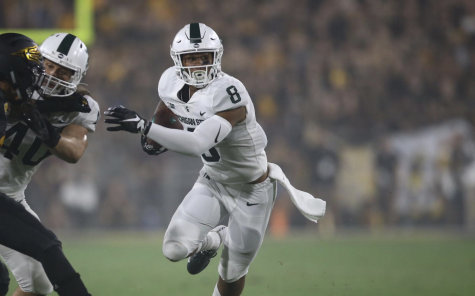 "Ever since I was in high school, I haven't been the biggest big-time player," said Reed. "I was a 3-star, not a 5-star, but I did always face those types of guys. Whoever I'm in front of, I feel like I'm going to take it to them, regardless of what their label is. It doesn't matter who it is. I'm going to come at you." 
What the Spartans lack in experience, they make up for in sheer quickness and athleticism. Nailor, who is dubbed "Speedy" by fans, and Nelson have shown the ability to run right by the secondary of opposing defenses and stretch the field vertically.
"That's probably one of the biggest things, is speed right now," said Reed. "I believe we can attack (our opponents) vertically. We already (have) good backs so we can spread them out. We also have a lot of big, strong receivers who can take the top off (of opposing defenses), so I think that will be a huge change from this year to last year."
When asked about the impact that Reed would have on the Spartans offense this season, Elijah Collins mentioned that Reed is "someone to look out for." Having to account for Reed, a 1,000-yard rusher in Collins and several multi-talented receivers and tight ends such as Matt Dotson and Trenton Gillison may prove to be quite the burdensome task for opposing defensive coordinators.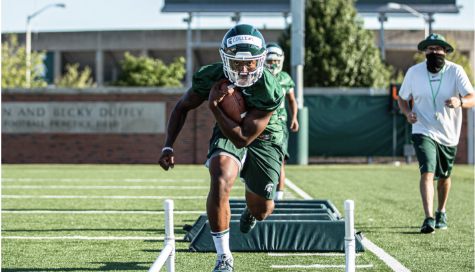 Despite being on the sidelines last season due to NCAA transfer rules, reps on the scout team and the ability to learn from grade-A corners such as Josiah Scott helped Reed realize how much improvement he still needed to make. Reed said he spent last season learning the complexities of the route tree and how to "think" like a defensive back. Reed, who mentioned Shakur Brown as a "patient" defensive back, credited Brown, Kalon Gervin and the entire defensive backfield for improving him in all aspects of the game. 
New receivers coach Courtney Hawkins has also been an enormous asset in improving Reed's skillset. According to Reed, Hawkins is a very energetic coach with a "Spartan Dawg" mindset who demands accountability, attention to detail, the ability to take tough coaching and the skill-level to win in 1-on-1 matchups, regardless of the opponent. Hawkins, an accomplished professional receiver in his own right, is using his memories of competition at the highest level to motivate and propel the receiving group to a standard of excellence for years to come.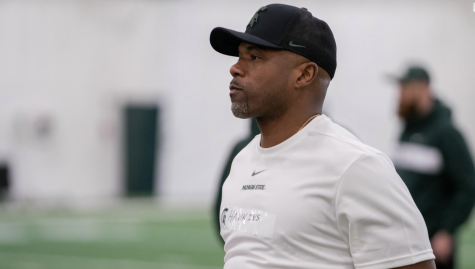 Nobody knows who will start under center for the Spartans against Rutgers on Oct. 24 or which five linemen will be tasked with paving massive holes for Collins. One thing, however, is for sure: if healthy, Reed will be a thorn in the side of Big Ten defensive backfields all season long.