Kyle Ahrens' playing career was defined by injury, but his legacy will last a lifetime
Senior guard Kyle Ahrens is wise beyond his years and despite injuries defining his playing time, he has left a stamp on a program that is unforgettable.
EAST LANSING — There was a moment in Michigan State's 80-69 win over Ohio State where the Breslin Center floor turned into the blacktop.
Players called an isolation for senior Kyle Ahrens to take his brother, Ohio State sophomore Justin Ahrens one on one.
"The players all said, 'Hey, I think his brother's going to guard him. Just let them go at it.' You know what, that's exactly what I did," said coach Tom Izzo post-game.
Ahrens got the inbounds from fellow senior Cassius Winston, sized his brother up dribbling in his left hand, then with about seven seconds on the shot clock hesitated, crossed back right and threw it between his legs and tried to go up for a shot, but Justin defended it well.
You can tell he's had years of practice guarding Kyle.
"A lot in high school and when I go home in the summer, that's how he knew what I wanted to do. I was hoping I was going to get him up in the air or something, but he didn't bite on it … he knew my move," Ahrens said.
Ahrens threw it to Winston who threw it right back at him as he relocated, he took a strong dribble to his left side and pulled for his last three on the Breslin Center floor.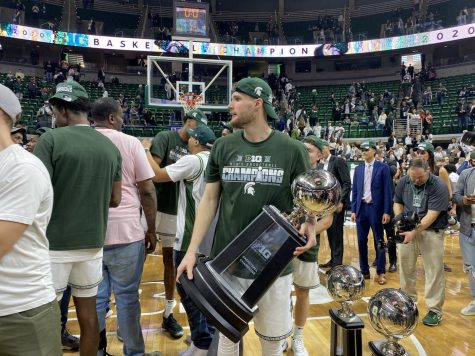 It didn't fall, but that shot all the way to when he checked out and kissed the Spartan head was the culmination of five years of work.
A beautiful moment for a player who has been put through a lot in his career.
"Kyle deserves a lot. His five years. What he's been through. I feel bad for normal fans or media that really don't get to see the rehab or some of the things that these guys have gone through. It's been different than most years. I mean, you always have some injury, but his injuries have been five or six years worth," said Izzo.
At points during his time at MSU, it's been questionable, even for him whether he'd continue to play.
"I didn't know if I was going to be able to play again, I didn't know what was going to happen. I just wanted to know what was wrong with my leg at the time (last season), so I mean this is amazing," Ahrens said.
No matter the injury he kept coming back. Pain experienced, yet defeated by a will to compete.
Its that toughness that has defined not just the team, but the program. Repeated comebacks from injury will always be a part of his legacy at Michigan State, but for his teammates, he's meant so much more than that.
"He's been like the big brother to us that we've always wanted as far as him giving us knowledge, him showing us the way, him bringing toughness to each and every practice and game, him playing through injury and showing us even with injury you're able to play through anything, being mentally tough," forward Xavier Tillman said after Sunday's game.
"He's been the staple for us this year of just a guy we can look to for motivation, a guy we can look to, to inspire us."
Those tight-knit relationships extend from the upperclassmen to the freshman. There's been one freshman in particular who has been close with Ahrens, Rocket Watts.
It's only fitting the two met and bonded over an injury.
"My first time on campus, he was like a big brother to me, he told me he was going to have me the whole way and I was injured and I didn't really know how to go about that because I never had a big injury my whole career and he's had a lot of injures," said Watts.
Add another banner to the top of the Breslin Center. Spartans beat Ohio State to win 3rd straight Big Ten Title. @WDBMSports pic.twitter.com/vcnPoLAqBn

— Julian Mitchell (@j_mitchell25) March 8, 2020
"So he was just talking to me, giving me good advice, telling me to stay working on my game and stuff like that. I just listen to him on and off the court because he's been through a lot and he's like a big brother to me and I'm happy to play with him and wish the best for him moving forward."
The two have a relationship that even Izzo gushes about.
"He has done so much for Rocket Watts, it's amazing. I look at those two as the banker and the Beverly Hillbillies and Judd. They're from opposite ends of the world. A city guy in Rocket, and a farmer in Arnie. The bond that those guys have got has been amazing.
It's been one of the neater things that I've dealt with," Izzo said.
So for a guy who's been through hell and back, it's only right that he gets to end his career at the Breslin center with a Big Ten championship trophy, his two families and almost 600 people from his hometown of Versailles, Ohio around him.
"Memories of a lifetime, nothing other to say than that," said Ahrens.
Julian Mitchell is a senior sports broadcaster and men's basketball beat reporter for Impact89FM WDBM. Follow him on Twitter @j_mitchell25.