McCutcheon, Spartans celebrate memorable Senior Day
Chase Goff, General Assignment Reporter
March 1, 2020
EAST LANSING — Taryn McCutcheon cemented herself into Michigan State history Sunday during an impressive 99-80 victory over Penn State. McCutcheon managed 15 points on 5-of-8 shooting and dished out nine assists on the night, giving her a total of 577 for her career, passing current assistant coach Kristin Haynie for the most in Spartan history.
Over the last four years, Michigan State fans have been allowed to witness greatness, and with the record tonight, McCutcheon places herself amongst the best to ever play in East Lansing.
"It's a big achievement when you look at what Kristen Haynie did here, taking the team to a national championship, and then going on to be a WNBA champion," said head coach Suzy Merchant.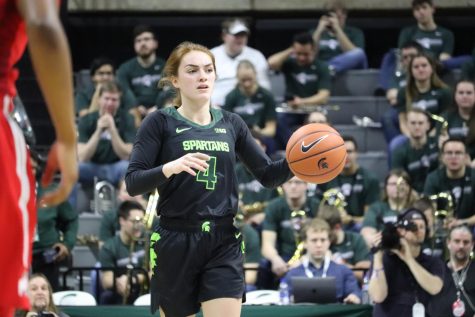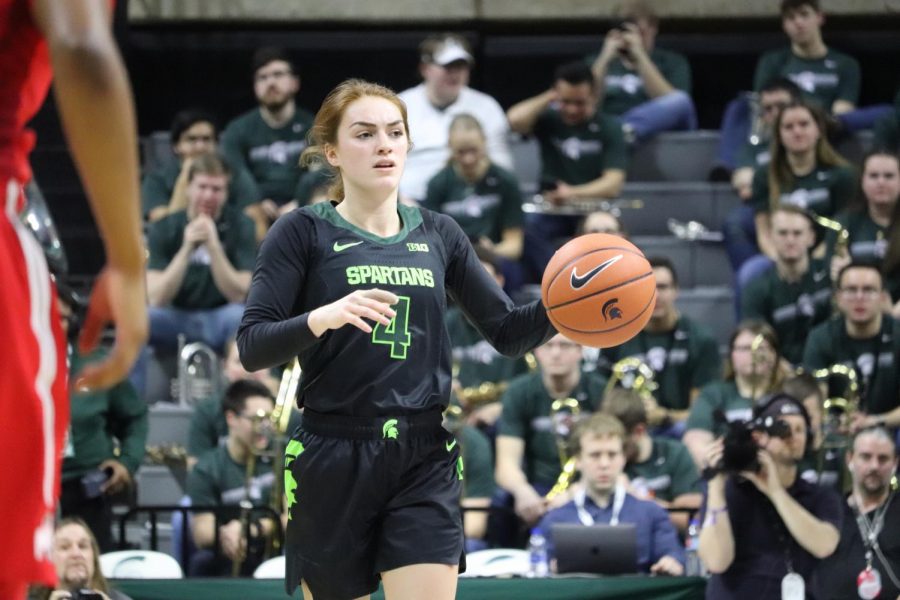 McCutcheon and Haynie are not only the two assist leaders in school history, but they are also the only two players in Michigan State history to score over 1,000 points and log 500 assists throughout their careers. The two shared a moment as the senior guard kissed the spartan head, and came off the court for the last time.
"That moment was insane," McCutcheon said. "I mean especially how much I look up to her, she's just the best thing ever to me. I mean, I wear her jersey number, I just enjoy her personality. I think it's more than just basketball for her, I think she's a great person."
It's safe to say McCutcheon's presence will be missed, but she was not the only player to kiss the Spartan head Sunday afternoon. Alongside McCutcheon were fellow seniors Nia Hollie, Victoria Gaines and Shay Colley.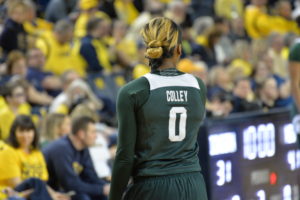 Hollie had a similar experience to McCutcheon when she knelt down to kiss the Spartan head and walked off the court one final time.
"It was really surreal, I didn't register that it was happening until it happened," Hollie said. "I'm a part of this day, you know, it's not me looking on for someone else, and being excited for someone else. It's being excited for myself and for these girls I came up with as well."
Hollie had herself a very prolific career as well. While Hollie wasn't breaking any records, she was still a difference maker and a leader for the Spartans, on and off the court. Especially with such a young supporting cast, Hollie and McCutcheon's experience was a key factor to the development of the Michigan State program throughout the past year.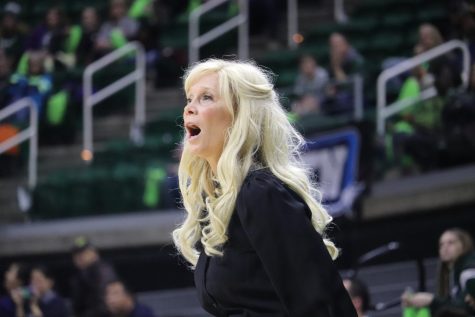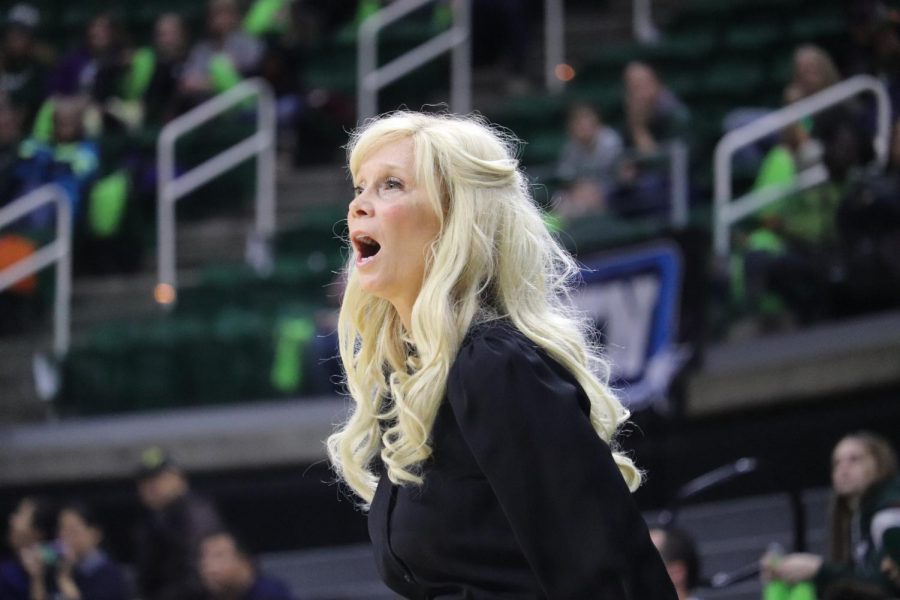 "They worked hard with them (young players) in the offseason," Merchant said. "They would talk to them, they would get into them, they would encourage them with a pat on the back. I think there were just a lot of things they did behind the scenes to kind of pass the torch." 
Victoria "Coco" Gaines and Colley didn't exactly have the senior year that they wanted, but that didn't stop them from getting spots in the starting lineup against Penn State. Both of the seniors have been sidelined with injuries throughout the season, but they took the court in the opening seconds of Sunday's game to celebrate their time spent in East Lansing.
"Even if it was just to kiss the Spartan head, that to me is one of the coolest things," Merchant said. "It just brings tears to my eyes when anyone does it. It doesn't matter if you're a starter, a walk-on or whatever. Michigan State is a special place, and that kiss means something."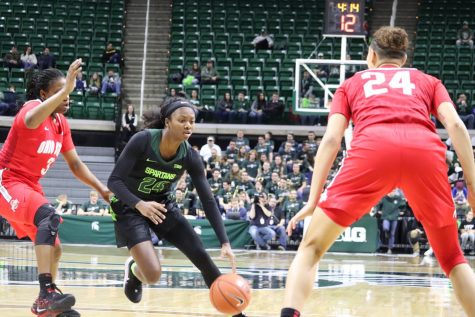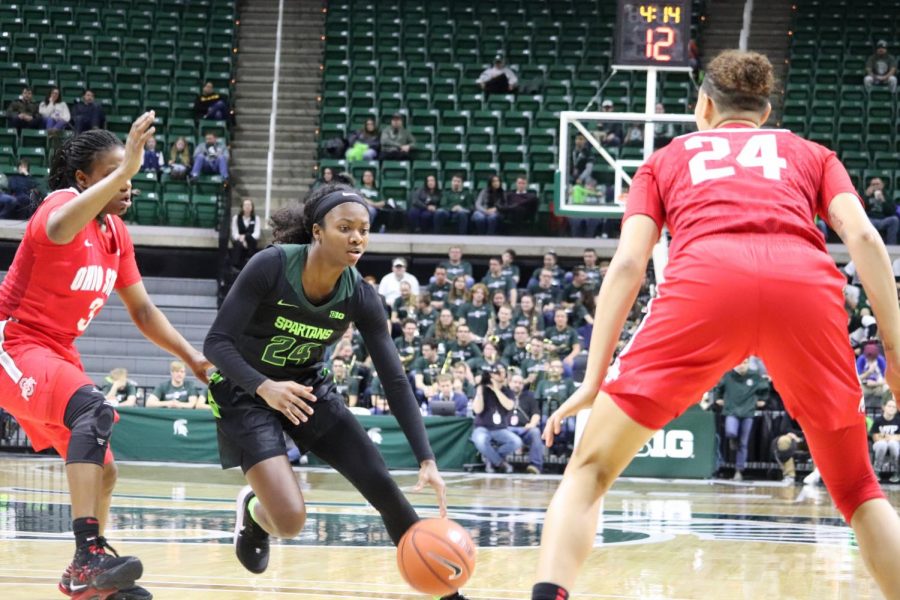 Even if those two were off the court for much of the season, their presence is something that won't be forgotten by their team.
"Coco's my best friend," Hollie said. "She fought like nobody else that I've ever seen, and it made me want to fight. Why the hell would I give up when I'm 100% healthy and she's not? It really instills in you trust, and loyalty as well."
Despite losing four impactful seniors at the end of the season, this Michigan State squad has a lot of young talent that should pick up the slack with no problem. After the injuries sustained this year, underclassmen like Nia Clouden and Kayla Belles picked up a lot of experience and should be able to build on that next season.
"When you're a young team like this, all these high school kids who have played, and even first-year sophomores, if you're not in the mix, it's a long season." Merchant said. "Three and a half months of high school basketball is a lot different than basically a year-round, college BCS basketball program."