McCutcheon breaks all-time assist record as Spartans down Penn State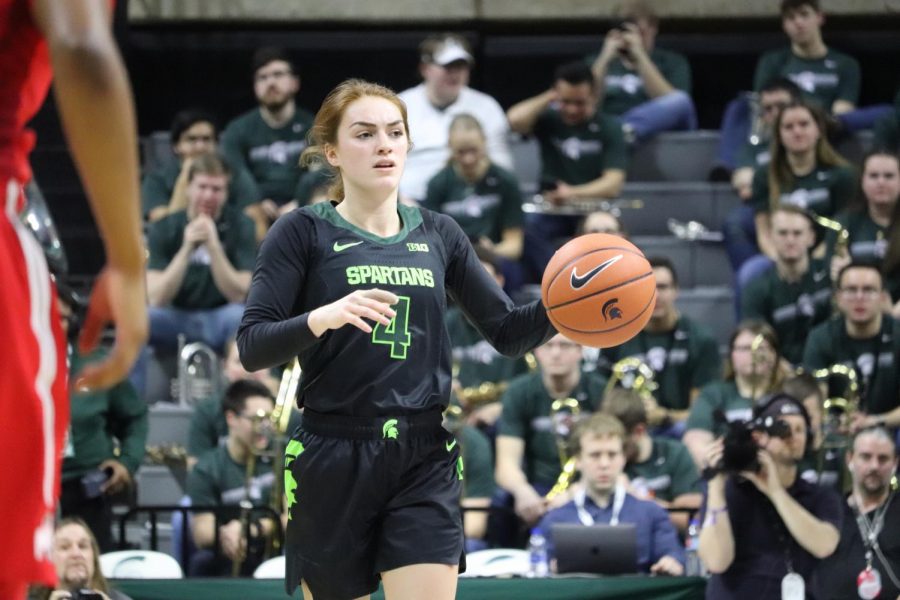 EAST LANSING – What a ride the 2019-20 season has been for Michigan State. From knocking off Rutgers and Purdue on the road to falling to lowly Penn State on the road, the season has had its fair share of peaks and valleys.
On an afternoon that saw the Spartans honor seniors Nia Hollie, Taryn McCutcheon, Shay Colley and Victoria Gaines as part of Senior Day, MSU avenged the ugly loss that it suffered at the hands of Penn State back in January by crushing the Nittany Lions 99-80. Nia Clouden, Taiyier Parks, Kayla Belles and Taryn McCutcheon all scored in double figures for Michigan State.
"That to me is one of the coolest things (kissing the Spartan head)," said head coach Suzy Merchant. "It just brings tears to my eyes for anyone that does it. It doesn't matter if you are a starter or a walk-on. Michigan State is such a special place and that kiss means something."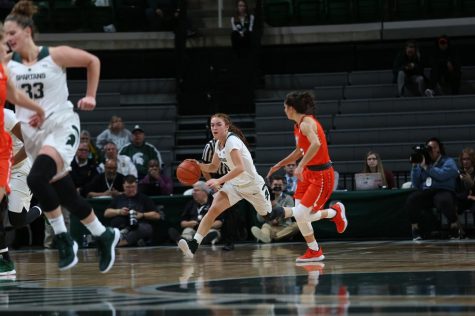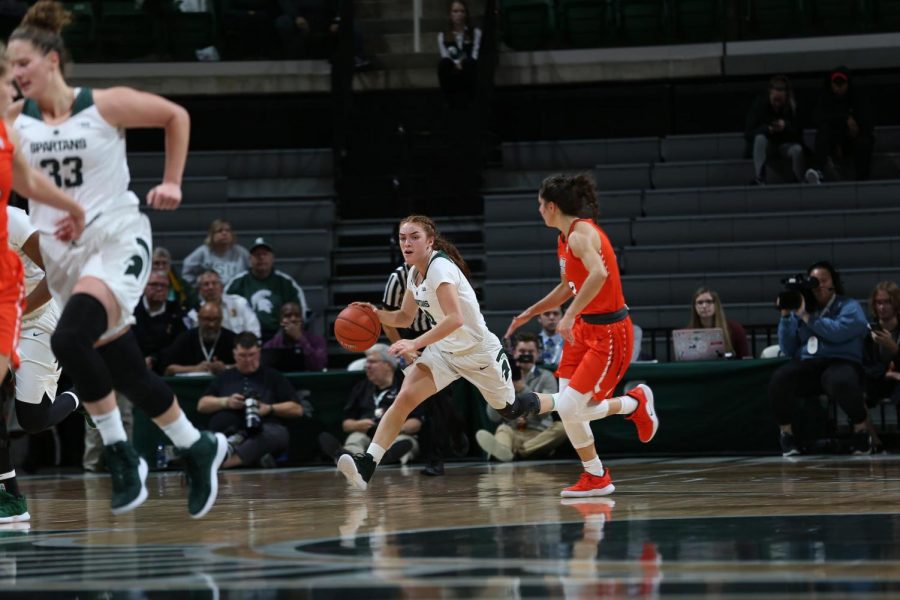 McCutcheon needed seven assists to break the all-time assist record held by current assistant coach Kristin Haynie, who had 574 assists in her four years at Michigan State. She answered the bell with five assists in the third to launch herself into the record books. As a result of her strong distribution efforts, she sits alone atop the assist record with 576 career assists. 
"I am not a crier at all, but that was one of the toughest moments to hold back my tears, " said McCutcheon. "Kristin Haynie is the G.O.A.T., so when I got to hug her and thank her for everything, and when she told me I deserved it, it was just insanely emotional."
With the win, Michigan State finishes the regular season with a 16-13 overall mark and a 9-9 record in Big Ten play. Penn State dropped it 14th straight game and will finish the regular season with a 7-22 overall record and a 1-17 mark in Big Ten action.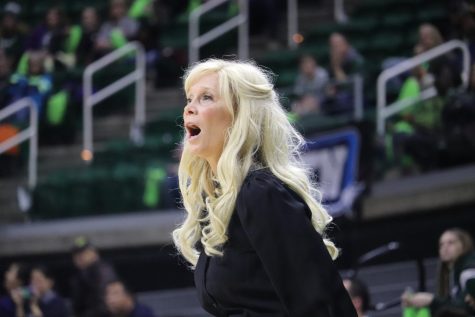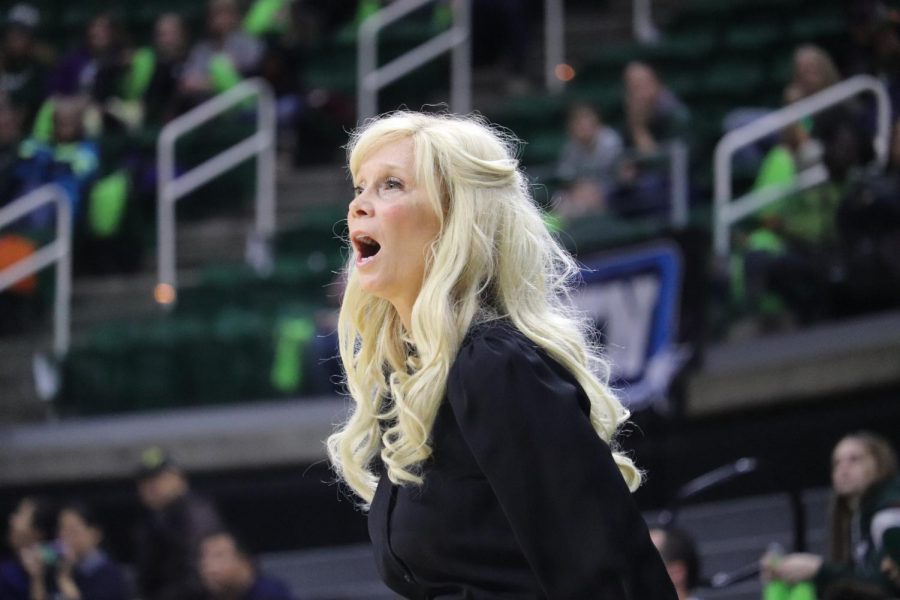 "When you are not used to winning or losing, you just kind of go with the flow," said Hollie. "It's that quick, next-play mindset when you go through this for a couple of years. It's easy to get to the middle of the Big Ten season and feel the toll that it is taking on your body."
The Nittany Lions came into Sunday's contest as losers of 13 straight, while the Spartans were winners of four out of their last five games. The duo of Siyeh Frazier and Kamaria McDaniel combined for 48 points en route to an impressive 86-73 win over Michigan State back in January. To date, it was the only conference win that Penn State had been able to muster. 
The opening tipoff featured an all-senior starting lineup, with Colley and Gaines getting the nod alongside Hollie and McCutcheon. Despite coming out at the first stoppage of play, Gaines receiving the starting nod was a huge momentum booster for the Spartans.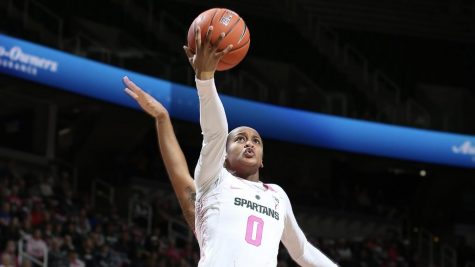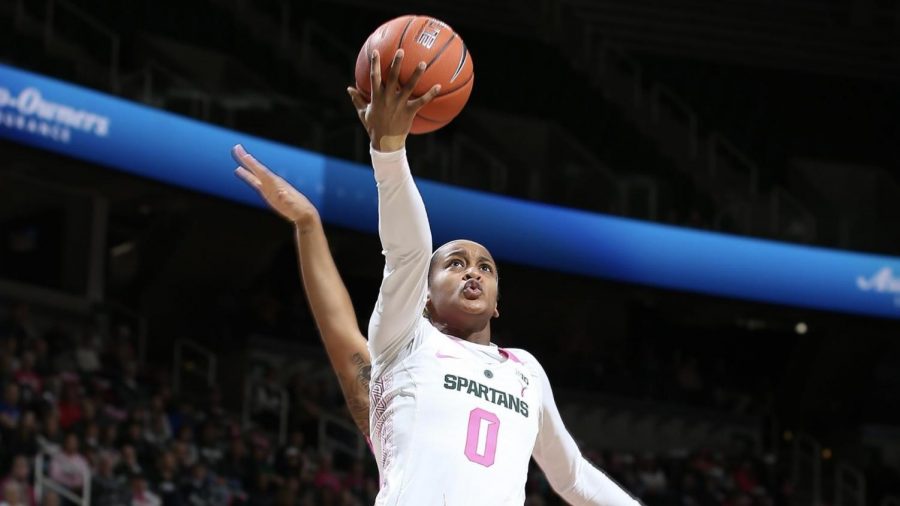 When asked if she would have believed that she would be starting on senior day with Colley and Gaines, Hollie offered an emphatic response.
"They are fighters and I have seen them fight through 10 times worse," said Hollie. "They were going to make it out there somehow."
McCutcheon rode the early-game emotions to a pair of early 3-pointers that resulted in an early 11-0 Spartan lead. Her and Clouden combined for 15 of the 20 overall points for the Spartans in the first. Despite only shooting 33% from the floor in the first, Michigan State led the Nittany Lions 20-9 at the end of one quarter. This was due in large part to Penn State only shooting 22% from the floor.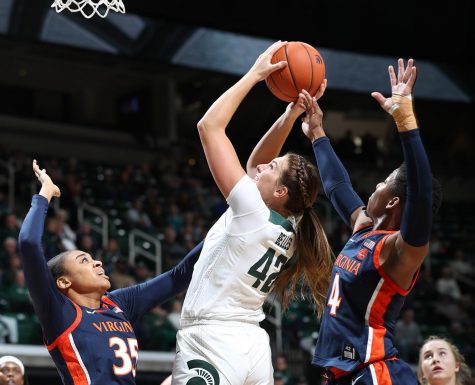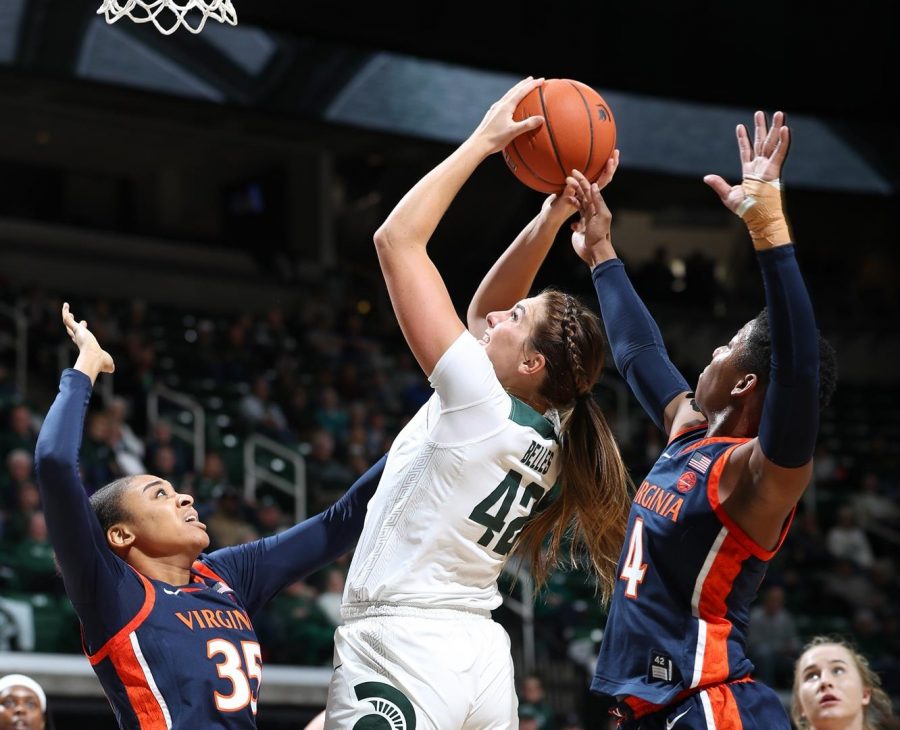 Behind Clouden and Belles, the Spartans would start the second quarter on a 6-0 run that pushed the lead to 26-9 at the 8:20 mark. However, over the next four minutes Michigan State would not score a point from the field. This cold spell would allow the Nittany Lions to claw back within eight points, 26-18.
Fortunately for Michigan State, Nia Clouden would score five points in a row in the latter stages of the second to push the Spartan lead back to double digits. After a pair of Moira Joiner free throws at the end of the half, the Spartans carried a 41-27 lead into the break. 
The third quarter would see McCutcheon claim the assists crown, as she doled out five assists in the third alone to break the record formerly held by Haynie. Her distribution skills would be a large reason why the Spartans found themselves ahead 74-52 at the end of three quarters. Parks would also have a strong third quarter with eight points registered.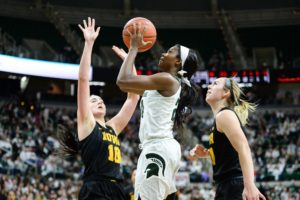 Michigan State would continue its strong shooting performance in the fourth and coast to the 99-80 victory.
"That was one of the funnest games that I have ever played, because everyone was playing for us," said McCutcheon. "We were doing well and making shots and it felt good to be out there laughing again."
With the victory, the Spartans final regular season mark stands at 16-13 and 9-9 in Big Ten action. MSU will now head to Indiannapolis, Indiana for the annual Big Ten Tournament as the eighth overall seed. As winners of five of their last six, the Spartans will avoid playing on Wednesday and will instead square off against Purdue for the third time this season on Thursday at noon. The teams split the season series.
Follow Nathan Stearns on Twitter @NathanStearns11.
About the Writer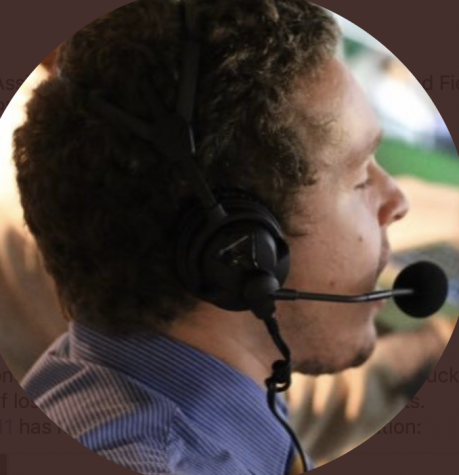 Nathan Stearns, Sports Editorial Assistant
Nathan is a junior journalism major who serves as sports editorial assistant for Impact 89FM. He primarily covers football along with men's and women's basketball at Michigan State.