Spartans look to get back in win column, face Illinois on the road
Nathan Stearns, Women's Basketball/Field Hockey Beat Reporter
February 25, 2020
EAST LANSING — After three straight wins over the likes of Rutgers, Minnesota and Purdue, the Michigan State Spartans were defeated by the Michigan Wolverines 65-57 for the second time this season, despite a furious late-game rally. The Green and White will be looking to start another win streak when they head to Champaign to take on the struggling Illinois Fighting Illini on Wednesday.
The Spartans would dig themselves into an early hole after falling behind Michigan by 15 at halftime. Despite the struggle to score the ball, MSU fought back and took a 49-48 lead over the Wolverines, courtesy of a Nia Clouden layup at the 7:58 mark of the fourth quarter. Unfortunately for the Spartans, they would be unable to hold the lead as Michigan's Naz Hillmon and Amy Dilk scored at will down the stretch.
Hillmon finished the game with a double-double of 26 points and 13 rebounds. After having a quiet first half, Dillk would have a sensational fourth quarter by going 9-for-10 from the free throw line as the game wound down.
Clouden and Taryn McCutcheon were the only two players in double figures for the Spartans. Clouden finished with 18 points while McCutcheon chipped in with 14.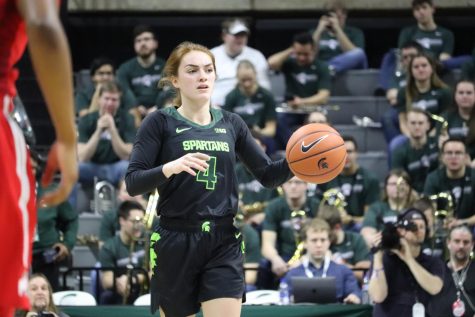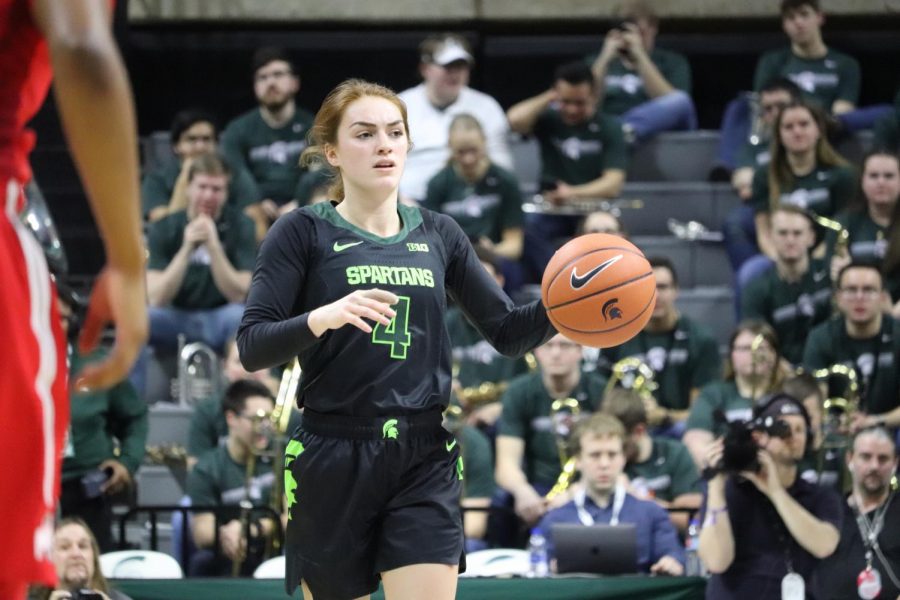 This final week of the regular season will feature MSU squaring off against Illinois and Penn State. Combined, these two teams have a conference record of 3-29. It does bear noting that Penn State's only conference win of the season came against Michigan State at home on Jan. 9.
Illinois will come into Wednesday night's contest with a poor 2-14 record in conference. The Illini's only two conference wins are over Penn State and Minnesota. Since Jan. 1, Illinois has only won two games and as such, it is a measly 1-10 over its last 11 games.
The Illini are led in scoring by Czech Republic native Petra Holešínská. Holešínská is sporting a solid 13.5 points per game. She has also been a consistent sharpshooter for the Illini, as evidenced by her 43% 3-point shooting percentage.
Kennedi Myles, Brandi Beasley and Ali Andrews are also having solid seasons, each averaging more than eight points per game..
Illinois is led by Hall of Fame coach Nancy Fahey. Fahey, who was a long-time head coach at Division III Washington University, was hired away in 2017 to replace Matt Bollant. Fahey won five championships with Washington and amassed a 737-133 overall record in her 31 years at the school. However, she has struggled to find her footing at Illinois, as she has an overall record of 30-58 in her brief time as the head honcho. 
For Michigan State, this week provides a chance to collect two wins against lesser opponents. If MSU is able to hold serve, the Spartans will finish the regular season with a 9-9 mark in the Big Ten and a 16-13 overall record. This should be good enough to get a WNIT berth. Things could get really interesting for the Spartans on Selection Sunday if they are unable to knock off the Illini.
Nathan Stearns is a women's basketball and field hockey beat reporter for Impact 89FM WDBM. Follow him on Twitter at @NathanStearns11.