Stearns: MSU grit and resiliency on full display vs. Ohio State
Nathan Stearns, Women's Basketball/Field Hockey Beat Reporter
January 17, 2020
EAST LANSING — Some have it and some don't. Some are naturally gifted with the ability to take the heat when the going gets tough, while others wilt and crumble under the magnitude of the moment. 
Michigan State's contest Ohio State on Thursday served as a blueprint for finding a way to emerge victorious, even when the tide turns in the other direction.  
After blowing a nine-point fourth quarter lead, Nia Clouden reclaimed the advantage for her team by scoring five points in the final 30 seconds of the game, saving the contest for the Spartans.  
When all the chips were at the center of the table, the Maryland native threw caution to the wind and delivered a crucial basket with 13 seconds left in the contest to launch Michigan State to a narrow one-point advantage.  
She followed up her herculean effort with a steal at the other end with six seconds left that sealed a gutsy win for the Spartans. All in all, she registered another 20 point effort for MSU.
"I was just trying to stay calm and execute the play well and get open," said Clouden. "I needed to get to that spot on the floor, so I could hit my shot."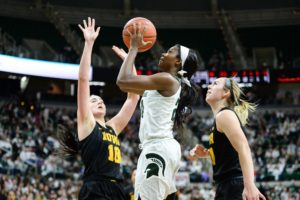 The term gutsy is often used to describe someone or something that shows extreme courage, dedication and perseverance in a time of extreme difficulty.   
Perhaps no person serves as a better living embodiment of this term than Taryn McCutcheon.
No one would blame the East Lansing senior if she was unable to suit up against Ohio State. After all, she had broken her finger in MSU's last contest against Wisconsin and strained her achilles tendon.  
Instead of laying down or rolling over, McCutcheon gutted out an admirable effort that saw her log 37 minutes. 
She knew that her team needed her, especially with the prolonged absence of Victoria Gaines and Shay Colley. 
"We weren't sure if we would have Taryn today," said head coach Suzy Merchant. "Between the broken finger and the achilles issue, she proved today that she is a warrior."
She also knew that she couldn't just go out on the floor Thursday and exist. She needed to perform as she normally does if the Spartans planned on defeating the uber-talented Buckeyes. 
This meant making key shots and making the backcourt of Ohio State earn every bucket on defense. 
"She is the heart of our team, as well as the brains," said Clouden. "She did a really good job of settling us down and telling us what to do."
On top of hounding the Ohio State backcourt, which had a solid six inches in height on her, McCutcheon took four charges and collected nine points in the contest. 
Not bad for someone with a broken finger. Not bad at all.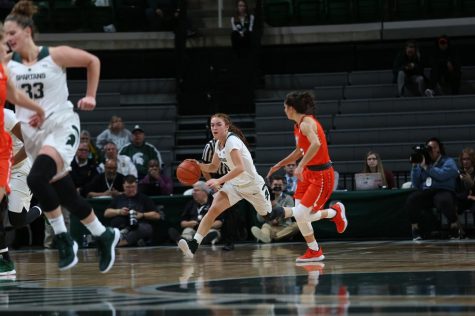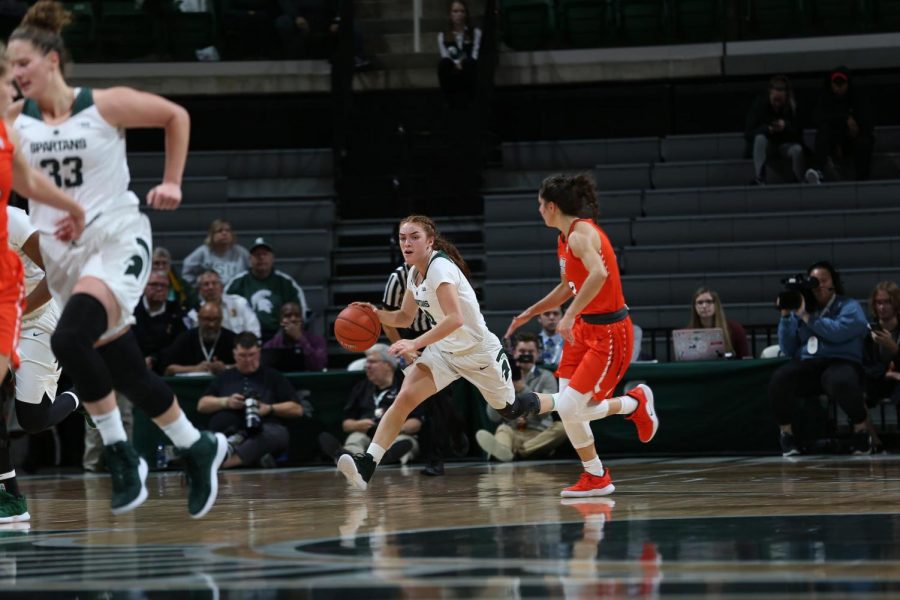 Michigan State's victory becomes even more remarkable considering the fact that Merchant was forced to cancel practice earlier in the week due to an aggressive strain of the flu virus going around.  
The illness reared its ugly head and affected a large number of Spartan players. 
One of the players who fell victim to the illness was talented freshman Julia Ayrault. She was ruled out prior to the game after being sent to urgent care earlier in the week for flu symptoms. 
"Half of my team has been in and out of the hospital and urgent care with the flu," said Merchant. "Some could practice and some couldn't. We couldn't even hardly practice going into this game because the virus is so rampant. It affected seven of my players."
The effort put forth by the Spartans Thursday stands in sharp contrast to early-season performances that also saw the team blow a late lead. 
Games such as LSU, Florida State and Michigan saw the Spartans roll over in key junctures of the contest. Thursday's game showed everyone in attendance what this team is capable of when it can withstand body blows and dish the punishment back out.
Late-game breakdowns have become a common them whenever MSU leaves the friendly confines of the Breslin Center. But the Spartans have shown time and time again that they can hang with the best of the best at home.  
The team can also lose to anyone on the road, as evidenced by the disastrous 86-73 loss to Penn State one week ago. 
"If you look at our history, we self destruct on the road," said Mardeika Cook. "They aren't doing anything special to us, it is just usually always self destruction."
Cook herself has been in and out of the lineup as of late because of a mild concussion she sustained during practice. 
Her explosiveness around the rim and her overall strong defensive acumen is much needed for a MSU squad that is currently in the midst of trotting out a bunch of spring chickens. 
She also has an innate ability to recognize where this teamsaults lie. Her ability to be honest with herself and her teammates bodes well for future contests.  
Cook recognizes how the Spartans cannot become comfortable at any time when playing away from East Lansing.
"One of our biggest downfalls is when we get a lead, we get so complacent and next thing it's gone.  That happened a couple times today."
Speaking frankly, this Michigan State team may not be as well seasoned or as accustomed to conference play as past squads. 
However, this team has an abundance of guts that make them dangerous against anyone in the country. It takes guts to fight through sickness, injuries and foul trouble without collapsing from the overwhelming gravity of the situation. 
It was hard to not come away thoroughly amazed at the sheer resilience displayed by this crop of student athletes.  Knocking off Rutgers on the road would serve as a monumental achievement. 
If today's contest was any indication, Rutgers should be prepared for the fight of their lives come Monday night.
Contact Nathan Stearns at [email protected]. Follow him on Twitter at @NathanStearns11.