After ugly loss at Purdue, Spartans look to right the ship vs. Wisconsin
Alex McRae, Assistant Sports Director
January 17, 2020
EAST LANSING — To quote Mark Dantonio, "You are defined by what you do next." The Spartans football coach used this line after a 34-10 drubbing in Columbus when asked how his team would prepare for a road trip to Madison to face the Wisconsin Badgers. 
This quote backfired for Dantonio as his Spartans were subsequently shutout by the Badgers 38-0. 
Another Michigan State team has an opportunity to be defined by what it does next, and that is the Tom Izzo-led Spartan basketball squad, as they welcome in the Greg Gard-led Wisconsin Badgers for a huge regular season conference matchup.
Greg Gard is 1-7 against Tom Izzo, only winning his first ever matchup back in 2016, 77-76 against the then-No. 4Spartans. 
This Wisconsin Badgers team is young, with only one senior (Brevin Pritzl), and still has not fully recovered from the loss of All-Big Ten forward Ethan Happ. A relatively shallow bench coming into the season has been bolstered by transfer big man Micah Porter from Ohio State. Since entering the lineup in late December, the Badgers are 6-1 with road wins against Tennessee, Ohio State and Penn State as well as the most recent home victory against Maryland. Because of the recent hot streak and wins over top Big Ten opponents, the Badgers now find themselves right in the mix at the top of the Big Ten, with a 4-2 record and a chance to enter first place with a victory here tonight. 
Michigan State had been on a roll entering last Sunday's matchup against Purdue. They had won eight straight, five against Big Ten opponents. That all came crashing down in what can only be characterized as an embarrassment in West Lafayette. The Boilermakers spanked the Spartans 71-42, the largest deficit ever in a losing effort by an AP-Top 10 team. Nothing went the Spartans' way in Mackey Arena and the Spartans' two stars, Cassius Winston and Xavier Tillman, were taken out of the game completely, only combining for 16 points and six assists while also committing 11 turnovers.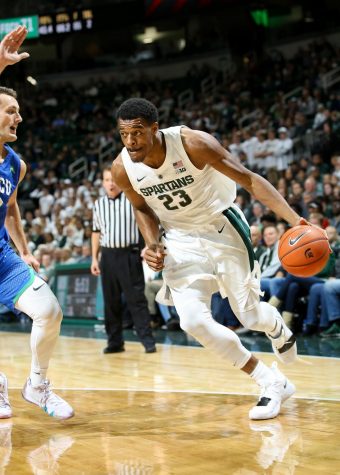 This game is massive for both teams here today. The Spartans can regain a firm grip on the Big Ten. On the flip side, the Badgers can even themselves in the race, creating a four-way tie at the top of the conference.  
For the Spartans to overcome this surging Badgers squad, they must go back to what got them in this position in the first place — the ghosts of Mackey Arena must be put behind them. Firstly, Tillman and Winston must return to form because, if last Sunday proved anything, it's that Aaron Henry and Gabe Brown aren't capable of taking over in a Big Ten game yet. 
For the Badgers, the game plan that leads to success is one that consists of not turning the ball over, getting into the paint, playing through contact and making shots. In the Big Ten, the Badgers rank second in turnovers with only 52 through six games.
Partner that with the fact that they are first in field goal percentage, second in 2-point field goal percentage and first in free throw percentage… it's easy to see why the Badgers have been rolling.
Michigan State will need to be stout in this aspect of the game: Tillman, Marcus Bingham Jr., Thomas Kithier and Julius Marble will need to be brick walls on the interior if the Spartans want to walk away victorious tonight. 
Tip off is scheduled for 7 p.m. at the Breslin Center in East Lansing. You can follow our coverage on twitter @WDBMSports.
Contact Alex McRae at [email protected]. Follow him on Twitter at @amac595.