Saliba, Lambdin eclipse last season's goal totals in loss to Michigan Tech
DETROIT – Michigan State forwards Sam Saliba and Logan Lambdin both bested their goal totals from the 2018-19 season during Saturday's 4-2 loss to Michigan Tech in the first round of the Great Lakes Invitational. The No. 18-ranked Spartans have not won the Great Lakes Invitational since 2009, or advanced to the championship game since 2014.
Both players scored their fifth goal of the season, as each scored four goals during their entire junior seasons. Saliba opened the scoring with a power play goal just 2:21 into the first period. Lambdin would give the Spartans a 2-1 lead in the second period when he skated hard to the net all alone and undressed goaltender Matt Jurusik for a skillful goal.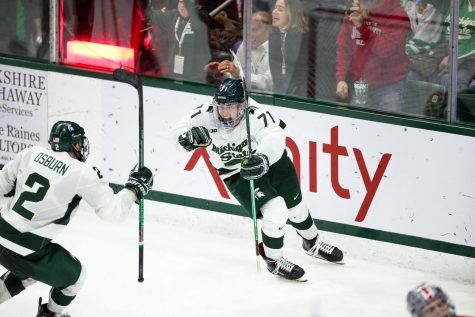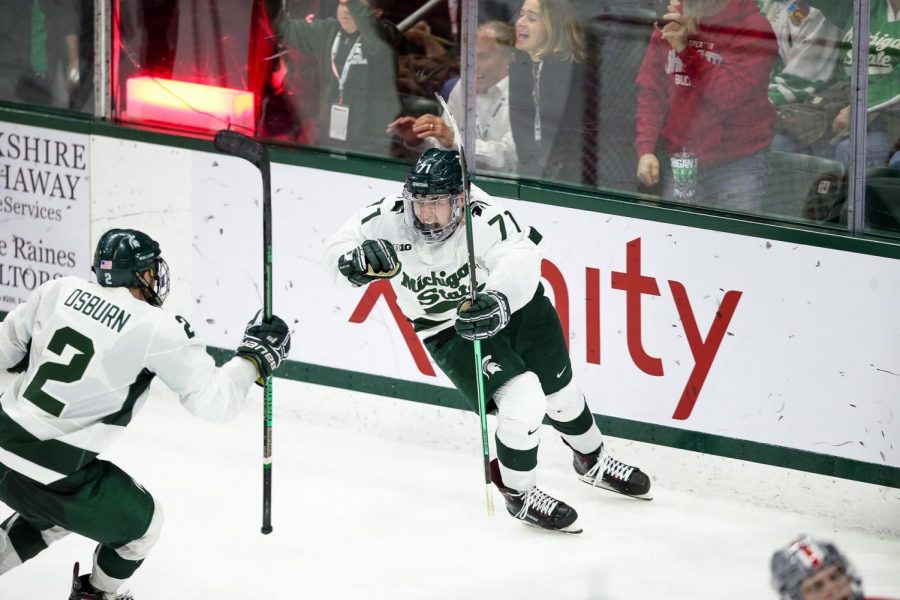 Saliba's career high in goals per season occurred during his freshman year, the 2016-17 season. He tallied 10 goals to go along with eight assists during his first year in East Lansing. Lambdin also scored the most goals of his Spartan career as a freshman, when he posted six during the season.
Both seniors are tied for third on Michigan State in goal scoring, behind Mitch Lewandowski's six goals and Patrick Khodorenko's team-leading nine goals. Saliba and Lambdin are on pace to set new single-season goal scoring marks, as the Spartans continue to spread the offense around during the 2019-20 season.
Lethemon shines despite loss
Despite an unfavorable final score of 4-2, Michigan State goaltender John Lethemon continued the strong start to his senior season on Saturday at Little Caesars Arena. The 6-foot-2 senior from Northville, Michigan allowed three goals but made 29 saves in the loss.
"Our job now is to coach and get the guys ready for tomorrow," head coach Danton Cole said. "We can do some things better, and we will tighten those things up."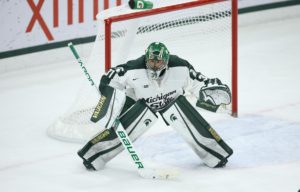 Lethemon was called upon to make a number of crucial saves early in the game to sustain his team's early lead. Despite Monday's game being the Spartans' first since Dec. 15, Lethemon was sharp right out of the gate. He entered the game with a goals allowed per game average of 2.01, the best of his lengthy career.
Lethemon now falls to 10-6 on the young season, but those 10 wins are the second most for a season in his career, only trailing the 12 wins he posted as a sophomore. He is on pace to set new career highs in goals allowed per game average, save percentage and wins.
Spartan GLI struggles continue
It has been over a decade since Michigan State hoisted a trophy as champions of the Great Lakes Invitational in Detroit. The Spartans, led by goaltender Drew Palmisano and defenseman Jeff Petry, defeated RPI 6-1 in the championship game during the 2009 season.
The Spartans did make the championship game during the 2014 season, but fell to Michigan 2-1 at Joe Louis Arena. That was Michigan State's last appearance in the championship game to date.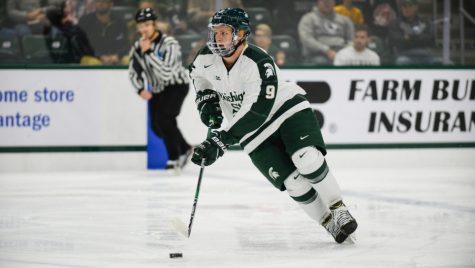 "Throw that out, it's our next game," Cole said, talking about Tuesday's third place game. "It's kind of how the Big Ten is, if you stumble on Friday you've got to recover and get something the next night."
Michigan State owns the second most championships in the 55-year history of the GLI with 12. Michigan's 17 championships lead the way.
Contact Luke Sloan at [email protected] Follow him on Twitter @LukeSloan_7.