Despite limited minutes, Kithier shines in victory over Oakland
DETROIT – Michigan State sustained its dominant stretch of basketball against Oakland on Saturday afternoon, emerging victorious at Little Caesars Arena by a final score of 72-49 to earn an 18th straight win over the Golden Grizzlies.
But despite the comfortable victory and impressive defensive performance, head coach Tom Izzo spoke with great regret when discussing the minutes sophomore forward Thomas Kithier logged during a productive, albeit brief showing.
"Thomas Kithier deserved to play way more minutes than he played," Izzo said. "I thought he played really well, he should have played more. He played well, he defended well, he rebounded well, he scored well. That was a positive."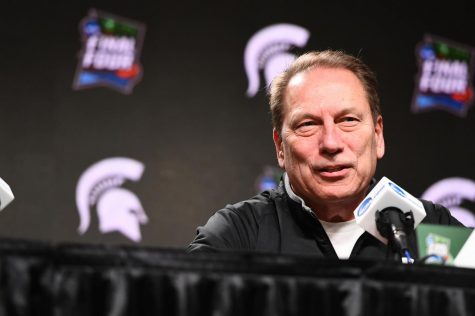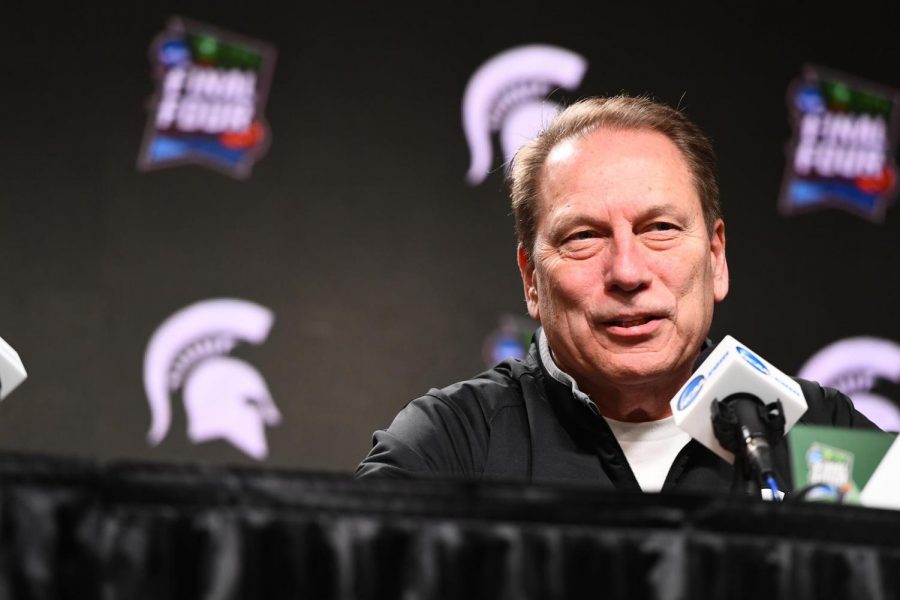 Kithier appeared for just nine minutes, scoring eight points on 4-of-4 shooting to go along with six rebounds and an assist. He posted the second highest efficiency rating for the Spartans, with only Xavier Tillman besting his performance.
"You just have to stay mentally ready, it's kind of a revolving door at my position," Kithier said. "I think all guys are mentally ready to play whenever we need them to, so whoever has the hot hand is who we go with right now."
After opening the season with five consecutive starts, Kithier has seen a decline in his minutes with Marcus Bingham Jr. stepping into the staring power forward spot. Despite playing significantly less than the 15.2 minutes he usually sees, Kithier's eight points matched the second highest scoring total of his season, equalling his point production against Virginia Tech in Maui.
"He did really well out there, I'm proud of him," sophomore forward Gabe Brown said. "When he (Kithier) comes in, you know he's going to give you his all."
Shooting woes for Winston
Returning to his hometown of Detroit, point guard Cassius Winston suffered from an afternoon of cold shooting, as he shot just 3-of-13 from the floor and 1-of-9 from 3-point range to total his nine points for the game.
"I've never, in my entire time knowing Cassius Winston, seen him miss that many open threes that he was just short on," Izzo said. "But what I loved about Cassius today is that he was a little better defensively, and I loved the fact that he was fired up for other guys."
Winston's nine-point performance marked only the second time he hasn't scored in double figures on the season, with the other occurrence coming when he scored seven points against Virginia tech at the Maui Invitational. The Preseason Big Ten Player of the Year entered Saturday on the heels of a 23-point performance in the Big Ten opener against Rutgers.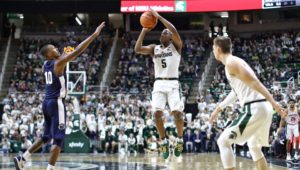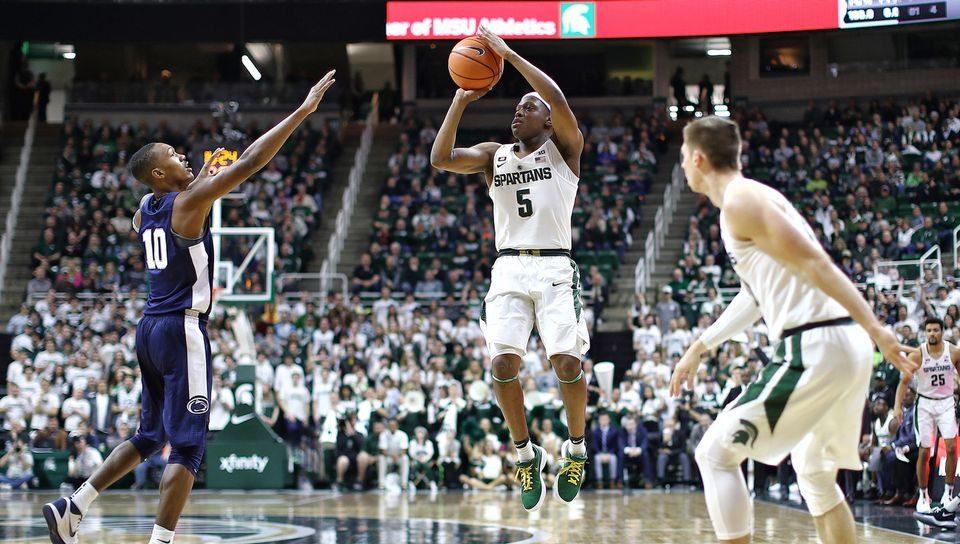 "It's a little bit (frustrating)," Winston admitted when discussing his shooting struggles. "We got every look that we could have imagined, when you get those opportunities, you have to take advantage of them. But if we keep getting those looks, we're going to hit those shots."
Winston, who entered the game as the Spartans' leader in assists per game with 6.2, also only tallied four assists against the Golden Grizzlies. Izzo attested that his lack of helpers wasn't by the senior point guard's own accord.
"That's a shame," Izzo said of Winston's assist total. "He made some great passes and some great lobs. That's a day when you hope to have 10 assists, and we didn't do a very good job of finishing for him."
A game of rebounds
In the closing seconds of MSU's blowout victory, Steven Izzo, the freshman son of head coach Tom Izzo, collected three rebounds to the delight of the 18,145 spectators in attendance. Steven's rebound total bested that of starting forward Aaron Henry, who has been working on his rebounding throughout the young season.
"Aaron Henry played better," Izzo said with a grin. "Although, I'm going to tell him that maybe I should start Steven [Izzo] instead of him. He had three (rebounds) and Aaron had two. So I might think about that this week."
Henry had overheard Izzo, as he shared a laugh and responded to his coach's comment in the locker room following the game.
"I was told that, I've been hearing about that," Henry joked. "I just have to rebound more."
Contact Luke Sloan at [email protected] Follow him on Twitter @LukeSloan_7.