No. 11 Michigan State hosts No. 10 Duke in early-season showdown
History would say that Tom Izzo won't win tonight against longtime nemesis Mike Krzyzewski.  Including last season's memorable upset of the Zion-led Blue Devils, Izzo is only 2-11 all time against arguably the greatest coach in history. 
Izzo and the rest of the Spartan brass will have a golden opportunity to prove that last season's Elite Eight triumph was not a fluke, as these two hateful rivals once again square off in the annual ACC/Big Ten Challenge. Tipoff time is currently set for 9:30 p.m. MSU comes into this contest ranked No. 11, while Duke is ranked No. 10.
The Blue Devils are coming off a monumental upset at home against Stephen F. Austin, who was 27-point underdogs going into the contest. Following the shocking upset, MSU will need to be wary of an angry Duke team that is looking to regain its national footing.
The Duke triumvirate of Zion Williamson, Cam Reddish and RJ Barrett is gone, however in their place are five-star recruits Vernon Carey Jr. and Matthew Hurt. Point guard Tre Jones marks one of the only returning players from last year's uber-talented Duke squad.
Carey has been as good as advertised this season, with averages of 18.4 points per game and 9.5 rebounds. Jones has also done an admirable job of playing the role of mentor, with averages of 15 points and 6.9 assists per game through eight games. 
Duke suffered a considerable blow to their scoring production against Winthrop on Friday, as five-star Cassius Stanley injured his hamstring. Stanley has already been ruled out for the game. The talent-laden freshman had been sensational for the Blue Devils early, with averages of 12.9 points and 4.8 boards per game.
The Spartans will be looking for a bit of redemption in their own right after a subpar showing in the Maui Invitational this past week that saw the Spartans lose to a Virginia Tech team that was projected to be a bottom-tier ACC team. 
The Spartans' X-Factor for this contest may involve the production or lack thereof from Xavier Tillman. Tillman was a principal reason that the Spartans were able to knock off Duke last season, as he registered 19 points and nine rebounds in that heavyweight bout.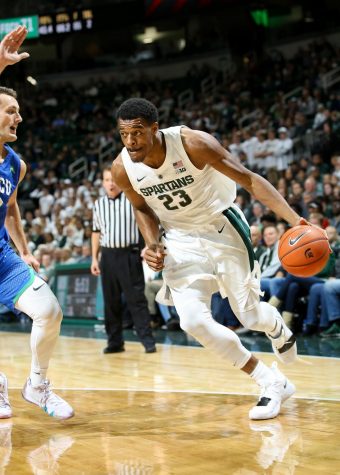 He has been plagued by inconsistency this season, as evidenced by his sub-45% shooting percentage in the Kentucky, Virginia Tech and Georgia contests. The talented Spartan big man will need to finish better around the net if the Spartans are to knock off Duke yet again.
Rocket Watts is primed for a big night with Cassius Stanley out. If the young prized recruit is able to muster a double-digit scoring performance, MSU should be in good shape against Duke.
Tonight should mark another hotly contested affair in the historical chronicle of MSU vs. Duke basketball matchups. The Green and White have a golden opportunity to regain some national attention with a win over Duke tonight. It will be up to them as to whether they knock off a highly ranked foe or let a key victory slip through the cracks, as it did against Kentucky.
Contact Nathan Stearns at [email protected] Follow him on Twitter at @NathanStearns11.