Stearns: Chronicling a tale of two seasons for Michigan State
EAST LANSING – Perhaps if Charles Dickens was alive today, he would compose a novel chronicling the story of the 2019 Michigan State field hockey team. What would this contemporary publication be titled you may ask? Well of course nothing other than "A tale of two seasons."
Friday's ugly affair closely emulated the gritty performances that MSU won earlier in the season. Kelsey Keener's score in the first quarter would prove to be the difference, as MSU endured miserable weather conditions and improved to 6-6 with a 1-0 triumph against the visiting Ohio Bobcats. 
It would have been hard for anyone within the MSU field hockey program to imagine a better start out of the gate than the 4-1 mark that the Spartans were able to muster. Gutsy double and quadruple overtime victories over UC Davis and Miami of Ohio propelled MSU into the Penn/Monto NFHCA coaches poll for the first time in almost half a decade. You could feel the confidence oozing from the scrappy, young Spartan team.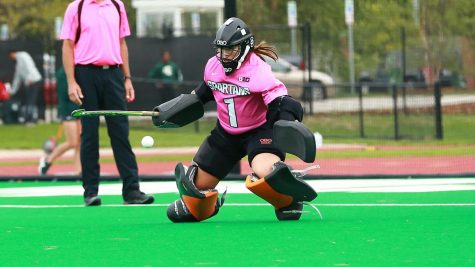 Four highly-ranked opponents would be looming on the horizon for the young Spartans. The combination of UConn, Northwestern, Iowa and Michigan would prove to be an almost insurmountable challenge for MSU to traverse. In those four highly-ranked games, MSU would be outscored by a lopsided mark of 19-1. Goalie Jade Arundell mentioned how badly things went south for the Spartans over that dreadful road trip and how determined they were to salvage the season.
"The road trip for me and everyone else was hard," Arundell said. "I don't know what went wrong and it was a bump in the road. Our training was so good this week. It was one of our best weeks. Today could have been better, we should have had more goals. I don't know what we were thinking in the second half, but we got the win."
The Ohio Bobcats are not the epitome of a field hockey power in the same way that UConn are Louisville are. But for a scuffling squad such as Michigan State, beating an athletic and fundamentally sound team would be just what the doctor ordered to help relieve some of the symptoms of disappointment associated with that three-game thrashing at the hands of Northwestern, Iowa and Michigan.
"The past three games have been brutal," head coach Helen Knoll said. "We faced strong opponents and hadn't been playing very well. We got corners and shots, which we've struggled with the last two games. In the first half, we played a lot more aggressive on the front foot, but in the second half we were playing not to lose, instead of playing to win and we need to flip that mindset."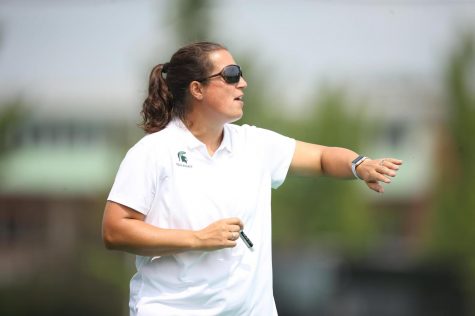 Despite ceding the first corner of the game, the Spartans looked sharper on both ends of the field than they had in quite some time. Crisp passes and smart decision making catapulted MSU to a 1-0 lead over the Bobcats. Kelsey Keener registered her first goal of the year off of a corner insert, with help from teammates Aisha Osinga and Nienke Bloemsaat. It would be further gratification for a team that had not led in regulation since Sept. 22 against Ball State.
"It was actually a give and go," said Keener, in reference to her broken-play goal. "I saw the ball coming and was able to tap it in with no pressure on me. We worked on rebounding and pouncing on the goalie this week in practice."
Persistent rain is not conducive to a sport such as field hockey. With the cold, seeping moisture permeating throughout the duration of the game, it was expected that offense would be hard to come by for both teams. Only one goal would be recorded in the first half of the contest, but the sterling execution for the Spartans was quite encouraging to see.
In a sport where goal scoring can wax and wane like the moon, the processes in which quality scoring opportunities are produced are as crucial and important, if not more so, than the actual end result. Coach Knull mentioned how a big focus this week in practice was getting back to basics.
"We struggled to move the ball well against Michigan," Knull said. "So we focused on transitional play and two-touch hockey. I told the girls we still have a lot to play for. You can lose a game like we did last Sunday and be like 'oh we suck, the season is over' or you can say no, we've got seven games left with more big ten games still to go."
The rest of the game would feature momentary lapses in judgement for the host team, but overall, this performance was a far cry from what was seen five days ago against Michigan. Combined with a strong rebound effort from Jade Arundell after a clunker of a performance against Michigan, and it was hard to not come away encouraged after the MSU victory. Knull mentioned how she would have liked to see her squad play with a bit more urgency in the second half.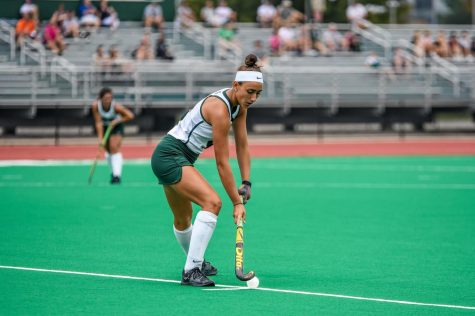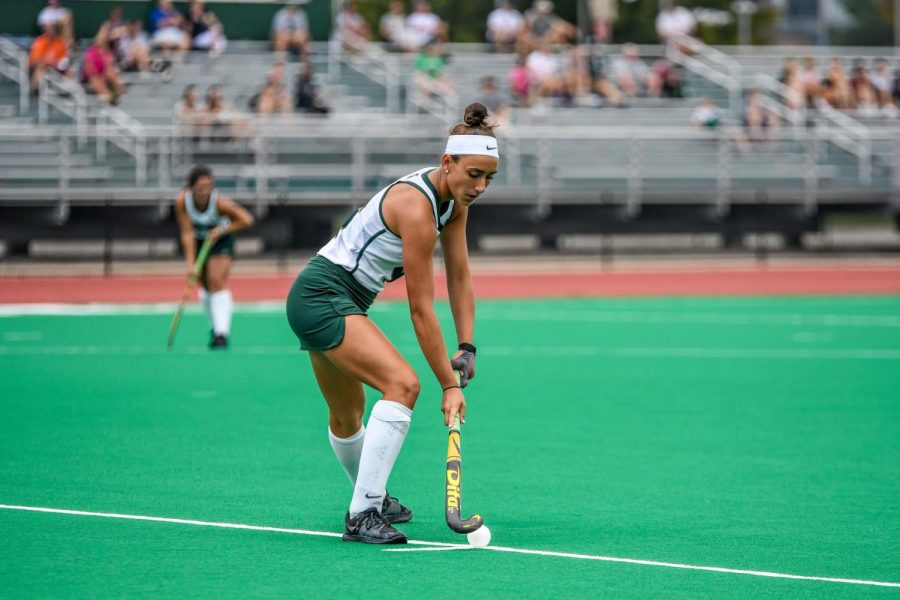 "So much of sport is mental, so you need to have the right mentality when we come out," Knull said. "When you're playing to win, you're aggressive and on the front foot, as well as attacking and looking forward. To me, when you are playing to lose, you are reactive on your back foot. If there's one thing I know about this team, it is that we cannot play on our back foot. We've got to play going forward."
Maintaining momentum for MSU has been a problem this season from one game to the next, but if MSU is to register their first win against a ranked opponent on Sunday, they will need to improve on this encouraging performance. The No. 20-ranked Demon Deacons of Wake Forest will be hoping to pounce on MSU, when they play host to the team on Sunday.
MSU will be back home for a weekend set against Penn State and No. 19 Rutgers starting next Friday.
Contact Nathan Stearns at [email protected] Follow him on Twitter at @NathanStearns11.