Spartans earn second consecutive draw following wild finish
Adam Bakr, Men's Soccer Beat Reporter
September 2, 2019
EAST LANSING, Mich. – The Michigan State men's soccer team followed up its scoreless draw with SIUE with a 1-1 draw against Florida Gulf Coast. While the Spartans came into this game off of a disappointing result, the Eagles came in flying high after their 4-3 win away at Michigan, who is ranked No. 13 in the nation. 
Similar to their last game, the Spartans had a hard time creating chances, and this time they were without key contributors Patrick Nielson and Giuseppe Barone. They had no shots on target in the first half, and while they had more time with the ball, it was FGCU that created the biggest chances.
The Eagles had six shots in the first half, including three that were on target. MSU had four shots, mainly coming from out of the area, and none were on target.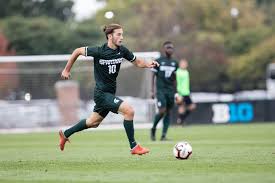 The second half was similar to the first. FGCU created more chances, with eight shots in the half. Only two were on target, but the easiest was an open goal that Miguel Perez put wide. Michigan State looked sharper in this half, but the only effort on goal from their four shots was one from distance that was easily held by FGCU goalkeeper Gustavo Vasconcelos. 
The game had plenty of fouls and multiple penalty shouts throughout. FGCU committed 23 fouls and received six yellow cards, while MSU committed 14 and received two cards, so it was of no surprise that in the final three minutes, both sides received a penalty. 
Despite MSU being fouled more and being on the wrong side of some questionable no calls, the Eagles got their chance from the spot first. Shak Adams was brought down on the edge of the box after cutting in from the right, before Ivan Rosales sent the penalty into the upper 90. Hunter Morse, who had five saves in the game, was able to guess right but could not reach it in time. 
FGCU quickly followed up its goal by subbing in an extra defender and switching to a 5-3-2 formation, but even then they could not hold on to the clean sheet. The goalkeeper Vasconcelos came out to deal with a cross, but was unable to get the ball cleanly over Gianni Ferri. Alex Shterenberg instantly stepped up to the spot, and calmly sent the penalty down the middle with 57 seconds left on the clock.
Michigan State controlled overtime, with six shots over the 20 minutes. But with no chance of any real danger, the game ended 1-1 for the Spartans' second tie of the season. The Eagles finished their trip to Michigan undefeated. 
Shterenberg was given the start today after coming off the bench on friday. After scoring his and the team's first goal of the season, he shared his thoughts on the game. 
"The team agrees we have a couple guys that are comfortable stepping up in those moments, I was one of them," Shterenberg said on stepping up for the penalty. "I felt confident and was happy to take it and get the first goal of the season.
"We're working on detail, there's just small things that are off. It's frustrating, we got another tie in front of our home fans. They want to see us win and we want to get our first win of the season. We work for big moments like this, we're working to get a win every time we step on the field. We want to fight for each other, fight until the very last moment, so as much as I can bring, whether it's off the bench or starting, I'm going to fight as long as I'm on the field."
Coach Rensing also shared his thoughts after the match. Despite another tie, there were still positives for the 11th-year head coach.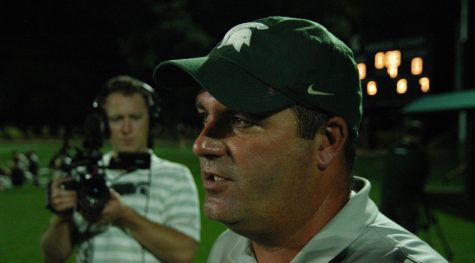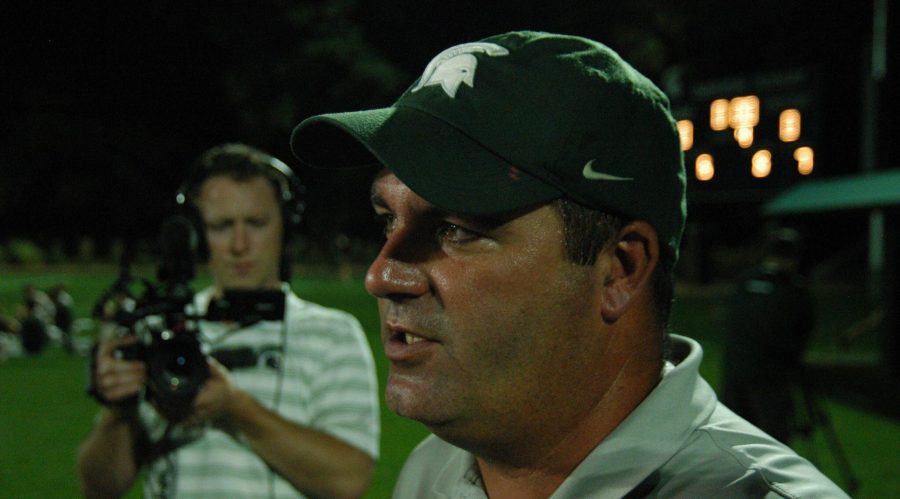 "We got to give Alex (Shterenberg) a lot of credit, this is his third year here, he's had injuries and hasn't played a ton, he's just worked and got better and better," Rensing said. "You love to see a kid like that be rewarded for his effort and energy with a goal today and a good performance.
"I was really proud of our team, we did some good things and created chances. I was really proud of the character of our guys, to give the penalty away with two minutes left they could of went away but they showed character and heart and came right back. Two ties isn't exactly what we wanted but it's not the end of the world, we have some things to build on with a lot of new faces out there." 
Contact Adam Bakr at [email protected]. Follow him on Twitter @Adambakr14.