Michigan State defense stifles Tulsa in season opener
Spartans hold Tulsa to -73 yards rushing, record six sacks in win
EAST LANSING, Mich. – The Michigan State Spartans defeated the Tulsa Golden Hurricane 28-7 in both team's first game of the season. 
Michigan State's offense started off strong with good quarterback play. Brian Lewerke ran for a 16-yard gain and Rocky Lombardi converted on a fourth-and-1. After Lombardi's conversion, it took Michigan State three plays to score, a pass from Lewerke to Connor Heyward sealed the opening score. The touchdown capped off a nine-play, 73-yard drive.
"My mindset is positive," Lewerke said. 
Michigan State could not convert on its next two fourth down attempts, one of those was in the red zone.
"I guess we could have kicked field goals there, but I wanted to stay aggressive," head coach Mark Dantonio said.
On the first play in the second quarter, Tulsa's punt was blocked by Dominique Long. Michigan State went three-and-out which resulted in a field goal by Matt Coghlin from 38 yards out, putting Michigan State up by 10.
Two poor snaps by Tulsa in the first half led to five Michigan State points. Kenny Willekes recovered the first snap and after a few penalties and two dropped passes, Coghlin added another field goal, this one from 47, putting MSU up 13-0. 
"Our defense played outstanding," Dantonio said.
A minute later, another poor snap went out of the end zone resulting in a safety making it Michigan State 15 to Tulsa's zero. 
On Tulsa's ensuing drive, MSU's Raequan Williams forced a fumble and Willekes recovered in the end zone for a touchdown. 
"It's pretty cool to score a touchdown," Willekes said. 
Tulsa's quarterback Zach Smith was intercepted on their next possession. Coghlin then added his third field goal of the night, this time a 44-yard field goal putting MSU up 25-0. 
"A lot of guys get pressure on quarterback and making turnovers and we focused on that in the offseason," Willekes said. 
Tulsa's offense struggled until right before the half. Smith converted two long passes, including a touchdown to Sam Crawford Jr. which gave Tulsa its first score of the game, making it 25-7 at halftime. 
Michigan State's defense held Tulsa to -46 yards rushing in the first half. 
The second half started with three punts before Michigan State drove the ball 73 yards in 17 plays, matching its first drive. Elijah Collins punched the ball into the endzone but was called back after a holding call. MSU would fail to get another first down and Coghlin made a 40-yard field goal to make him 4-for-4 on the night.
The end of the third quarter was preceded by three sacks in a row leading to a Tulsa three and out. Coghlin's field goal was the only points scored in the second half.
There were seven punts in the fourth quarter, four by Michigan State and three by Tulsa. The only drive that didn't end in a punt was the final drive which ended on a turnover on downs.
Michigan State's defense held Tulsa to a total of just 80 yards, 153 of those being in the air, and -73 yards on the ground, a new MSU program record. MSU's defense also forced three fumbles, picked off one pass and sacked Smith six times. It accounted for nine points with a fumble recovered in the endzone and a safety. Tulsa only managed one first down in the second half.
"Our number one goal is stopping the run," linebacker Joe Bachie said. 
Bachie and Willikes led the defense with seven tackles each.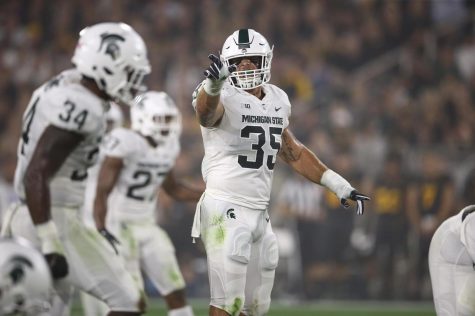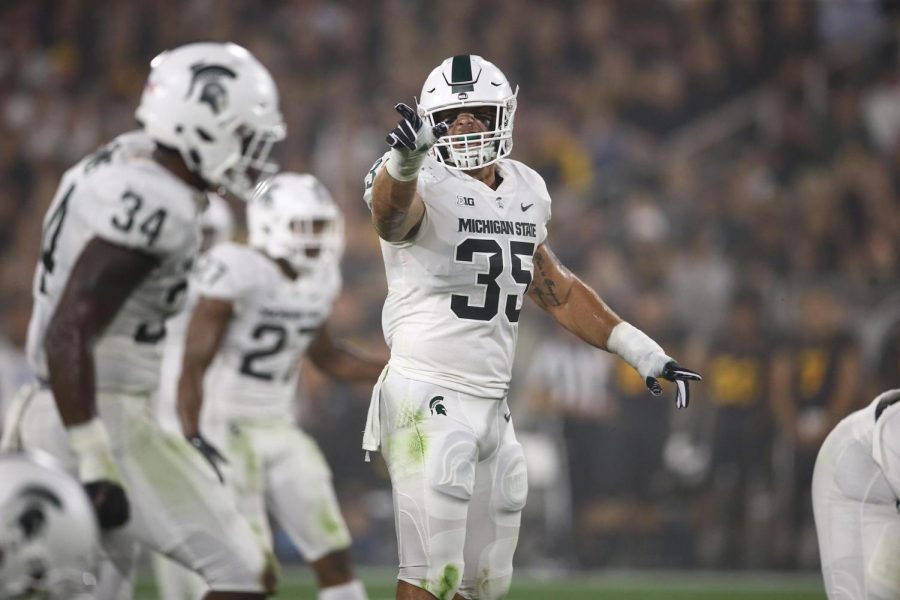 The Spartans offense produced 25 of its 28 points in the first half, with the lone field goal in the third quarter. The offense had two drives that totalled 73 yards each. The team finished with 303 yards total, 195 in the air and 108 on the ground. 
"[There's] a lot of stuff to clean up," Lewerke said.
Michigan State was penalized 14 times for a total of 122 yards. 
"I was disappointed in execution and unforced errors," Dantonio said.
Tulsa will travel to San Jose State next Saturday. Michigan State stays in East Lansing and hosts Western Michigan next Saturday. Kickoff is set for 7:30 p.m. and can be listened to on Impact 88.9 FM in the Lansing area.
Contact Luke Saccone at [email protected]. Follow him on Twitter at @Luke_saccone4.