The Green & White Report – 04/28/19 – The Undercurrent collab, Where's Ryan?
Hikaru Kudo, Julian Mitchell, Ryan Rabinowtiz, Alex McRae, Trent Balley, and Nathan Stearns
April 28, 2019
Filed under A, Green & White Report, Podcasts, Sports, Sports Podcasts
Hang on for a minute...we're trying to find some more stories you might like.
Podcast: Play in new window | Download
Subscribe: Apple Podcasts | Android | RSS
In this special two-hour episode of the show, co-host Julian Mitchell kicks things off by inviting Sophie Sagan, co-host of The Undercurrent, onto the show to wrap up part two of the 10 cent beer night in Cleveland story. You can check out part one of the story on The Undercurrent.
Afterward, co-host Ryan Rabinowitz hops on the show and joins Julian to give their thoughts on Avengers: Endgame (No Spoilers) and some other non-sports topics to catch up on their week (7:07).
Then, Julian and Ryan invite MSU baseball beat reporter Alex McRae to catch up on all things MSU baseball, including their recent three-game home stint against Northwestern (17:33).
Following MSU baseball, Julian and Ryan keep Alex on and invite on Trent Balley, to do their take on MSU's year in review. They talk about what they think is the top five MSU sports moments this season including MSU men's soccer making it to the College Cup for the first time in over 50 years and Kenny Goins drilling a three over Zion Williamson to beat Duke and send the Spartans to the Final Four (38:50).
Then, Nathan Stearns hops on the mic to give a quick MSU sports update (58:21), before inviting on MSU club lacrosse head coach DJ Lubs via phone from Massachusetts to catch up on their team, who beat University of Connecticut 12-8 in the semifinals and are inching closer to another national title (1:00:19).
Following the interview, Nathan does a quick Detroit pro sports update (1:15:03), before bringing on Trent once again, this time to talk all things NBA playoffs (1:16:57).
From NBA playoffs, we head into NHL playoffs (1:48:26), before wrapping up the show by bringing on Alex one final time with Trent for all things NFL draft talk including Spartans that were signed to various different teams in the league (1:51:10).
From all of us here at The Green & White Report, thank you for another incredible spring season. We will be heading into the summer, with a slew of hosts, and we will be back to our normal crew in the fall. Thanks for a great spring!
About the Writers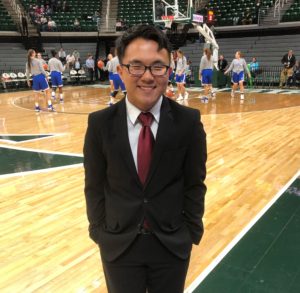 Hikaru Kudo, Sports Broadcast Director
Hikaru Kudo is a sophomore journalism student at Michigan State from Novi, MI. Hikaru is the Sports Broadcast Director and oversees all aspects of play-by-play, live or recorded, for any athletic event Impact may send staff to. He is also the producer of Impact Sports flagship radio show, "The Green & White Report". In addition, he is the co-host of, "The Chant", an Impact Exclusive featuring sports and music news from the past week. Hikaru covers soccer, volleyball, men's and women's basketball,...
Julian Mitchell, Author
Julian Mitchell is currently a junior journalism major who joined Impact in the fall of 2016. Hailing from St. Louis, Mo., home of the great St. Louis Cardinals he has been a sports fan all his life. If it wasn't for his short stature, Julian would probably be Tom Izzo's floor general and be leading the team to a third national title. However, he is doing something better in being a co-host for Impact's flagship radio show, "The Green and White Report". Julian is also the host for "The...
Trent Balley, Detroit Sports Staff Writer
Trent Balley is a sophomore journalism student from Grandville, Michigan. Trent is WDBMSports' lead Detroit sports writer and columnist. Follow him on twitter @TBal91, for story ideas and suggestions you can email msuimpactsports@gmail.com