Michigan State and Izzo prove they're not done yet, take down Duke in instant classic
MSU headed back to Final Four; first time since '15
Hang on for a minute...we're trying to find some more stories you might like.
WASHINGTON, D.C. — Cassius Winston may not be the biggest, the fastest or most athletic individual on the court. But he took MSU to great heights in a 40-minute performance, as America watched him will Michigan State to a 68-67 victory over Duke in the Elite Eight.
But when Kenny Goins knocked down a 3-pointer with 34 seconds to go in the game to give MSU a 68-66 lead, It was far from over.
"As soon as it was up in the air like maybe .2 seconds after I thought it was going down," said Goins about that 3-pointer.
RJ Barrett missed the first of two free throws that could have tied the game. Attempting to miss the second intentionally, his attempt clanked off the back of the rim and in.
On the ensuing inbound pass, Winston slipped away from Barrett to catch the pass and wind the clock out. The junior guard had 20 points and 10 assists. It's only fitting he'd have the ball in his hands as the clock hit zeroes.
"No one ever thought I was gonna be here," said Winston as confetti rained around him. "No one thought I was gonna be in this situation. I love it, I love proving people wrong."
The Spartans and Winston defied the odds Sunday as they took down one of the best teams that Duke coach Mike Krzyzewski has had in his storied career.
"They played their hearts out all year.  These guys have been an incredible group for me to coach," said Krzyzewski postgame. "Especially at this time in my career to be around a group that you love being around every day."
With seasons, legacies, and championships on the line, you'd bet these teams would come to play.
Boy, did they ever.
The game was from over even in its latter stages, tied at 58-58 with just over five minutes to play, as neither team could pull away.
"They're an experienced team, a well-coached team," said Cam Reddish in the locker room following the loss.
Xavier Tillman made one of the biggest plays of the game. The sophomore sliced to the basket off a pass from Winston, slamming it down on Javin DeLaurier as he was fouled. Tillman nailed the free throw to follow and MSU led by four.
The game's beginning was similar to the finish, both teams going shot for shot in an instant classic.
The first half was back and forth as many expected it would be. The Spartans got out of the gates quick, leading 12-5 following a Matt McQuaid jam in transition with 14:48 to play in the first.
"I've never seen McQuaid get the dunk, and the acrobatic spin move?," said Izzo. "Now their showing me some things I've never seen myself. Couldn't have picked a better time."
Then it ended in a flurry as the Blue Devils took the lead for the first time on a pair of Cam Reddish free throws, giving his squad a 22-21 advantage, the catalyst for a 12-0 run by Duke.
Then Duke star Zion Williamson got his second personal foul with 4:52 to play in the first.
And MSU responded, going on a 13-0 run of their own to close out half.
Spartan fans watched in awe as froze a few Duke defenders for buckets, dropped a dime to Tillman, and stole a pass to go coast-to-coast for a layup all in the last four minutes: giving MSU the lead once again to close out the first 20 minutes, 34-30.
The quick finish to one half set the stage for the end of another.
The second half began much like the first, MSU got out of the gates hot as Aaron Henry slammed in an alley-oop, helping the Spartans push the lead to 36-30 with 19:50 to go. But the lead didn't last long as Duke stormed back to retake the 42-41 on a Tre Jones lay-in.
Neither team gave an inch, as both scored bucket after bucket. The Blue Devils nailed back to back threes before Winston came down to answer with one of his own to cut the Duke lead to one point.
A Tillman cut and slam, and MSU was back on top 53-52 after another Duke turnover.
The Blue Devils, plagued by turnovers in the game, coughed up the basketball 17 times in the loss.
The game was still not over for all intents and purposes. RJ Barrett starred in the loss, despite missing the final free throw the future NBA lottery pick scored 21 points. He hit a 3 with 2:26 to go, giving Duke a 64-63 lead.
The Goins 3-pointer came shortly after. It was a storybook ending to the game as the former walk-on nailed the shot before Barrett missed the free throws.
"I mean that kind of explains MSU," said Winston. "Guys like Kenny, guys like Matt, they wait their turn. They work hard and they earn moments like this. He earned every part of that."
The Blue Devils had gotten lucky against UCF and Virginia Tech, but finally they just weren't able to get the right bounce. Williamson ended with a game-high 24 points and 14 rebounds on his way to the NBA. It was over his outstretched hands that Goins hit the go-ahead shot.
"Got a clean look," said Winston after the win. "My back was towards it a little bit so I just saw the ball in the air but I was watching it and I said yeah that's good."
It felt only fitting.
"Everybody executed, everybody did their job," said head coach Tom Izzo with a grin. "It was a helluva win."
The Spartans will play Texas Tech in the NCAA tournament semifinal next weekend in Minneapolis.
About the Writer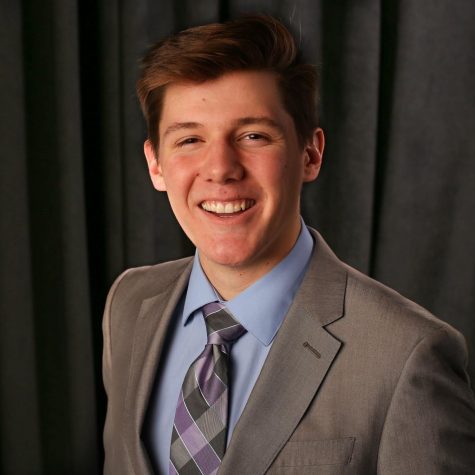 Joe Dandron, Sports Director
Joe is a junior journalism student from Montague, Michigan. Joe serves as Sports Director for Impact 89FM and covers football, men's basketball, and women's basketball. Joe also broadcasts these sports and plans to focus on writing, editing, and reporting with his degree. He is a former reporting intern at WKAR News and now works as a newsroom assistant at Lansing State Journal while also working as a sports intern with WJRT ABC-12 in Flint, Michigan.