Tyranski, balanced offensive attack leads Spartans to win over Northwestern
EAST LANSING, Mich. – Michigan State utilized a dominant performance by starter Mitchell Tyranski and a balanced offensive attack to down the Northwestern Wildcats 8-2 in the first game of Saturday's doubleheader.
Eight different players reached base and four collected an RBI in the victory, while the lefty Tyranski allowed only two runs and overpowered Wildcat hitters to the tune of nine strikeouts. The Spartans (14-27, 3-10 Big Ten) have now won a season-high four games in a row and five of their last six games overall.
BOX SCORE: MSU 8, Northwestern 2
Tyranski wasted no time putting his stamp on the afternoon's first contest, striking out the first five batters he faced and not allowing a baserunner until the third inning. The eight innings pitched marked a new career high for the junior Tyranski, who also matched his season best with only one earned run allowed in his first win of the year.
The southpaw was a full-time reliever prior to the 2019 season, making 44 appearances during his freshman and sophomore seasons. He entered this season in his usual role in the back end of the bullpen, but was pressed into duty as a starter due to crippling injuries in the starting rotation.
Tyranski (1-7) gave up a combined 13 runs in his first three starts of the season, but has settled in nicely since then, pitching into or beyond the seventh inning in his last four starts while only allowing eight earned runs. His first win of the season was, to say the least, well deserved.
"Mitchell (Tyranski) was great," head coach Jake Boss Jr. said. "He's really settled in during the last couple starts. That's what you expect from an older guy, he's a great competitor."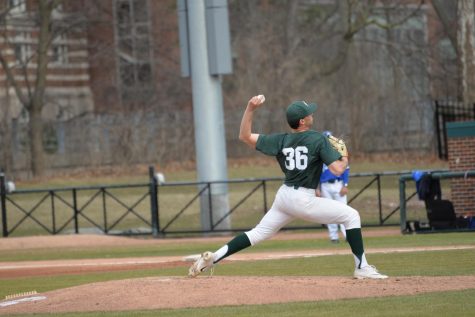 The Spartans' offense, which struggled to give Tyranski run support during his previous six starts, was able to come through today and give their starter an early lead. Headed into Saturday's contest, MSU was only able to give Tyranski just over two runs per game in his starts.
This theme would change quickly though, as the Spartans struck for two runs in the bottom of the first off Northwestern starter Mike Doherty (2-1). This was thanks to an RBI single from Royce Ando, scoring Marty Bechina, and a run-scoring triple from Casey Mayes that brought home Bechina.
Michigan State was able to put together four two-run innings over the course of the contest, providing enough firepower for Tyranski to cruise through his eight innings of work. This offensive surge was led by the senior double-play combination of Bechina and Ando.
The shortstop Bechina drove in three runs as part of his 3-for-5 batting line, while the second baseman Ando went 4-for-5 with two RBI. Leadoff man Bryce Kelley also had a productive first game, going 4-for-5 with two runs scored. All in all, the Spartans pounded out 15 hits, tying a season high that was previously achieved last night against the Wildcats (17-22, 5-9 Big Ten).
Colton Panaranto, who threw a career-high seven innings in his first-career start on Tuesday night, tossed a scoreless ninth inning to cap off the victory. As a team, the Spartans have allowed three runs or less in their last four games, perhaps the biggest key to the team's recent winning streak.
The one blemish in an otherwise flawless contest occured in the third inning, when first baseman Justin Antoncic was injured while stretching out to snare a poor throw to first base. The junior was taken off the field immediately and replaced by Reese Trahey.
After Friday night's 8-3 win and Saturday afternoon's early result, the Spartans will be looking for a sweep of the Wildcats when they take the field later in the afternoon for the second game of the doubleheader. Caleb Sleeman will take the ball for MSU, making his sixth start of the season.