Michigan State's bats lead the way to win against Northwestern
Luke Saccone , Women's Basketball Beat Reporter
April 26, 2019
EAST LANSING, Mich. – Michigan State defeated Northwestern Friday night at McLane Baseball Stadium, 8-3.
The Spartans came into the weekend series against Northwestern winning three of their last four games. Against Northwestern, MSU had won the last four meetings. They have won three straight now and four of their last five.
BOX SCORE: MSU 8, Northwestern 3
Starting pitcher Mason Erla came into the game with a 1-7 record while posting a 5.84 ERA, but was able to do enough to keep MSU in front according to head coach Jake Boss Jr.
"He settled into it," said Boss. "Threw up a bunch of zeros and was ahead in the count really all night long."
Erla settled in after the first inning, only allowing three runs in seven innings. Erla struck out five and gave up seven hits in the outing. Sam Benschoter came in relief for Erla with no outs in the top of the eighth.
"Really scattered five hits through seven innings," Boss said.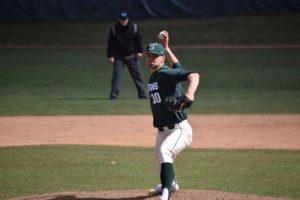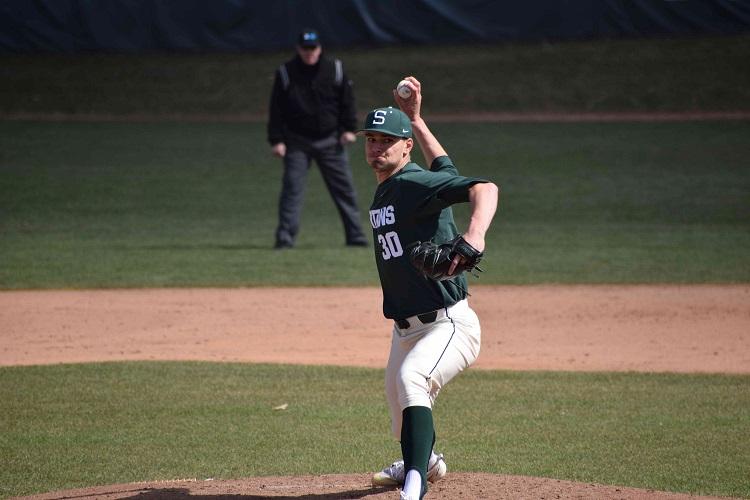 Quinn Lavelle for the Wildcats came in at 3-5 with a 5.11 ERA. Lavelle struggled for Northwestern, allowing four runs on 10 hits through just 4.3 innings. Northwestern had to use two more pitchers. Anthony Alepra gave up four runs in relief.
Michigan State's defense opened up with some sloppy play, committing two errors in the first inning. They responded on the offensive end by tallying six hits through the first two innings, and scoring in each of the first three. This was after giving up a run in the top of the first with two outs that Dan Chmielewski thought was a little upsetting.
"I think we felt a little upset with the first run in the top of the first. We felt like we had to come out with an answer," Chmielewski said.
The Spartans scored two runs in the bottom of the second to give them the lead. Justin Antoncic singled for Michigan State, driving in Zaid Walker. With the bases then loaded, Lavelle walked Royce Ando, forcing in Bryce Kelley and putting MSU up 3-1.
Ando went 2-for-3 on the night with two RBI that included a double in the bottom of the sixth that scored Kelley. Walker went 4-for-5 with a double in the seventh and two runs.
Casey Mayes came in to pinch hit in the bottom of the seventh for Nic Lacayo and made an immediate impact. Mayes hit a two-run home run to left field off of Alepra. This was a part of the Spartans three-run seventh that made the score 8-2.
Northwestern scored once more in the top of the eighth. Jack Dunn grounded out to shortstop and Alex Erro scored making the score 8-3. All runs were counted towards Erla's effort.
"He gave up the two in the eighth, and that's more on me," said Boss. "He sat for a long time in the bottom of the seventh and I should've got him out of there."
Michigan State had five players with multiple-hit games. Ando, Antoncic and Walker went a combined 8-for-13. Marty Bechina and Chmielewski also had multiple hit games. The five Spartans accounted for 13 hits out of the team's 15.
"I think sometimes it can be just that, contagious," Chmielewski said. "You see one guy catch a barrel and next thing you know two, three, four guys in a row do."
Michigan State and Northwestern are set to play two more games this weekend as part of a three-game series. Mitchell Tyranski is scheduled to be on the mound for the Spartans tomorrow, while Mike Doherty is on the other side for the Wildcats.