Matriarchs of Music | Carole King
As a long-time music lover, I have always been drawn to exceptional songwriting, complex melodies and interesting techniques. When I am asked what my favorite genre of music is, I reply with a vague "I listen to everything," which actually happens to be true. As a child, I was a huge fan of the Disney princesses, but by the time I had outgrown them musical options for young girls were slim. The music that was available to me was missing something that I didn't know I needed. It was all one-dimensional, overproduced nonsense.
Flash forward to high school and my discovery of Spotify: I was listening to more music than ever and building my lists of favorites. My top artists were The Beatles, Green Day and Mayday Parade. These are all talented bands within their respective subgenres, but I was still looking for something to fill my playlists with the depth they were lacking. That is when I found Carole King. My parents took me to see "Beautiful: The Carole King Musical," the Broadway musical based on her life and musical journey, and I was blown away. I had no clue that one person could be so overwhelmingly talented. I went home that night and listened to "Tapestry" until I could no longer keep my eyes open.
For those who don't know Carole King's story, she is one of the most successful female songwriters of the 20th century. Between 1955 and 1999 alone, she wrote and co-wrote 118 pop hits on the Billboard Hot 100. Her career began in the 1960s when she wrote The Shirelles' Billboard Hot 100 #1 hit "Will You Love Me Tomorrow." This was the first No.1 hit by a group of black women. After this, she was hired with her first husband, Gerry Goffin, to write songs for popular artists. These songs included  "Up on the Roof" for the Drifters, "One Fine Day" for The Chiffons, and "(You Make Me Feel Like) A Natural Woman" for Aretha Franklin. After moving to California, she met James Taylor and Joni Mitchell who helped her realize her full potential as a solo artist. She released her first solo album, "Writer," in 1970 and it peaked at 84 in the Billboard Top 200.
The next year, King released Tapestry and it was an instant success. It featured new compositions as well as reimaginations of "Will You Love Me Tomorrow" and "(You Make Me Feel Like) A Natural Woman." Tapestry's singles included a Billboard No.1 "It's Too Late" and the album held the No. 1 spot for 15 consecutive weeks. It also remained on the charts for almost six years and has sold over 25 million copies worldwide. She won four Grammy Awards including Album of the Year; Best Pop Vocal Performance, Female; Record of the Year ("It's Too Late") and Song of the Year ("You've Got a Friend"). More recently, the album has appeared on Rolling Stone's "500 Greatest Albums of All Time" at number 36 and "It's Too Late" was number 469 on Rolling Stone's "500 Greatest Songs of All Time."
Since her initial success, King has made 25 solo albums and was inducted into the Songwriters Hall of Fame and the Rock and Roll Hall of Fame for her songwriting. She is the recipient of the 2013 Library of Congress Gershwin Prize for Popular Song, the first woman to be honored.
King has been an inspiration for countless artists and fans since her humble beginnings in the 1960s. I have been inspired and entranced by King's life story and music since the first time I heard her. The trajectory of her career entwined with her personal triumphs and tribulations gives her a unique perspective in her songwriting. Her music is poignant, complex, and thought-provoking. Every time I listen to one of her songs, I learn a little bit more about myself. King's music is so personal and emotional that I feel like the songs could have been written just for me. And I know that I can turn to her music whether it's winter, spring, summer or fall.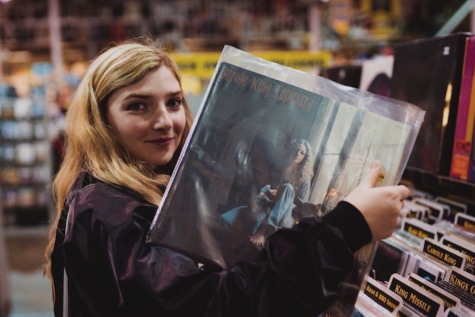 Image by Donte Smith.