Positive takeaways from MSU soccer's spring loss
EAST LANSING, Mich. – The inaugural Capital Cup match brought us the first look at what the Michigan State soccer side might look like against high-level competition come August. Albeit, they won't face a side much better than Lansing Ignite FC all season, hence the 4-0 scoreline in favor of Lansing.
"I think it was really good for soccer in this community," Damon Rensing said. "We're a little disappointed with how we played, but I was happy with the guys."
The first half brought many of MSU's brighter moments, and at times even looked comfortable and as though they belonged on the same pitch as the professional soccer team across them.
The second half was when LIFC pulled away from the Spartans and reminded everyone watching that the gap between the third tier of American soccer and the college level is still most definitely wide enough to notice a difference. MSU conceded a couple goals due to their own mistakes; a ball headed in after it bounced inside the six from a corner kick coupled with a ball bouncing right over the foot of Nick Woodruff, the last man back.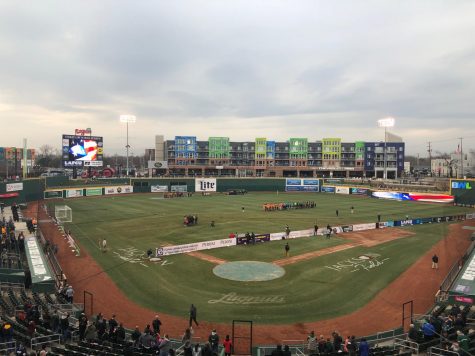 It should be mentioned that key pieces in last year's College Cup run, midfielder Jack Beck and center back Michael Wetungu, were injured. Not to mention the Spartans lost six core starters from their history-making squad from last year, including three players to the MLS. Having said all that, the scoreline did represent the quality of both sides. Despite that, there are multiple positives to take away for MSU.
All signs pointed to the fact that MSU's back line will be very strong and very deep this year. "But they gave up four goals," you say. Yes they did. And like I said before, remember Lansing is a professional side.
When Will Perkins went down early on, Rensing had to do more re-shuffling to a backline already down a starting center back. Colton Stanley came on for Perkins and big man Patrick Nielsen slid out to the left back spot.
Stanley held his weight quite well, especially playing in his first game against high-level competition. He looked good in the air and good on the ball, although he looked to go long a little too much for my liking.
Woodruff was out for almost all of last season with an injury and looks to reclaim a spot in the middle of the back line this fall. Outside of a mistake that may have actually been caused by the lip of sod laid on the infield at Cooley Law School Stadium, he seemed to be back to 100% and ready to go when the regular season begins.
The only spot along the defense that was shaky at times was the right back position occupied by Olu Oganwale. Ogunwale is one of the hardest working and maybe the paciest player on this MSU squad, but at times he works too hard for his own good. Working carelessly may be the way to best describe it.
Ogunwale was caught out of position a couple times, one of those ending in a corner from which LIFC scored their fourth, and another good chance down his side. No doubt Ogunwale will get even better as time goes on; the freshman didn't get much experience last year as the full back spots were occupied by trusty seniors Connor Corrigan and John Freitag.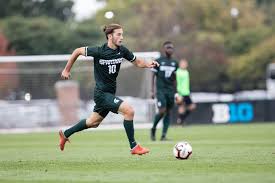 Giuseppe Barone has not missed a beat.
"Giuseppe was just as good as about anybody out there," Rensing said.
He looked better than most of the Ignite players at times during the night and picked up right where he left off, being the Big Ten Midfielder of the year during his 2018 campaign. Whether he was playing in a false nine role which he did at the beginning of the night or a deeper center mid position he's more used to, Spartan soccer fans can rest easy knowing Barone will be back and better than ever come late 2019.
The depth, specifically in the defensive third, MSU possesses this year is glorious and will be very important. Let's start along the back line. The Spartans effectively have four guys who are center backs by trade that could start (Michael Wetungu, Patrick Nielsen, Nick Woodruff, Colton Stanley).
Patrick Nielsen was a first team All-Big Ten player last year. His partnership with Wetungu in between the outside backs was cemented in the second half of last year and was very sound. We saw Tuesday that Nielsen is also competent playing left back, an option that could be explored. I would expect Perkins and Ogunwale to start at full back, meaning there will be three or four center backs battling for two spots.
In the middle of the pitch, MSU retains all three center midfielders who were an integral part of last year's postseason run in Barone, Jack Beck and Michael Pimlott. Alex Shterenberg will definitely make a case for being that first central midfielder off the bench, or even in the outside midfielder/winger hybrid position Rensing utilizes in their 4-3-3 formation.
The biggest question for the Spartans is up front. After losing three forward players to the MLS and graduation last year, Farai Mutatu is the only player essentially guaranteed to slot in to one of the winger spots. Outside of him, Michael Miller would be the next guy up, but Miller could also be positioned in the midfield when not needed up front.
After them, Connor Wineman and Julian Arjora may step up. Both were featured Tuesday, spending most of their time in the final third when MSU held possession, but didn't have much to show for their appearance by the conclusion of the match.
MSU soccer has a lot to be excited about for this upcoming season, but also much work to do before they begin their new campaign without that all-important core from last year. They continue their preparations Apr. 20 vs Detroit City FC. They also host the Mexico U-20 national team on Apr. 28.