Torch and Twang | Annie Oakley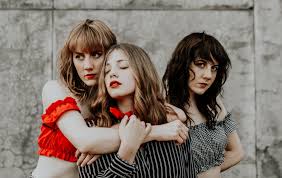 Tonight on The Progressive Torch and Twang…
We spin tracks from Annie Oakley at 9pm! And after that, new music at 10pm!
Follow the show on Twitter for show updates, requests and Americana news.
Also: We're looking for a new co-host! Do you like Americana music? Are you a current student at Michigan State University? Great! Email [email protected] for more information.
It all starts at 8 p.m., only on The Progressive Torch and Twang!
[su_accordion][su_spoiler title="Click for Playlist" style="simple"]
"Yours and Mine" – Dawn and Hawkes
"The Truth Won't Set Us Free" – Sara Watkins
"Adios Maria" – The Cactus Blossoms
"Wreck" – Samantha Crain
"You Don't Own Me Anymore" – The Secret Sisters
"Teardrops Fell" – Deep Dark Woods
"Good Girl Down" – ANgaleena Presley
"Back To Eath" – The Wild Reeds
"So Long" – Bridget Kearney
"Southern Sadness" – American Aquarium
"Oars to the Sea" – The Ballroom Thieves
"Violent" – Sunny Way
"Ain't My Fault" – Dustbowl Revival
"Stella" – Mountain Man
"Wandering Child" – Wild Rivers
"Blame It on the Moon" – Samantha Fish
Artist Feature: Annie Oakley
"Recognition" – Annie Oakley
"Nothing to Say" – Annie Oakley
"Did You Dream" – Annie Oakley
"Words We Mean" – Annie Oakley
"Ghosts" – Trampled by Turtles
"Let It All Go, Man" – Rayland Baxter
"Queen of Hears / Royal Tea" – Sierra Hull
"Living Proof" – Gregory Alan Isakov
"Watching from a Distance" – David Ramirez
"A Long Time" – Kelly McRae
"Just a Dream" – Langhorne Slim and The Laws
New Music
"All In Your Head" – Erin Costelo
"Love Feasts" – Liz Brasher
"Mad Love" – Chastity Brown
"Party of One" – Brandi Carlile with Sam Smith
"New Day Dawning" – Way Down Wanderers
"Waves of Galveston" – Iron & Wine
"Steal Your Heart Away" – Watkins Family Hour
"Think It Over One More Time" – Buckwheat Zydeco
"Darlin" – Folk Family Revival
"Walls" – Old Coast
"Raspberry Seed" – PHOX
"Lonely Boy" – Banditos
"You Gotta Move" – Parker Millsap
"United We Fall" – Adrian Duffy & The Mayo Brothers
"Waveland" – Noam Pikelny
"ON THE LIPS" – JD McPherson
"Breakdown" – Ragbirds
"Poison In The Well" – William Bell
"Bird in a Tree" – The Brother Brothers
"Still Life" – Sarah Jarosz
"The Once and Future Carpenter" – The Avett Brothers
"Know What's Next" – Feufollet
"Night After Night" – Deer Tick
"Darling (LIVE)" – The Appleseed Company
"Bad Mind" – Erin Rae
"Don't Let It Trouble Your Mind" – Rhiannon Giddens
"Penny" – Elise Davis
"I Wonder" – Jonah Tolchin
"Flow with It (You Got Me Feeling Like)" – St Paul & The Broken Bones
"The Weakness of Two Hearts" – Jim Lauderdale
"Shadoop" – T Sisters
"Say It Louder" – Nathaniel Rateliff & The Night Sweats
"Dusty Old Man" – Tift merritt
"Paid By the Mile" – Sam Morrow
[/su_spoiler][/su_accordion]