Episode 78: Spartans Spook the Boilers
Hang on for a minute...we're trying to find some more stories you might like.
Podcast: Play in new window | Download
Subscribe: Apple Podcasts | Android | RSS
The mood around East Lansing has changed dramatically in just one week, thanks to MSU's big win against Purdue Saturday. Ryan Rabinowitz and Julian Mitchell are joined by an Impact alum, Zach Swiecicki, to break down the season-changing victory, Then, Hikaru Kudo shares the latest in the world of MSU volleyball. Following that, the guys are joined by the voice of the Detroit Tigers, Dan Dickerson. They close the show with a breakdown of MSU hockey's surprising start with Ryan Collins.
About the Writer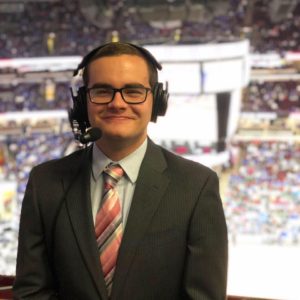 Ryan Cole, Author
Ryan Cole was the Sports Director at Impact 89FM. He was promoted from Assistant Sports Director in December 2016. He graduated with a degree in journalism from Livonia, Michigan. He covered MSU club football in Fall 2015 and was the lead men's basketball reporter for Impact. He co-hosted the MSU men's basketball podcast, Impact Izzone, with Davey Segal. Ryan also interned for Spartan Sports Network.