A few weeks ago Common Ground Music Festival occurred in Lansing! Common Ground has been a week-long festival that occurs at Louis Adado Riverfront Park. If you love a variety of music, each day of Common Ground has a different genre so everyone can find something they'll like! Generally it includes some big name artists as well as some regional and local groups.
Here's a recap of each day!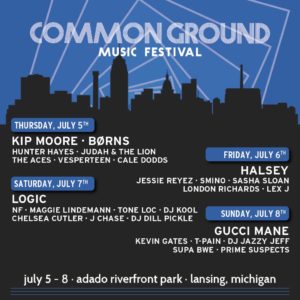 Thursday
If you're into more mellow music, Thursday was the day for you. The crowd swayed to country artists Kip Moore and Hunter Hayes as they sang their respective love songs.
While BØRNS and Judah & The Lion aren't considered country as they are indie-pop and folk respectively, they matched the mellower tones of the day, and did a great job kicking off the festival.
Friday
On Friday, R&B artist Jessie Reyez had spunk and untamed confidence on stage. She warned the crowd about her swearing but she claimed it's just a part of her and if she didn't swear then she wouldn't be being honest or truely herself. Later she said, "I know I swear a lot but it's with love."
Besides the somewhat vulgar language she used, Reyez shed some light on the sickness within the music industry. She explained that when she first started that she worked with a well known producer who told her that the only way to succeed is to please him and others sexually.
She brought all of this up to introduce her song "Gatekeeper" and to stress the importance of the "#Me Too" movement. She explained how it is hard to come out about things like that. To show her support, she even jumped off the stage to comfort a girl in the crowd who was crying.
She hyped up the crowd as she bounced around on stage and interacted with the crowd through chants such as "love who you wanna love", "say yee if you're here with your real friends" and many more. She asked for a song title for her new song so if you see a song called "Applesauce" it's our fault.
Halsey's performance did not disappoint. She showed her strength, honesty, and confidence. Halsey did a cover of "Closer" and thanked us for choosing her. She shared an anecdote of an Uber driver that hated her song and voice since it was played so often. More than that, Halsey was reflective on all the events in life that her song could have and probably has played at. To me, that illustrates the power of music and the influence it can have.
From there Halsey went onto perform "Sorry" of which she sang "sorry I could be so blind" and then broke into tears. She got it together for a few more lines "someone will love you" but couldn't finish the remainder of the line. Halsey cried for a minute or so as the crowd cheered in support and sang along with Halsey for rest of the song. "Sorry" in itself is an emotional song, but being only a week after her and G-Eazy's break up made it even more difficult. Halsey showed her true strength by finishing the song and going on to perform "Him & I" which she wrote with G-Eazy. She sang it with confidence and strength, and later said "that's the beautiful thing about music, it's messy and raw."
She ended by singing "Hurricane" and "Gasoline." She spoke words of encouragement maybe more to herself than the crowd about loving yourself and taking charge of your life.
Saturday
While the tone was more upbeat with rappers Logic and NF, Chelsea Cutler added some flare to the day with her soulful voice.
Cutler started off the day wearing an MSU basketball jersey & a blue ribbon- a clear message of support for Lansing. Cutler was the essence of sincerity and sweetness. She had a group of fans that knew all the words to her songs and the rest of the crowd appreciated her. This day marked the first time Cutler performed her album Sleeping with Roses as it came out less than a month before. Her dress, lyrics and sheer happiness made her very relatable to the crowd especially as she explained how she dropped out of college to pursue music and tour with Quinn XCII.
NF has been growing in fame since his song "Let You Down" gained a lot of radio play. NF, Nathan Feuerstein, is a hip-hop artist and Michigan native who drew a pretty big crowd. He hyped up the crowd by gaining their participation in some songs especially when he restarted his song by saying "Wake up man!" From feeling all kinds of emotions through a consistent beat and hard truths to jamming to NF laying down quick lines his performance expressed "real topics" while focusing on the music and a message of hard work and honesty.
The headliner or the night was Logic! Logic had the crowd jumping around and putting their hands in the air for the entire night. He created a greater sense of unity within the audience by interacting with fans on a personal level and stating that his crowd was like his family. Logic displayed what a family should be by helping out his fans, he rapped with a boy from the crowd, recognized two girls that have gone to four of his concerts, praised a girl who drew a picture of him, played air-basketball with another fan, sang happy birthday to another.
When there was conflict – Logic wasn't impressed with the interaction of the crowd for one song so he taunted "Do you even know this song?"- it was solved like a family would or should. Logic walked off the stage and his DJ convince the crowd to boo him and then call him back. Once Logic came back on stage he expressed his disappointment and then he convinced the audience to be just as loud for the remainder of the show.
Sunday
Gucci Mane was the headliner although performances by T-Pain and Kevin Gates were something you didn't want to miss out on.
Sunday was one of the busier and hotter days of the festival, you could tell that people were annoyed with the heat since there was a lot of pushing and shoving to get closer to the stage even though there appeared to be no room.
Bringing you back to the early 2000s when Common Ground first began was rapper T-Pain. The whole crowd was ecstatic; their childhood was made. For the majority, T-Pain's music was popular when the crowd was in middle or high school. These iconic numbers had the whole crowd dancing as T-Pain's hip-hop and club vibes filled the air. Besides being amazed with T-Pain's dancing skills the sheer number of hits he has is incredible! Halfway through his performance, T-Pain sat down saying that he was tired and probably done for the day. Between the crowd begging for more and the DJ teasing him and explaining how there are still a lot of hit songs left, T-Pain continued his performance and had a great set.
Gucci Mane was next, the crowd grew as the sun went down. He brought his wife on stage and had a great set as the headliner of the day.
—
Overall the whole festival had a lot of enthusiasm and brought a community together to celebrate freedom while experiencing great music. If you missed our Instagram coverage from the weekend, we have photos from the weekend below and on Instagram!
[ngg_images source="galleries" container_ids="2″ exclusions="27,54″ display_type="photocrati-nextgen_basic_imagebrowser" ajax_pagination="0″ order_by="imagedate" order_direction="ASC" returns="included" maximum_entity_count="500″]
Photos by video team volunteer Clark Kingston & video director Will Spurrier