Cole: Spartans "humbled" at OSU, but have the chance to rebound
Humbled.
Michigan State's men's basketball team spoke for the entire month of December about "being different" from the rest of the top teams in the country. That meant the Spartans set out to avoid a loss to a team they were supposed to beat.
But they talked about it without having a chance to really prove it, going up against overpowered teams like Houston Baptist and Savannah State, routing them and breaking records left and right.
They had a phenomenal chance to prove they were "different" Sunday at Ohio State, and they failed at it. In fact, they failed pretty miserably.
Ranked No. 1 in the country for the first time in two years, the Spartans were humbled by Ohio State, 80-64. The loss marked the first setback for Michigan State since an 88-81 loss on Nov. 14 against then-No. 1 Duke.
The Spartans got out to an 11-4 lead in just their second road game of the season, quieting an avid crowd in Columbus.
[su_pullquote]They had a phenomenal chance to prove they were "different" Sunday at Ohio State, and they failed at it.[/su_pullquote]
But from that point on, the crowd got all it wanted and then some. The Buckeyes went on an 11-0 run, snagging the lead from the Spartans. After the teams traded buckets on the way to a 29-29 tie, the hosts went on a 12-0 run to close the half, capped off with a buzzer-beater three from Andrew Dakich. From that point on, the Spartans were run out of the gym by a hungry Buckeyes squad.
I've covered this Spartan team all season and seen the players as a fellow student. This team is humble, selfless, perceptive. They do things the right way. From what I have seen, they practice hard, they're good students and they care about each other. Even more than that, they care about Michigan State University and their respective legacies in the basketball program's history.
But this taste of humble pie was much-needed for a Spartan team coming off a 14-game winning streak. After pumping out blowout victories and 100-point games, the Spartans gained positive headlines and national praise for their dominance, being crowned as national championship favorites in the media and in Las Vegas.
The loss also comes at a great juncture in the season, just in time for students to return to East Lansing for the spring semester. Just in time for the players to see their biggest fans up close and personal.
As Tom Izzo says, the team has been told for weeks "how great they are."
[su_pullquote align="right"]This taste of humble pie was much-needed for a Spartan team coming off a 14-game winning streak.[/su_pullquote]
Now, with a loss—a conference loss at that—the Spartan players look human. They no longer appear infallible. The Buckeyes took advantage of several chinks in the Spartans' armor, attacking weaknesses in the vaunted Spartan defense.
Now, the preparation for a grueling Big Ten season will kick in for the Spartans, who now know how human they are. They're still the Big Ten favorites, so they're still going to get every team's best punch, especially away from the Breslin Center. Luckily for them, the Spartans avoid playing two of the Big Ten's next-best teams–Purdue and Michigan–on the road.
Ohio State delivered a punch Sunday. Then another. Then yet another. By the time the Spartans could recompose themselves and punch back, they were staring at a 20-point deficit in front of a hostile crowd.
After going just 2-7 on the road last season, the Spartans now sit 1-1 on the road after an underwhelming 62-52 victory at Rutgers in December and Sunday's loss to Ohio State. In order to win the Big Ten, they'll have to win far more road games—and they'll get a chance to prove that in February, when they play five of their seven games away from the Breslin Center.
But for now, two home games this week allow the Spartans the perfect chance to rebound. They welcome Rutgers to the Breslin Center Wednesday before a massive rivalry matchup against Michigan on Saturday. Two wins can swing all the momentum and praise the Spartans' way once again—and they'll get another chance to "be different."
About the Writer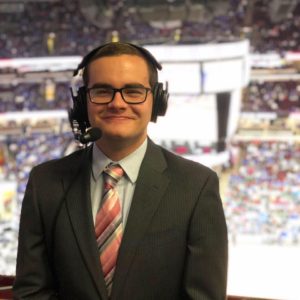 Ryan Cole, Author
Ryan Cole was the Sports Director at Impact 89FM. He was promoted from Assistant Sports Director in December 2016. He graduated with a degree in journalism from Livonia, Michigan. He covered MSU club football in Fall 2015 and was the lead men's basketball reporter for Impact. He co-hosted the MSU men's basketball podcast, Impact Izzone, with Davey Segal. Ryan also interned for Spartan Sports Network.