Episode 22: Who Says It's a Bye Week?
Podcast: Play in new window | Download
Subscribe: Apple Podcasts | RSS
It may have been a bye week for Michigan State, but college football still leads off this week's episode of the Green & White Report. Zach Barnes is joined by Zach Swiecicki as they discuss the Spartans' upcoming clash with rival Notre Dame (6:30). Why does the national media not even give MSU a chance? Also, Barnes discusses why Detroit Lions fans still need to be wary after a big Week 1 win (18:17). Then, he discusses two major events from the last week that raised questions about race in the sports world: Jemele Hill's tweets about President Trump and a Boston Red Sox fan's sign (36:15).
About the Writer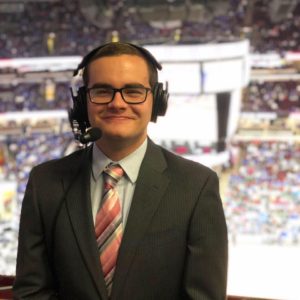 Ryan Cole, Author
Ryan Cole was the Sports Director at Impact 89FM. He was promoted from Assistant Sports Director in December 2016. He graduated with a degree in journalism from Livonia, Michigan. He covered MSU club football in Fall 2015 and was the lead men's basketball reporter for Impact. He co-hosted the MSU men's basketball podcast, Impact Izzone, with Davey Segal. Ryan also interned for Spartan Sports Network.