Americana Album of the Year | Honest Life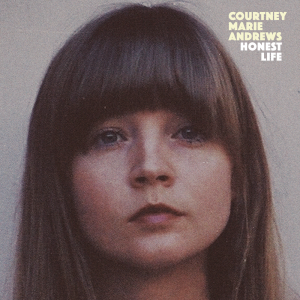 Rarely does an album win me over on my first listen. There are notable exceptions, of course, like Midwest Farmer's Daughter from Margo Price or Parker Millsap's The Very Last Day, but only one album received this initial review in my notes for over 700 releases this year: "One of my personal favorites of 2016."
That was back in August. It only took a couple more months before I could drop off those first two words and declare Honest Life as my favorite 2016 album.
Coming out of Seattle, Washington, Courtney Marie Andrews is back with another LP as a response to a life well-worn on the road and to the bad taste of jilted love. Arming herself with a tight group of musicians, Ms. Andrews makes a strong case with the beat of an organ and a crisp drum layering on her voice.
Tracks like "Put the Fire Out" seem like they'd only exist in an alternate universe where The Band joined up with Joan Baez – a common sonic theme with occasional, but welcome, appearances from a cello.
The lyrics of Honest Life fulfill the two R's for quality songwriting topics: restlessness and romance. (See: Langhorne Slim's "Salvation") The two can be combined in a near infinite amount of ways, but only a fraction are worth writing about. Ms. Andrews brought together ten of them for an album entirely of originals.
"Rookie Dreaming" is the opener and by far the most definitive of the album's concept. When I first shared this song with others, I tried selling it to fans of daydreaming and thinly-veiled love songs. The opening lines set up the scene:
I was singin' with the choir on the train,
I was a travelin' man,

I did not yet have a name,
I was a 1960's movie,
I was a one-night love story,

I was a you will never see me again.
The next three minutes take us down a road many are familiar with: Heartache. Hopelessness. Regret. The twist comes right at the end, mirroring the opening verses but with a new lesson in tow:
I am sitting all alone on this train
I am a passenger to somewhere,
I do not yet know the name.
I am a 1960's movie,

I am an unwritten story,

I am a when will I see you again?
At the risk of self-imposed irony, the music here is best expressed through its original medium. There's a difference in having me quote "15 Highway Lines" with "Oh, Lonesome road / Teach me to run, back into the arms of my darling one" and hearing Ms. Andrews command the line with a drawn out "runnnnnnn."
Though I would be foolish to not acknowledge the closing track, one of the most vital parts of any LP and the bookend to Andrews' tale. The chords of "Only in My Mind" are reminiscent of an old Catholic hymn, void of a bridge and built instead on its verse and chorus. It's a sign-off, a closing prayer, to the restlessness and romance she ponders:
In my mind, you're there sometimes,
Dancin' with a glass of wine,
Laughin' as I come to join you,
Under the dim living room light,
But it is only in my mind.
I read the other day that Bob Dylan's parents gave him one year to make some success before he'd have to return to Minnesota and continue his schooling. This was right before he split for New York City and landed a deal with Columbia Records and released his debut LP.
I can't say if Ms. Andrews ever had a similar agreement – nor if she ever needed one, for that matter – but Honest Life has proven to be her strongest and most promising leap of faith yet, jumping well above the high standards set by Americana musicians this year.
---
Daniel Rayzel is the host of Progressive Torch and Twang, our weekly Americana program.
Honest Life is out now from Mama Bird Recording Co. Find more on Courtney Marie Andrews on her website.