Artists For A Cause — your favorite artists stand up for justice
2016 has been a challenge — the election cycle, Dakota Pipeline controversy, legendary musicians passing away, and a gorilla being canonized by social media. In the midst of all this tragedy and zaniness, it can be difficult to get a clear picture of what is right.
Musicians don't have any social obligation to fight for their beliefs, and usually choose to remain neutral. However, there are a few artists who feel so strongly about an issue they just can't remain silent. Here are a couple of these aforementioned artists fighting for what they believe in.
https://twitter.com/VicMensa/status/803379633370595331
Vic Mensa took a stand at Standing Rock over the potential pipeline. The proposed pipeline would run right through Native American land and potentially contaminate water and crops. Mensa has been in the thick of it, protesting along with thousands of other brave souls to protect what is rightfully the Natives'. Mensa advocates the issue over Twitter in attempts to rally support.
CNN reported an example of musicians fighting against implementation of the Dakota Access Pipeline. Kelcy Warren — the billionaire CEO at the helm of this pipeline installation process — has decided to run the music festival title Cherokee in Cherokee, Texas. The only issue — a lot of musicians will not perform. Artists like Jackson Browne, Jason Mraz, and Bonnie Raitt have come together to form a counter-music festival in protest of the pipeline.
As Browne said, "I do not play for companies who defile nature, or companies who attack demonstrators with trained attack dogs and pepper spray."
Stand in Solidarity with Standing Rock
Tune in to tonight's concert:https://t.co/cYsQdM6Iet pic.twitter.com/gm2YMY9b3L

— Jackson Browne (@SongsofJBrowne) November 27, 2016
Bonnie Raitt was also quoted, "Our hope is that this concert will help bring more awareness and media attention to the issues being raised at Standing Rock, and to put pressure on The Obama Administration to halt construction of the Dakota Access Pipeline until protection of sacred sites is ensured."
These artists and their supporters are a main proponent in the stoppage of the DAPL as the US Government finds an alternate route for the pipeline.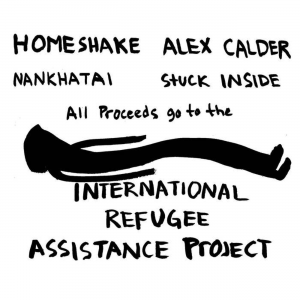 Canadian indie musicians, Alex Calder and Homeshake, have teamed up on this split single titled "NANKHATAI // STUCK INSIDE." While the songs themselves are great, the main draw is that 100% of album sales go towards the International Refugee Assistance Project (IRAP). IRAP was started by a few Yale Law Students, and it aims to provide relief to those who were harmed inadvertently by the Iraq War. Pete and Alex have always been sweethearts, but now they are showing themselves to be noble sweethearts for a noble cause.
These artists are all making the extra step to support something they believe in. While the music is what gives them a platform to speak from, their beliefs shape their image and worldview. They're people too, after all, and sometimes the music alone isn't enough.