10 Things to Know Before the 2016 Izzone Campout
Hang on for a minute...we're trying to find some more stories you might like.
Michigan State students are feeling pretty down these days. Midterms have been awful, cold weather is coming, and the football team has been painfully mediocre. Have no fear Spartans, college basketball season is here!
College basketball in East Lansing would be nothing without the endless support that has come from the Spartan student body over the years. For the last 21 years, those diehard supporters have stood right next to the court in the famed student section known as the Izzone.
One of the greatest traditions at Michigan State is the Izzone Campout. Each of the 2,000-plus members of the Izzone must camp out overnight on Munn Field in order to get the chance to buy tickets. The 2016 (rescheduled) edition of the Izzone Campout is Friday, Oct. 21. Tent set-up begins at 2 p.m. with official activities beginning at 5 p.m. Before that time comes, you should be prepared for what will undoubtedly be the best night of the year.
1. Know the system.
Why are you braving the chilly night when you could be in your warm, cozy dorm or apartment? Well, for starters, Campout is worth two Izzone priority points. That's as much as a regular season game. But for returning students, the Campout is required in order to carry over points from previous seasons. If a returning student doesn't attend the Campout, they're back to square one with all the freshmen. Who wants that?
2. Register.
In order to attend the Campout, you have to register. Campout Registration is held Thursday, Oct. 20 from 8 a.m. until 5 p.m. in the Berkowitz Basketball Complex–yes, that's where legendary head coach Tom Izzo has his office. The first member of your group will reserve a campsite. All subsequent group members (a maximum of four per campsite is recommended) must know the campsite number before registering. If you can't make it on Thursday, late registration will be held from 2 p.m. until 5 p.m. Friday.
3. Prepare for weather.
If you need to know anything before arriving at Munn Field, it's to be prepared for the weather. Fall in Michigan can range from 80 degrees and sunny to 30 degrees and snowy. Dress appropriately, know the weather forecast, and bring plenty of blankets. Expect the worst, especially because the last two Campouts have hovered around 40 degrees and have even experienced some precipitation. You'll want to stay warm and dry, which leads us to our next piece of advice…
4. Bring a tent.
You have a 10-foot-by-10-foot campsite for a reason. Don't be that group that decides to rough it because you're too old to use a tent. Tents keep you comfortable throughout the night. When you're waiting through a whole night for the hottest ticket in town, you'll want to stay as comfortable as possible. To top it all off, you can enter in the tent decorating contest and win some awesome prizes. The theme for the 2016 contest is "Olympics," so if you have some gold medals lying around, you might want to pack them.
5. Meet the team.
One of the coolest parts of the Izzone Campout is getting to know the basketball team. Every year, the team holds an open practice in the Breslin Center so Izzone members can get a sneak peek at the squad. This year's open practice will start between 3 and 3:30 p.m. and will go until 5 p.m. Later in the night, the players will go into the crowd and interact with the students. They're just as excited for the beginning of a new basketball season as you are, so feel free to get to know them. If you're lucky, one of the guys might even dunk on you.
6. Snag some free stuff.
Many sponsors line up to support the Izzone Campout, so take advantage of the freebies all around Munn Field throughout the night. They'll range from blankets to sandwiches. So keep your eyes open and ears peeled for every college student's favorite thing: free stuff!
7. Take a pic with Izzo.
If you bump into a line four times the length of a basketball court, it's almost certainly the line to take a photo with the student section's namesake. Tom Izzo may be ferocious on the court, but at the Campout, you'll find he is one of the most approachable men on the planet. The wait is worth it for a new profile picture.
8. Bring your muscles.
One of the more underrated traditions is when the senior players jump into the crowd and crowdsurf. Be ready when the players are headed your way; you don't want to be that person who drops the star player and ruins Michigan State's national title hopes. No pressure.
9. Don't leave.
There will be an random number of check-ins at random times throughout the night. If you miss one check-in, you lose credit for attending the campout. That's not the way you want to begin the season. So don't leave; there are countless activities you can do to keep you occupied throughout the night.
10. Get ready for the greatest alarm clock you've ever heard.
That alarm on your phone? Yeah, it has nothing on the wake-up call you'll receive sometime Saturday morning. It will be raspy. It will be tired. It will likely be shivering. But it will get you pumped for the day, and ultimately, an unforgettable season in the Izzone.
About the Writer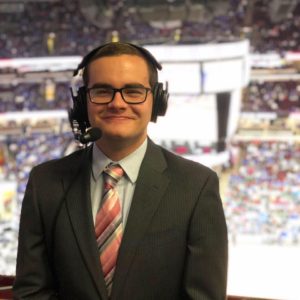 Ryan Cole, Author
Ryan Cole was the Sports Director at Impact 89FM. He was promoted from Assistant Sports Director in December 2016. He graduated with a degree in journalism from Livonia, Michigan. He covered MSU club football in Fall 2015 and was the lead men's basketball reporter for Impact. He co-hosted the MSU men's basketball podcast, Impact Izzone, with Davey Segal. Ryan also interned for Spartan Sports Network.