Over & Under | Isolation Drills v. Vampire on Titus
Over & Under is Impact's series on new albums that received questionable feedback.
Just one week ago, the seminal indie-rock band Guided By Voices announced that they are reuniting to headline Calgary's Sled Island Festival.  The band returns with frontman Robert Pollard, returning drummer Kevin March and newcomers Bobby Bare Jr., Nick Mitchell and Mark Shue.  
Best known for songs "Teenage FBI," "I am a Scientist" and "Hold on Hope," GBV is considered the leaders of early indie and lo-fi. Pollard's influential band started in Dayton in 1983, but has been inconsistent in the music scene with 20 plus albums, constant lineup changes and constant breakups. To commemorate their reunion, here's GBV's most overrated and underrated albums.
Overrated: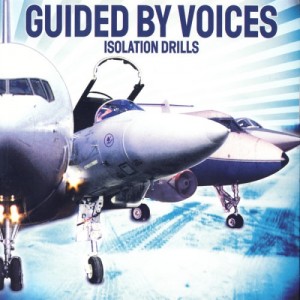 2001's Isolation Drills is revered as one of GBV's best of the 00's.  The album received raving reviews from Rolling Stones, AllMusic, Pitchfork, and PopMatters.
Since 1997, GBV made a move away from the home recordings and lo-fi pop songs that covered their previous albums. Instead, they chose a more traditional studio setting with better sound quality and various instruments. The commercial transition actually ruins the atmosphere that made GBV special. The album sounds like a cover-band's compilation of GBV's worst songs.
The songs may have the lyrics of Pollard, but there is a huge lack of personality and variety.  The basement recordings and low-quality mash-ups gave the band that personal, distinctive and irreplaceable sound they're known for. Isolation Drills not only lacks the GBV sound, but it is misses GBV completely. The songs all sound alike, and that would be fine, if they didn't sound like a bad bar band. It lacks any emotion and one-of-a-kind vibe you get from a GBV album.  It's an attempt that feels like GBV was trying their hardest not to sound like GBV.
Underrated:
93's Vampire on Titus marks the period right before Guided by Voices became a somewhat known and cool band. The band reunited to record their most lo-Fi album. It's highlighted by the consistent mix of odd pop gems and hard-rock fuzz, but you will rarely hear anyone mention it when discussing GBV.  
Vampire on Titus is the black sheep of the GBV family, but undeservingly so.  Each track sounds like it was recorded in someone's basement — which it probably was — with only three band members. There is consistent contributions from each musician, unique instrumentation, and some real in-your-face lyrics.
This is GBV at its best.  The type of band that will make you realize anyone can record music, and it can be good.  There's a lot of heart on this album and a lot of memorable songs.  
Do yourself a favor, and check out this amazing, largely ignored, album.