5-Star Recruit Miles Bridges Commits to MSU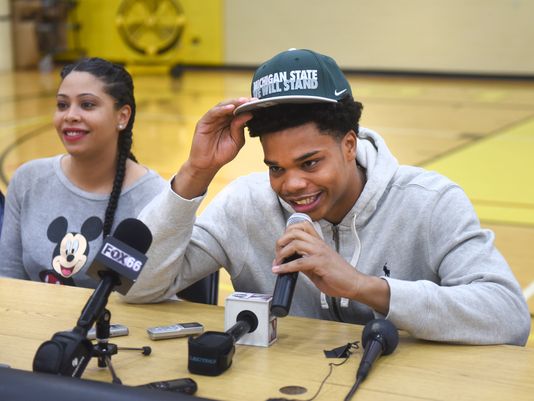 According to the Detroit News, five-star basketball recruiting prospect Miles Bridges has committed Michigan State.
Bridges is the 11th-ranked high school player according to Scout.com, and the fourth-ranked small forward. He announced his decision at Mott Community College in Flint, Michigan, his hometown.
Bridges explained his reason for picking MSU.
"Michigan State coaches did an amazing job recruiting me since my eighth grade year," Bridges said. "The coaches were awesome."
Recent MSU recruit Cassius Winston seems to have also played a large role in Bridges decision to choose the Spartans.
"Cassius is my boy and I actually thought he was going to Michigan," Bridges said. "I wanted to play with Cassius."
A recruit like Bridges will add to an already top recruiting class for MSU. According to Scout.com analyst Brian Snow, Bridges is a "freak athlete who is shooting the ball better then ever."
After months of speculation, and many thinking Bridges was headed to Kentucky, the wait is finally over, and coach Tom Izzo has the top-ranked recruiting class in the nation.