BINGO! Osheaga 2015
From July 31st to August 2nd, North Americans and Europeans alike gathered to celebrate the 10th Anniversary of Osheaga Music Festival in Montreal, Canada.  The festival takes place at Parc Jean-Drapeau on Saint Helen's Island within the city. With its numerous outdoor stages and park setting, Osheaga is every bit as big as Lollapalloza, but with the added plus of being in dreamy Canada. It wasn't a thousand degrees everyday, the setting of the park was every bit as Canadian as you can imagine, and there weren't any suburban Chicago kids running around raising hell (they were from Toronto).
By 1pm, the crowds of people would swarm to the train station to take the single train line that stopped on the island. Osheagans would then be herded like cattle into the main entrance of the festival. While waiting in line, the typical festivalgoers were visible, just like in The States. There were girls in flower crowns and guys sporting their basketball jerseys with a bucket hat to boot, but the largest difference was the amount of French being spoken. After all, Montreal is a bilingual city.
Osheaga offered many of the same artists as Lollapalooza throughout the day but also boasted performances from bands left out from the Lolla lineup, like St. Vincent, The Decemberists, Glass Animals and Future Islands. The largest difference was that of the headliners booked for Saturday and Sunday night in Montreal.
Weezer dominated the stage on Saturday after a short rainstorm, playing all of their hits with lead singer Rivers Cuomo bringing his two small children on stage. His daughter, Mia, played background piano to "Perfect Situation" while his son, Leo, rocked his inflatable guitar for the crowd of thousands during "Back to the Shack."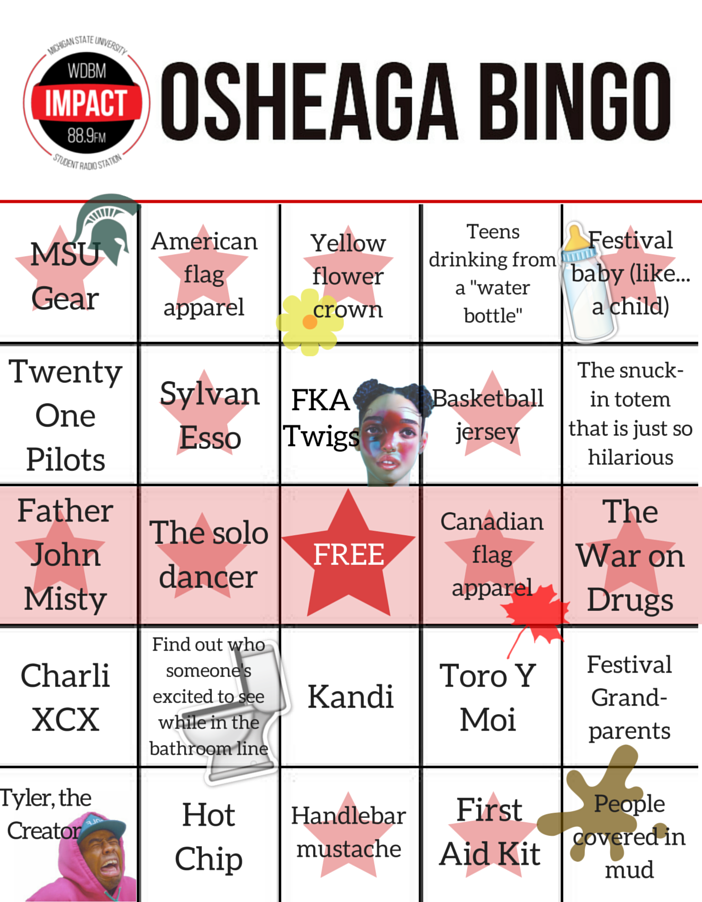 Kendrick Lamar ended Saturday night with a bigger bang by bringing out Mos Def to hang with him on stage while he closed his set with "King Kunta" and "Alright," all while backed by a full band. Edward Sharpe and the Magnetic Zeros took the main stage on Sunday and were joined by a special guest. During their set, a man in a wheelchair crowd surfed to the front of the stage, and was then invited on stage with a few of his friends for the rest of the bands set. The band took to Instagram the next day calling the performance one of their "top 3" shows. Finally, after a short show from Alt-J, Dan Auerbach and Patrick Carney of The Black Keys rocked out and closed out the entire festival weekend with songs from their most recent album, Turn Blue.
The general vibe of Osheaga is this: Osheaga is the Lollapalooza of Canada. The lineups are similar, the set up is similar, but Osheaga seems to run more smoothly and be less crazy. People are chilled out and nothing seemed to faze them. The rainstorm Saturday evening was met with smiles as people pulled out their ponchos and trotted to their next show (take note, Lolla goers, that no one felt the need to roll around in the mud).
Coinciding with the chilled out attitude of Osheagans, there was not a whole lot of dancing. People would vibe and nod their head to the music, but fully committed dancing seemed to be something that wasn't going to happen. But while the Osheagans were not necessarily into dancing, they were into making friends among the crowd. I met a lot of friendly Canadians; a few even gave me the rundown on the top Canadian music festivals to attend. Like Wayhome Music Festival, which is essentially the Canadian Bonnaroo that takes place in Ontario every year. Don't get me wrong, Osheagans were a good time and good company to keep over a weekend festival, but people seemed to be at Osheaga to enjoy a beautiful day and listen to some rad music while surrounded by good company. No one was there to "get wild" and to be honest, I think I prefer it that way.
So before you buy tickets for your next music festival ask yourself this: are you going hoping to have a hella good time? Or are you going hoping to vibe out with a few good friends and maybe make some new ones? If you prefer the latter, I'd recommend packing up and heading to The Great White North for your next festival. Wayhome is only eleven months away!