Tycho brings August to ROMT | Concert Review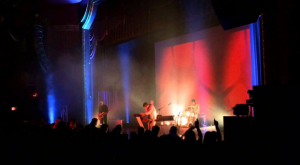 The day preceding the Tycho concert was truly a unique one. I spent the morning scrambling with my roommate to find tickets, a ride to the show, and finishing last minute homework. However, among all this chaos I somehow felt a sense of complete serenity. This sense was perfectly matched by the sounds and visual art created by Scott Hansen of Tycho.
Hansen walked bashfully onto the large stage at Royal Oak Music Theater. He smiled shyly and waved to the audience, who responded with an upwelling of applause. The music started, and suddenly Hansen was full of confidence. He combined an ambient and tranquil sound with a piercing guitar. The music was so therapeutic it could have almost lulled you to sleep, but the steady downbeat and smooth and vibrant transitions made it captivating. We spent the next two or so hours on a beautiful, dream-like musical and visual journey, every member of the crowd sported matching goofy grins. At that moment the song, "Awake", ended and balloons fell from the ceiling.
The visuals, also created by Hansen, featured a beach with the glare of the sun so bright you could barely make out what was happening. All you could see were rays of light and strands of hair and white sand. Combined with soft pastels and slowly moving shapes, a warmth to perfectly compliment the swelling of the bass was created. Outside was a brisk and rainy spring day, but inside the Royal Oak Music Theatre it was August.
The stage cleared and the audience slowly started to move towards the exits, some staying in anticipation of an encore. Just as my friends and I start to gather our things to leave, Tycho returned quickly into focus. Hansen politely thanked the remaining members of the crowd and remarked that this show has been the biggest on their tour. Immediately "Montana", one of the bands most notable pieces, started. The night finished and we filed out with the masses, filled with a sense of peace and satisfaction.
About a year ago, Impact sat down with Scott Hansen before his April set at The Crofoot: