EAST LANSING – After a twenty-point victory over Butler on Friday, No. 18 Michigan State returned to action at Breslin Center on Sunday against Alcorn State. The Spartans dominated the Braves 81-49, to move to 3-2 on the season without senior guard Tyson Walker, who was out with an illness.
The Spartans started the game on a 14-5 lead. Sophomore guard Tre Holloman led the way with two three-pointers along with junior guard Jaden Akins, who added seven points in the first five minutes.
The Spartans' success continued, extending their lead to 18 points, as MSU led 26-8 halfway through the first with Tre Holloman's nine points.
Despite a shooting slump that saw no field goals for MSU in the final 6:28 of the first half, the Spartans headed into halftime with a 44-16 lead.
Tre Holloman led the Spartans with 12 points, going 4-for-4 from three-point range. Jaden Akins also contributed with seven points in the first half. MSU's defense was dominant in the first half, holding the Braves to 14% shooting from the field.
The zone defense was effective for Alcorn State coming out of halftime, starting off on an 8-2 run before another three-pointer by Tre Holloman extended the Spartan lead to 25 early in the second half.
A 9-0 run gave MSU a 58-27 lead seven minutes through the second half. The Spartans outscored the Braves 38-27 in the second half.
The freshman shined for MSU in the second half. Freshman forward Coen Carr recorded eight second-half points, including a posterizing dunk that sent the Breslin Center crowd into a frenzy. Carr would finish the game with 11 points.
"It was cool. Everyone was almost on the court, I saw people's faces, jaws dropping, it was real fun to see," Carr said.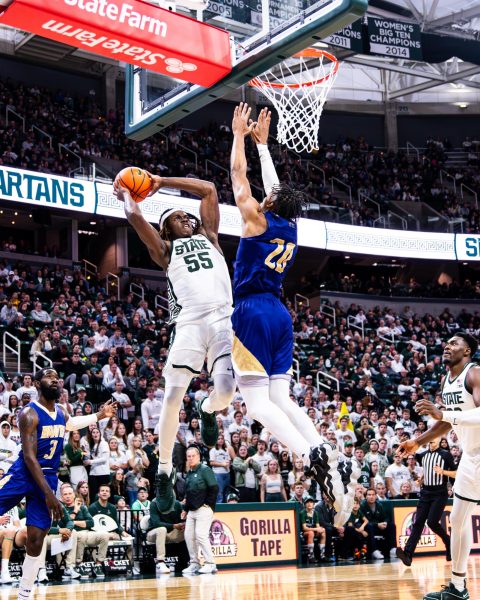 Freshman guard Jeremy Fears Jr also impressed, with nine points and five assists.
"It was great. Everyone had to step up a little bit since Tyson [Walker], a big piece of our offense, a big piece of our team was out. I had to come in and try to maintain and just hold the lead and keep doing us," Fears said.
Tre Holloman led the Spartans with a career-high 17 points, going 5-for-5 from three-point range, while Jaden Akins also contributed with 13 points in the win.
"Give Tre Holloman a lot of credit, first start, I thought he played well, I thought AJ gave him some great passes," said MSU head coach Tom Izzo.
The Spartans will next travel to Palm Springs, California to take on No. 3 Arizona in the Acrisure Classic on Thanksgiving Day.
"We're gonna get a lot better by Thursday, tomorrow's practice should be fun. We're gonna have to get after it, they're the most physical team we're gonna play maybe all year," said Izzo.