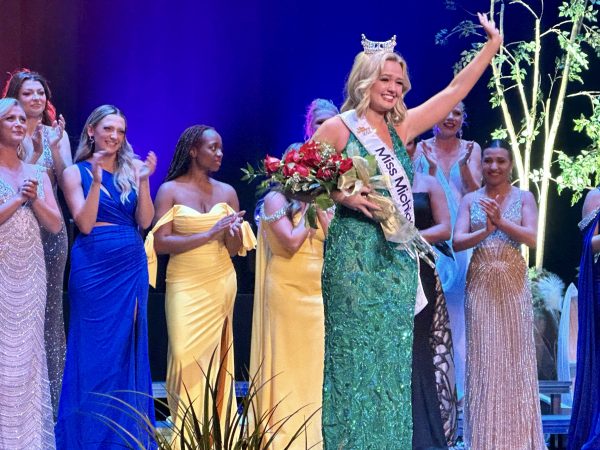 EAST LANSING – Whether it was from her viral speed-painting video in 2022 or her crowning photo on social media, members of the Michigan State community may have heard the name Maya Schuhknecht.
If the name does not ring a bell, Schuhknecht is the Spartan alum who was crowned Miss Michigan in June.
Both her titles of Spartan alum and Miss Michigan are recent for her, as she recently graduated with her Bachelor of Arts in graphic design this spring.
She walked into the pageant as Miss Spirit of the State and walked out as Miss Michigan.
"I was super intentional with just focusing on myself and what I had to bring to the table," Schuhknecht said. "I knew that I could only bring my best, and if that's not what the judges were looking for, that's their loss."
Schuhknecht is the first speed-painter to be crowned Miss Michigan. For the talent portion, she painted Ruth Bader Ginsburg upside down in 90 seconds.
She placed in the top ten at last year's pageant with her painting of Michael Jackson. The performance went viral on TikTok amassing over 3 million views.
"It's just so cool that there are so many different interpretations to talent, and I like advocating for that and being that vision for other little girls, grown girls, whatever age you are, to compete in our organization," Schuhknecht said.
She shared that she dealt with multiple hardships in the months leading up to the pageant.
"Life does crazy things that you can never prepare for," Schuhknecht said. "The incident that happened on Feb. 13… that was really hard to work through emotionally, physically, the trauma from that was a lot for me personally."
Schuhknecht is referencing the incident of gun violence that took place on campus, taking the lives of three students and injuring five others. A senior at the time, she was just off campus at her apartment as the events unfolded.
"Slowly but surely, I start to feel a little bit better. And then life just throws another wave at you," Schuhknecht said. "And I get a phone call my dad was found unresponsive."
"I'm driving home thinking my dads not actually going to die, but then like two days later he passed away."
She shared that her dad taught her to always look for the good in life, and she carried that with her as she continued preparing for the pageant. She attended therapy and focused on healing through the arts.
A coping skill Shuchknecht uses in practice, she now gets to advocate for and share with others as Miss Michigan. She travels the state making appearances and advocating for her community service initiative, Art for All.
"Everyday I'm actively working to become better and to share my story and be vulnerable and relatable to people who are also going through hard times," Schuhknecht said.
She's sharing with Michigan now the same story she is preparing to share on the Miss America stage in the coming months. The pageant is expected to be held in January.
Schuhknecht was sitting in the audience as the current Miss America, Grace Stanke of Wisconsin, was crowned. But this year, she will be on the stage.
"It's a once in a lifetime opportunity that I'm just very very grateful and excited to do," Shuchknecht said. "I'm just excited to experience it all."
To hear more about her experiences and preparation for Miss America, listen to what she had to say on this week's episode of The Undercurrent.