On Aug. 26, one stage hosted an international-award-winning opera singer, the No. 1 ranked beatboxer in Michigan and countless members of greater Detroit's rock and metal scene. This collection of talent sought to destroy the boundaries of genre, to make a new statement on the beauty of local music, to testify to the joys and benefits of artistic collaboration. This was The Amalgamation Project.
Now, it makes sense to associate artistic collaboration with local music — from a view of proximity, if nothing else. But not all music scenes host collaboration between members, and even fewer tend to host positive collaborations. Disputes run rampant in the music industry — from the local level all the way to the top — and Bryan Knickerbocker, organizer of The Amalgamation Project, sought to show what happens when we do something deceivingly simple: Work together.
"Local scenes are so riddled with unnecessary competition," said Knickerbocker. "I hope this would alleviate some of that."
Knickerbocker initially formed the idea for The Amalgamation Project when two of the project's performers, Stephanos Andreotti and Tong Fx, approached Bryan with the idea of a song combining opera and beatboxing. 
"I thought, 'Man, that would be cool, but with a lot of people.' So I started to form it and it took a little over a year," said Knickerbocker. "The hope is that everybody gets at least a couple new fans out of this. It's a community thing." 
The sense of community in this project was visible immediately, starting with the venue. Within New Baltimore, Michigan's Diesel Concert Lounge is a music haven coexisting with a pinball arcade and bowling alley. Everyone seemed to be good friends — even if they had just met. With the Detroit Tigers game playing just above the bar, sunshine peeking in from the parking lot and inside jokes soaring from stage to floor, even the set-up and soundcheck existed as a lively example of what it means to be a community. 
With guitars, keytars and drums roaring in the background during soundcheck, I asked several of the night's performers the same two questions: "When you look at something like The Amalgamation Project, what do you think it does to promote community, both for artists and fans?" and "Do you think collaborations like these are the first step in uniting music scenes?"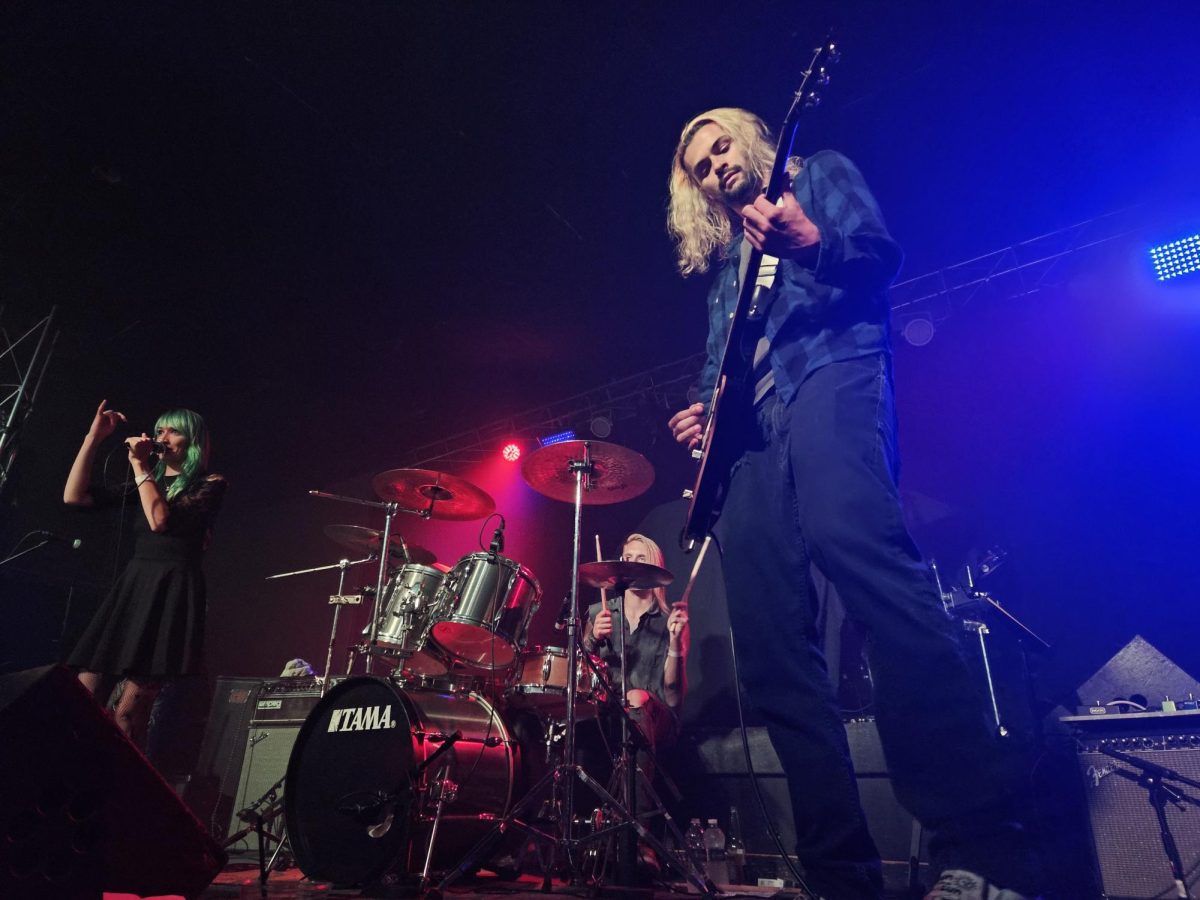 In every answer, the same theme emerged: A show like this proves that musicians can rise to the top together, all while learning from and being inspired by each other. 
"It's gonna show that we can all push each other farther," said Katelyn Mueller of Crafted Conviction. "What's the point of holding each other back when we could all be rising at the same level and helping each other?"
Phil Steuer of Elsie Binx felt similarly, elaborating on how collaborations like The Amalgamation Project can lead to lasting relationships. "It could be a first step to many things," he said. "It could be a first to a new side project, a first to a new partnership of any sort — hell, it could even be the start of new friendships."
For a concrete memory of the night, and for existing and future friendships, everyone involved in the project signed drum heads from Knickerbocker's massive drum set. As signatures populated the set, sunlight disappeared from the room and stage lights adopted hazy greens, reds and blues. Doors opened, drinks were poured and the Tigers gave up five runs in two innings. 
And all the while, I continued speaking with The Amalgamation Project's performers, who all expressed a deep care for their work and their community, both verbally and non-verbally. Sometimes you can simply tell how much something means to a person by the way they move their arms in speech, by the way their eyes try to fall on the most complete answer. 
Even before the first opener hit the stage, I knew this: Here was a group that truly loves music.
Kicking off the night in front of a warm crowd were Never Decaf and Crafted Conviction. Never Decaf's set was coated in nostalgia, with their last track being a collage cover of some of the most popular songs of the last 40 years, including Lady Gaga's "Paparazzi," Alphaville's "Forever Young" and The Cure's "Pictures of You." Crafted Conviction followed with roaring guitars and passionate vocals, prepping the stage for the slew of rock and metal crossovers to come. 
Serving as master of ceremonies for the night was Rikki Roxx, who expressed hopes that this show would broaden the audience's horizons. "Talent is talent," as he put it.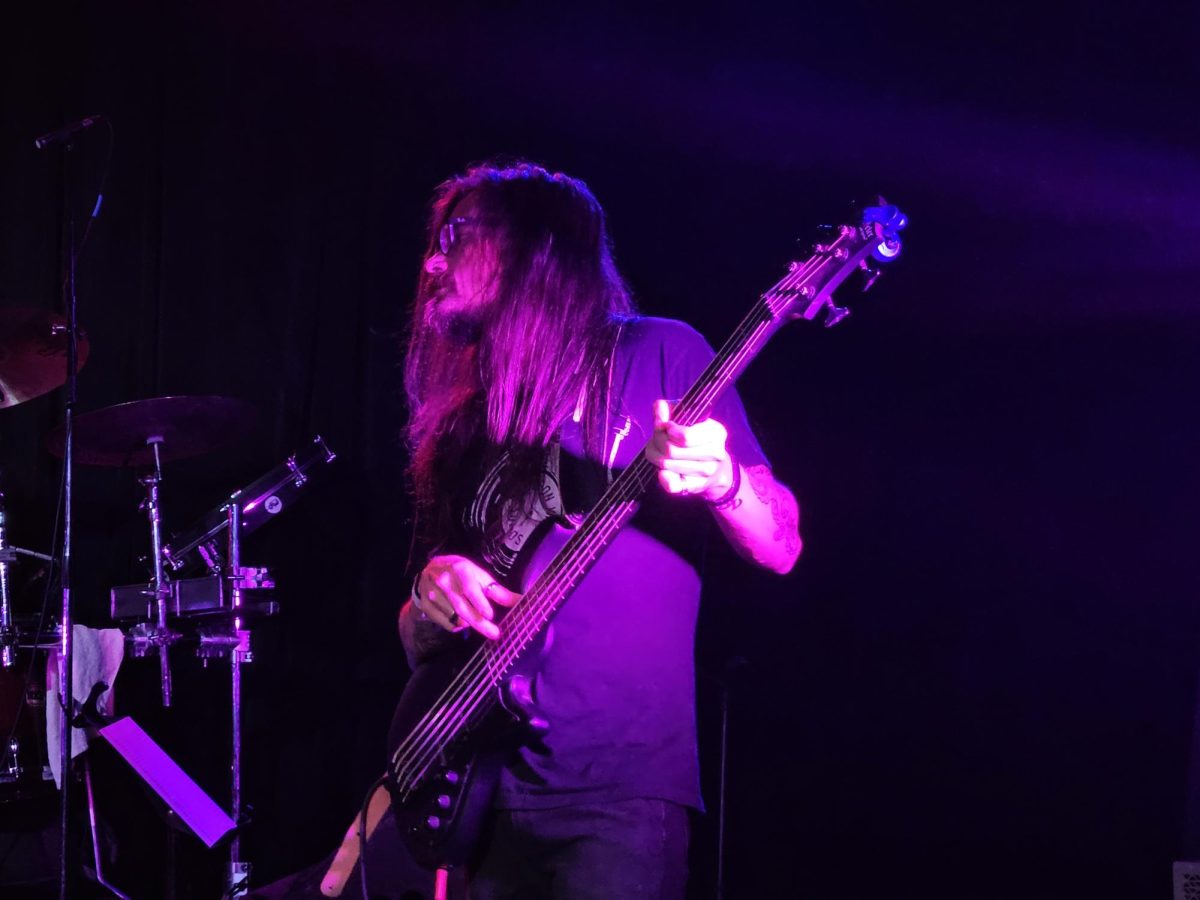 Talent is talent, indeed. Combining so many different styles would require it, but selflessness would also be required. When I spoke with Wil Pruitt of Ritual Suns, which served as the house band for the night along with Matthew Shannon, he expressed that "It's very valuable, from a musician's standpoint, to have a sense of comradery between us. In all settings. The music industry, in general, is plagued with this idea of competition and dogging on people. So this has been a really good way of bringing people together and snuffing out that mindset to a point where people can see past the competition aspect and respect music for music's sake."
This could perfectly summate The Amalgamation Project: "Music for music's sake." For the love of art itself, rather than the love of potential fame and fortune.
Pruitt played on nearly every song of The Amalgamation Project's 10-song set, nine of which featured duos playing with the house band. These duos each conceptualized a song together, wrote and practiced it, then finally performed it on this night. 
From the very first performance, it was easy to understand why this was called The Amalgamation Project. There were six people on stage, and Knickerbocker's drum set looked like a mythological hydra in the background, dwarfing the Charmander plushie which dangled from it. 
Some of the performers' children sat next to the on-stage monitors throughout the whole show and other audience members clustered in the front row to help the show earn its name. Onto the stage came all kinds of instruments, all kinds of amps, all kinds of vocal styles. Where one duo would foster explosive riffs, another would opt for gentle picks and low-key croons. At the show's midpoint, Tong Fx and Knickerbocker engaged in a beatbox versus drum set competition before Tong Fx beatboxed in a duo with an acoustic guitar.
Following this unexpected battle was "Specter of You," a song whose guitars almost seemed to be singing to each other, reaching out longingly to a quickly fading mist. And in stark contrast to this longing was an eruptive track from Steuer and Jaimi Magyari, which had half the crowd holding their own air guitars. 
These led into the final duo performance — an exceedingly interesting mixture of metal and opera, with the vocalist being Andreotti, who I was fortunate to have spoken with before the show. As I saw him on stage, his words on art came ringing back into my head:
"The fact that this has come together is a cause for hope, and is setting an example of what the music community has the potential to be," he said. "We can make new genres, new concepts, new stories to be told."
"If you think you know art, think again. There's so many more things to be made and so much more that can happen by people coming together and exposing their hearts to each other. There's so much to happen in improvisation."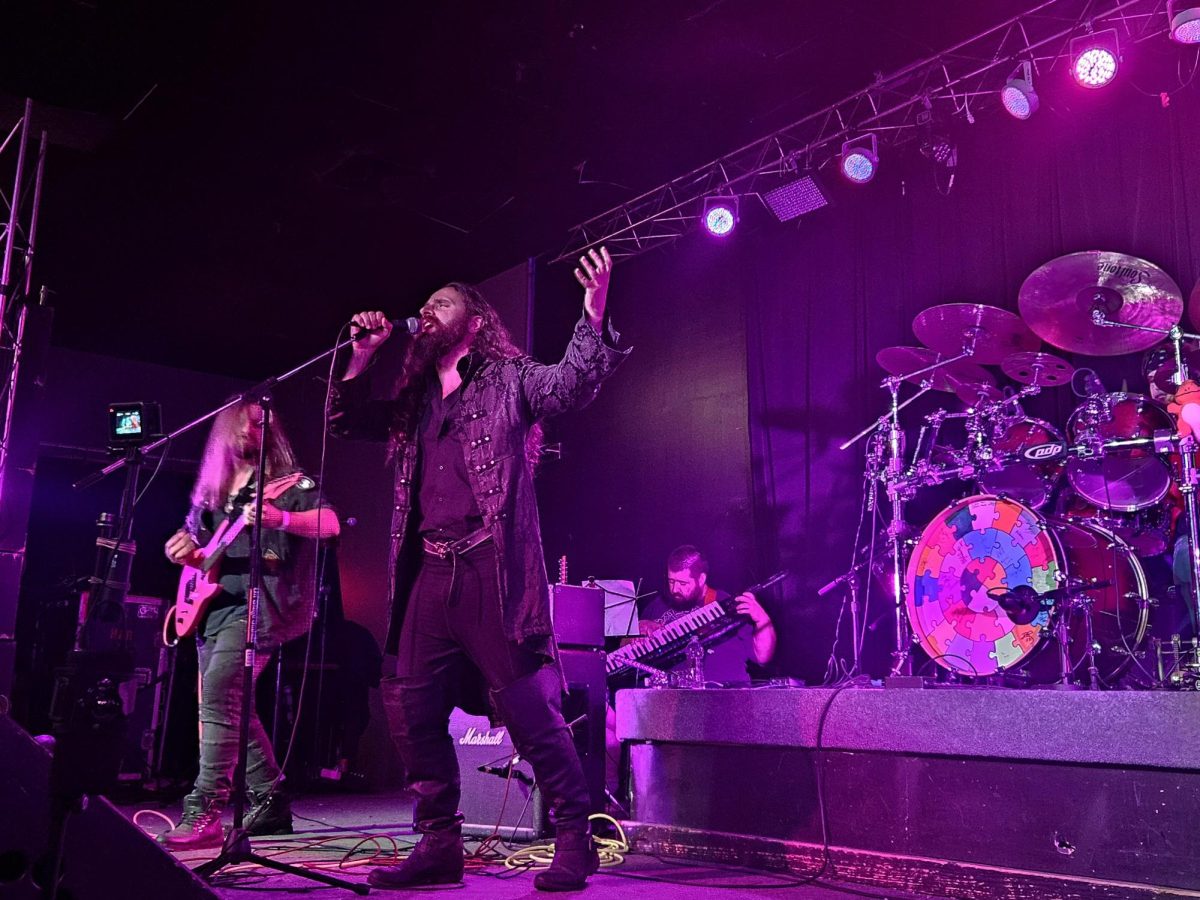 Andreotti left his heart on the stage that night, singing around themes of occultism with hands held high as guitars slowly intensified behind him before shattering the night with riffs that held the weight of the world in their strings.
After this ninth duo, Roxx walked up on stage and wasn't quite sure what to say. But he understood that "talent is talent;" he understood the beautiful absurdity of having an accomplished Italian opera singer collaborating with Detroit metalheads next to a bowling alley and pinball arcade in New Baltimore. 
I look back on this night and find a certain regional pride in it, maybe even a touch of some weird patriotism. As I interviewed people beside a dumpster with cigarettes being sparked up all about, as I sat at the bar and passively glanced at the Detroit Tigers hosting Marvel superheroes for the National Anthem, as I walked past 7-10 splits and bursts of flashing pinball lights, I couldn't help but find a certain romance in it all. 
This is where I'm from, I suppose. This is what we do. We drink pitchers of beer while front row at concerts featuring beatbox and opera; we share pizzas while "Master of Puppets" blasts during soundcheck; we throw fart jokes at each other while watching the sun sink below the horizon of a pothole-burdened parking lot. 
As I observed the show's finale — a collaboration between six of the night's performers — a simple thought landed in my mind: "Yeah, I'm in America right now." A place so nuanced and complicated that no one art piece could ever tackle it in full. But that's why we need so much collaboration, so much diversity in art. Maybe we can figure this whole thing out together, maybe not. Probably not. 
We live in a place that we'll never understand, both for its beauties and its horrors. We live in America. We live where everything will always sit a little misunderstood. Politics, cultures, relationships, emotions, selves: We're never going to "get it." It's never going to make sense.
But that doesn't mean we shouldn't seek to understand, because trying to understand this place means trying to understand the people in it. Trying to understand this place means trying to understand yourself. 
In collaboration, things make sense. In the emotion of live music, things make sense. In The Amalgamation Project, things make sense.