INDIANAPOLIS – 2023 Big Ten Football Media Days are in full swing in Indiana's capital. With the start of the season just over a month away, Big Ten coaches and players gathered at Lucas Oil Stadium for its annual Big Ten Media Days.  
Michigan State Football head coach Mel Tucker, wide receiver Tre Mosley, offensive line J.D. Duplain and linebacker Cal Haladay were all in attendance for media availability. 
After going 11-2 in 2021 with a win in the Peach Bowl, the Spartans are coming off of a disappointing 5-7 season in 2022.
"Consistency and performance is how you become successful, and that's the hardest thing to do," said head coach Mel Tucker. "Quality depth is important. We didn't have that at enough positions a year ago, so when we got guys banged up, we weren't able to answer the bell," said Tucker. 
Redshirt junior linebacker Cal Haladay has seen the highs and lows of Michigan State football. The 2022 Second-Team All-Big Ten selection led the conference in tackles per game with 10.0, and is eager to help the Spartans get back to their winning ways in 2023.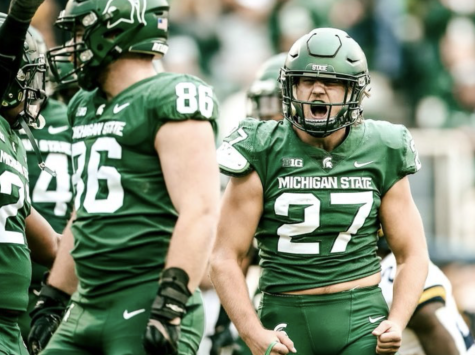 "You definitely have to think about the season we had last year. It sits in the back of your mind, but you don't want to let it affect you," said Haladay.
Michigan State received some scheduling news from Big Ten Media Day. The Spartans are scheduled to play the Michigan Wolverines on Oct. 21 under the lights at Spartan Stadium. Kickoff is scheduled for 7:30 p.m. on NBC. 
This will be the first night game against the Wolverines at Spartan Stadium. 
Redshirt senior Trey Mosley is looking to make the most of his opportunities in Michigan State's wide receiver room. After the departure of Keon Coleman, Mosley is hoping for a big role in the Spartans offense that ranked 9th ninth in the Big Ten a season ago. 
"The hunger plays a big factor. Anytime you come off of a losing season, that level of hunger is amped up because you don't want to go through that again," said Mosley.
Michigan State's defense over the last couple of years has not met expectations, and Mel Tucker knows that. Tucker talked about his defense being as big and deep as it's ever been, with many talented transfers and commitments being added to the 2023 roster. 
"I think our front seven is more stout, which is going to help us stop the run and make things more one dimensional," said Tucker. 
Michigan State kicks off its season on Friday, Sept. 1 against Central Michigan at 7 p.m.