Michigan State falls short against Kansas State in Sweet Sixteen
A.J. Evans, Sports Editorial Assistant
March 24, 2023
NEW YORK CITY – For the second time this season Michigan State traveled to Madison Square Garden. The Spartans took on No. 3 seed Kansas State in the Sweet Sixteen. In one of the most entertaining games of the season, Michigan State saw its season come to a close, falling to the Wildcats, 98 – 93. 
After a layup from Tyson Walker knotted the game at 82, Markquis Nowell's layup rattled out just before the buzzer sounded, sending the opening game of the Sweet Sixteen to overtime, where Kansas State edged past the Spartans. 
"I give a lot of credit to Kansas State," said MSU head coach Tom Izzo. "I've been a part of a lot of big wins and I've been a part of a lot of tough losses. I've never been prouder of a team." 
"Both teams made plays," said MSU senior forward Joey Hauser. "They just happened to make a couple more at the end of the game."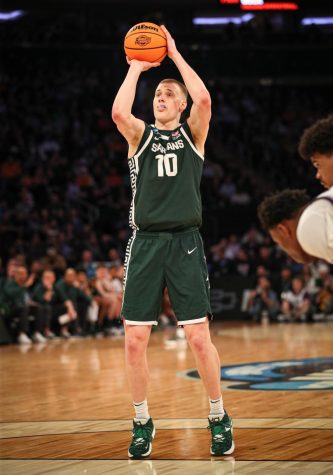 Kansas State capitalized in several facets of Thursday's game that proved to be the difference. The Wildcats recorded 16 points off 13 MSU turnovers and tallied 44 points in the paint. 
"It's those points off turnovers, I call them turnovers for touchdowns," said Izzo. "And that's why their shooting percentage was so high. So, you've gotta live with it." 
Kansas State also received a boost from its bench. The Wildcats had 26 bench points from players Ismael Massoud and David N'Guessan, who recorded 15 and 11 points, respectively. 
The Wildcats had an excellent first half, drilling seven threes, getting 12 points from the bench and shooting 62% from the field. They were led by Nowell, who recorded 20 points and an NCAA Tournament record 19 assists in the victory. 
Nowell controlled the flow of the game, threading passes between defenders, forcing MSU's defense to collapse in the paint for kick-outs and getting the Wildcats out in transition.
"He's a special player," said Izzo. "I think we were mesmerized by him. That's what makes him a great player. It's not only the plays he makes, but the position he puts people in that keep you backpedaling." 
Senior forward Keyontae Johnson had 22 points and 6 rebounds, while playing every minute of Thursday's game.
Junior guard A.J. Hoggard had one of his finest performances of the season, recording a career best 25 points and six assists in 25 minutes. 
 After scoring 7 points in the first half and going 1-4 from the field, Hoggard took command in the second, getting to the rim at will and dismantling Kansas State's pick and roll defense. Hoggard also scored seven of MSU's eight points in overtime.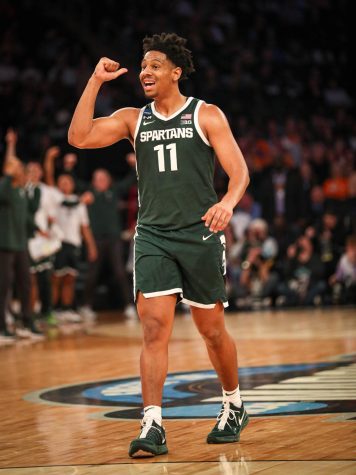 "I was proud of A.J. and the way he stepped up," said Izzo. 
"I made plays, but I didn't make enough for us to win," said Hoggard. 
Five guys scored in double figures for MSU. Hauser and Walker recorded 18 and 16 points, along with sophomore guard Jaden Akins and senior forward Malik Hall, who recorded 14 and 13 points, respectively. 
"I think we just kinda wore down," said Izzo. "We got caught with our bigs, and then we went with Malik and Joey and so now we went smaller which was okay, but we hardly gave A.J. and Tyson much of a rest and I think that hurt us a little bit too." 
In a game that hung in the balance for its majority, Michigan State fell just short of advancing, bringing an eventful season to an untimely close. 
"I really believed that when we were three up, that we were gonna win that game, and that this team was destined. And that's what I believed all year," said Izzo. 
After a whirlwind of a year, Michigan State's season ends at Madison Square Garden. The journey to the Sweet Sixteen was certainly a memorable one, for a community that rallied around its basketball team and a coach that cherished every moment. 
"It'll go down as one of the great years for me," said Izzo. "Not a good year. It'll go down as one of the great years."