"We've still got some dancing to do." Spartans defeat Marquette, clinch their bid to Sweet Sixteen
A.J. Evans, Sports Editorial Assistant
March 19, 2023
COLUMBUS, OH – With 40 seconds left, Tyson Walker took flight. 
The 6-foot guard elevated for the first dunk of his college career, putting the finishing touches on a masterful 23-point, zero-turnover performance, where he and backcourt mate AJ Hoggard propelled the Spartans to victory in the game's final minutes.
 In front of a divided arena, Michigan State defeated Marquette 69-60 in a hard-fought game to advance to the Sweet Sixteen. 
"I've been in Elite Eight games, I've been in Final Fours. That was as intense and tough of a game as I've been in in my career," said MSU head coach Tom Izzo. 
"We took some things away, they took some things away, but that was a war," said Izzo. 
Defense served as the catalyst in Sunday's game in which the Spartans shot just 2-for-16 from the three-point line, but forced 16 turnovers and out-rebounded the Golden Eagles by a margin of 26-22. 
Michigan State also recorded nine steals and 19 points off turnovers. 
After leading by as much as 13, Michigan State went into halftime clinging to a slight five-point lead after a 6-0 run from the Golden Eagles. 
At times Marquette's defense stifled MSU's offense. The Golden Eagles utilized a variety of looks, including their patented full-court press that led to a ten-second violation and a handful of turnovers. 
"Give them some credit, I thought they got into us worse than we got into them," said Izzo. "We played our defense, which was more gap defense, and they played their defense, which was more in your face."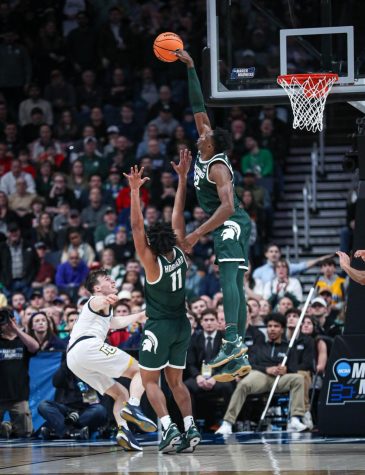 However, similar to its first-round game against USC, MSU managed to exploit Marquette's interior defense. The Spartans scored 32 points in the paint and also recorded 15 second chance points. 
In turn, the Spartans gave up only 16 paint points. 
"We worked on it for 48 hours," said senior forward Joey Hauser of MSU's interior defense. "We scouted them hard, and it helps that we have Mady Sissoko down there, a shot-blocking presence." 
In a typical NCAA Tournament game where guards dictate the flow of the game, Sissoko was a dominant presence for his team when it mattered most. In limited minutes, the 6-foot-9 junior collected a game-high 10 rebounds, along with eight points and two critical blocks in the game's final minutes. Even more impressively, Sissoko played the last five minutes with four fouls. 
"Mady beat himself to death in that huddle," said Izzo. "He was so down, and these guys all rallied around him, and he went out and made big play after big play, and got big rebounds. That's the difference in this team today than maybe a month ago." 
Izzo also noted the growth he's seen in his point guard. 
After getting the ball stripped from him and giving up a layup in the first possession of the game, Hoggard responded with five points in the early stages of the first half and continued to match the intensity levels of Marquette's guards. 
"They came at him all day," said Izzo. "To AJ's credit, that's why I think he's grown. He made some big steps, and that was key."  
Hoggard finished with 13 points, three rebounds and four assists in 29 minutes. 
"Coach told us to be aggressive, get downhill, put pressure on those guys and make it harder for them when they get on offense and make them have to guard as well," said Hoggard. "I think we did a good job of that tonight."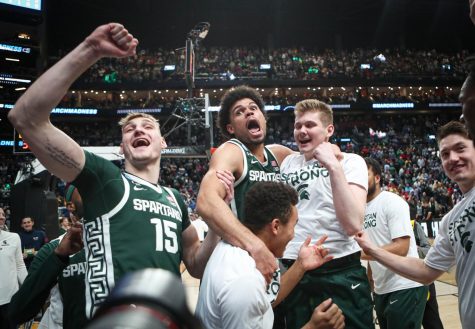 On a night in March when they committed more than ten turnovers and made only two three-pointers, the Spartans found another way to win against a favored opponent and keep their season alive. 
"We've still got some dancing to do, and we're going to New York," said Izzo. 
MSU will face the No. 3 seed Kansas State Wildcats in New York City at Madison Square Garden in the Sweet Sixteen on Thursday.