"We're not dodging anybody." Battle-tested Spartans set to face Marquette
A.J. Evans, Sports Editorial Assistant
March 19, 2023
COLUMBUS, OH — Michigan State advances to the second round of the NCAA Tournament for the second-straight year. After one of the biggest upsets in college basketball history, where No. 1 seed Purdue was defeated by No. 16 seed Fairleigh Dickinson, the Spartans are the only Big Ten team left in the East Region. For the first time since 2018, two number one seeds failed to advance past the first two rounds, after Kansas was defeated by Arkansas, 72-71. 
Michigan State (20-12, 11-8) will play Marquette (29-6, 17-3) in the second round. The Golden Eagles defeated Vermont in the first round, 78-61. 
"Seeing it happen the way it's happened in both the Big Ten tournament and this tournament, I think the sense of urgency ramps up," said MSU head coach Tom Izzo. "I think sooner or later, players realize he's not kidding. If you lose, you do go home. You hang up your shoes, and you do not get to play again." 
MSU leads the series history against Marquette, 32-23. The two teams have played each other twice in the NCAA Tournament, most recently in 2007, where MSU defeated the Golden Eagles in the first round, 61-49. 
MSU enters the Round of 32 as one of the most battle-tested teams in the country. The strenuous schedule was met with mixed results that included a disappointing loss in the first round of the Big Ten Tournament, but accomplished the primary goal: preparing the team for the NCAA Tournament.
"Everything that he does prepares us for March," said senior forward Malik Hall. "It's something that we talk about at the very beginning of the year, and in the summertime. The schedule obviously is very hard, and it's rigorous, but it's something that trains our minds and bodies in getting ready for situations like this. Going up against someone who's just as good of a team as us, and maybe even ranked a little better."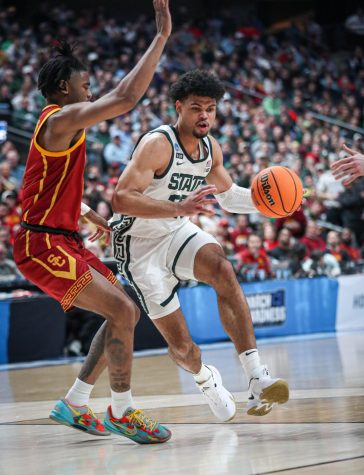 Hall recorded six points and four rebounds in MSU's victory over USC in the first round. 
Marquette is ranked top five in the country in assists, assist to turnover ratio and is also just outside the top ten in field goal percentage. The Big East Tournament champions are also top 10 in steals, averaging 9.4 per game. 
"They're unconventional in their own way, they're different in their own way and they're very good," said Izzo. 
The Golden Eagles are led in scoring by sophomore guard Kam Jones, who's averaging 15.1 points, 3.5 rebounds and 2.0 assists in 35 games this season. Jones averages 1.4 steals per game. In Friday's game against Vermont, Jones scored 18 straight points in the second half. 
Second in scoring is Tyler Kolek, who is averaging 13.1 points per game. After transferring to Marquette in 2021-22, the junior has blossomed into one of college basketball's best playmakers. 
Kolek is second in the nation in assists per game, with 7.6, and has led the Big East in assists per game since transferring. Kolek also leads the team in steals per game with 1.8, and is shooting 47.7% from the field this season, along with 39.8% from the three-point line. 
For both Izzo and Marquette head coach Shaka Smart, Sunday's game is a proud moment for two coaches who share a mutual respect for each other. 
"I love his [Smart] passion, I love how hard his kids play," said Izzo. "I think he's adjusted a little bit, and yet kept that same pressing fire and passion. He does it the right way. He coaches the kids hard, but he's a damn good coach." 
Smart mentioned a similar fire he sees in Izzo. 
"He lights himself on fire, and he makes sure that fire is so strong, and so bright and so hot that it affects everyone around him, and that's coach Izzo," said Smart. 
Smart noted Izzo's program standards as an important reason for his longevity.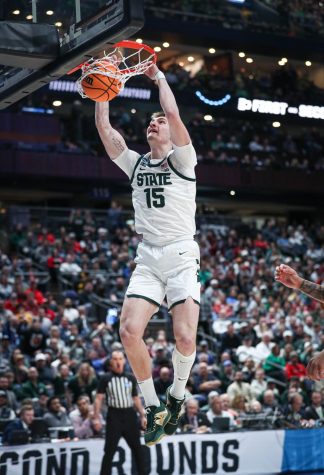 "You have to have a level of intensity, you have to have a level of passion," Smart said. "Otherwise you just don't function or you don't make it. And that's why they've been to 25 straight tournaments, and why he's had all the success he's had." 
After an eventful first round, MSU enters Sunday's game with a Sweet Sixteen appearance, and its season, on the line. 
In order to get there, they'll have to defeat a team that's recorded the most wins in school history this season, and is looking to advance past the second round for the first time in a decade. 
"We're not dodging anybody. That's for sure," said Izzo.