Izzo: "There's nothing like March" as Spartans begin their NCAA Tournament quest against USC.
A.J. Evans, Sports Editorial Assistant
March 16, 2023
COLUMBUS, OH – For the 25th year in a row, the Spartans are going dancing. 
Michigan State (19-12, 11-8) will take on the University of Southern California (22-10, 14-6) in the opening round of the NCAA Tournament in the East Region. 
The seventh-seeded Spartans will face off against the 10-seed Trojans in Columbus, OH on Friday, at 12:15 P.M. 
The winner of the matchup will play against the winner of the game between No. 2 seed Marquette, and No. 15 seed Vermont. 
This year's appearance sets an all-time record for MSU head coach Tom Izzo, who eclipses former Duke head coach Mike Krzyzewski for most consecutive appearances in the NCAA Tournament. 
"It means the world to me," said Izzo. "It means I've had a lot of good players, a lot of good staff, a lot of good fans. You don't win games over a period of time because of what you do, you win because there's a collection of people that are all doing their jobs."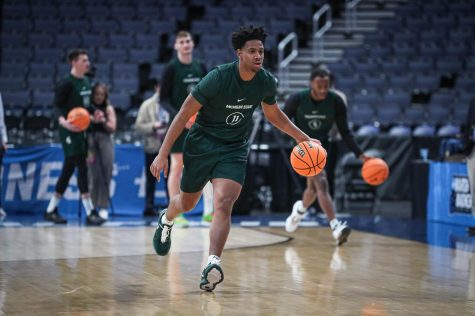 After falling to Ohio State in the quarterfinals of the Big Ten Tournament, the Spartans head into the tournament looking to put their end-of-season inconsistencies behind them. 
"Even though I didn't think we handled March last weekend very well, there's going to be those days, and it's how you bounce back from them," said Izzo.
USC makes its third consecutive tournament appearance under head coach Andy Enfield, who took over in 2013. In 2021, the Trojans made their deepest tournament run in 20 years, advancing to the Elite Eight before falling to Gonzaga, 85-66.
The Trojans are in the midst of one of the most successful stretches in school history, having won 22 or more games in four consecutive seasons. USC hasn't lost more than ten games in the regular season since 2018-19. 
USC is led in scoring by senior guard Boogie Ellis. After transferring from Memphis in the 2021-22 season, the San Diego native has had a resurgent season, averaging 18.0 points, 3.7 rebounds and 3.0 assists in 32 games.
"I've grown a lot, the player I wanted to be [at Memphis] I really got to become that here at SC," said Ellis. "But I mean, I definitely made a stride, especially off the court too, becoming a better person, a better man, and just making those next steps that I needed to make." 
The 6-foot-3 guard is shooting 39% from the three-point line and is second in the PAC-12 in scoring this season. 
Outside of Ellis, fifth-year senior Drew Peterson and sophomore guard Reese Dixon-Waters are formidable options for USC.
This season, Peterson has emerged as one of the best players in the Pac-12. The 6-foot-9 guard has been a matchup nightmare for opponents throughout the season, torching defenses inside and out, while shooting 44% from the field and 36% from behind the arc. 
Peterson leads the Trojans in rebounds and assists per game with 6.2 and 4.4 respectively. Combined with an average of 14 points per game, Peterson is a lethal option for the Trojans. The fifth-year senior was a first-team Pac-12 honoree alongside Ellis. 
Dixon-Waters has enjoyed a breakout sophomore season, averaging just under 10 points per game. The Long Beach native was named the Pac-12 sixth person of the year, becoming only the second player in school history to receive the award. 
Izzo mentioned he's watched USC only a few times this season.
"I've watched them, but you don't watch them with the same vigor that you do when you know you're gonna play them," said Izzo. 
USC held opponents to 39% on field goal attempts, the best field goal percentage defense in the Pac-12, and top ten in college basketball. The Trojans are also eighth in the country in blocks per game, with an average of 5.3. 
"They're a team that's very good defensively, they've held opponents under 40 percent, and they're a good free-throw shooting team. Those are always two things that fare well in an NCAA Tournament if you can do both of those things well," Izzo said.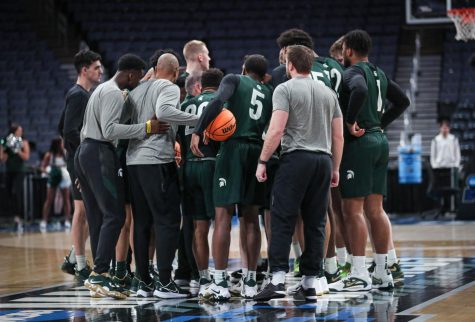 The seventh seed holds an 89-58 record over the 10th seed since the NCAA tournament expanded to 64 teams in 1985. 
After an emotional season filled with triumphs, adversities and tragedy, Michigan State finds itself in familiar territory; staring down the long, unpredictable road to the Final Four with the coach who has been there eight times before. 
"It's been an incredible year with a lot of different things that have happened, but there's nothing like March," said Izzo.